Home - Other Carry Styles - Concealed Carry Holsters
Concealed Carry Holsters
Find holsters custom made for your gun.
Concealed Carry Holsters
Welcome to Craft Holsters, your premier destination for top-quality concealed carry holsters designed for both semi-automatic pistols and revolvers. If you're in search of the perfect holster to ensure your safety and comfort while carrying your firearm discreetly, look no further. Our expertly crafted concealed carry holsters are engineered to provide you with the ultimate combination of security, accessibility, and comfort.
Why Choose Craft Holsters Concealed Carry Holsters?
When it comes to your safety and peace of mind, Craft Holsters stands as the industry leader with a commitment to excellence. Our concealed carry holsters offer a myriad of benefits that set us apart from the competition:
Lifetime Warranty:

We believe in the quality and durability of our products. That's why each concealed carry holster comes with a lifetime warranty, ensuring your investment is protected for years to come.

Premium Materials:

Crafted using premium materials, our holsters are designed to withstand the test of time. You can trust that your holster will maintain its integrity, providing consistent performance.

Glove-like Fit:

Our holsters are designed with a glove-like fit, ensuring a secure and comfortable carrying experience. With Craft Holsters, you'll have the confidence that your firearm is snugly in place.

Wide Compatibility:

Whether you own a popular semi-automatic pistol or a classic revolver, we've got you covered. Craft Holsters offers concealed carry holsters for hundreds of gun models, making it easy to find the perfect fit for your firearm.

Ambidextrous Configuration:

Left-handed or right-handed, we cater to both. Our concealed carry holsters are available in configurations that suit your preference, ensuring quick and easy access to your weapon.
Benefits of Craft Holsters Concealed Carry Holsters:
Optimal security and retention for your firearm
Comfortable fit for all-day wear
Discreet and easy-to-conceal design
Quick and intuitive weapon access
Durable construction for long-lasting use
Concealed Carry Holsters FAQ:
What is a Concealed Carry Holster?
A concealed carry holster is a specialized holster designed to discreetly and securely hold a firearm on your person. It allows you to carry your weapon in a concealed manner, ensuring your safety while maintaining comfort and accessibility.
What Type of Holster is Best for Concealed Carry?
The ideal holster for concealed carry is one that offers a secure fit, easy access to your firearm, and comfortable all-day wear. Our IWB holsters, appendix holsters, or even ankle holsters are all designed for concealed carry excel in providing these essential features, making them an excellent choice for your needs.
Should I Use a Holster for Concealed Carry?
Absolutely. Using a concealed carry holster is essential for safety, security, and responsible firearm ownership. A well-designed holster like those from Craft Holsters ensures that your weapon is securely held, minimizing the risk of accidents and providing a comfortable carrying experience.
Do Concealed Gun Holsters Fit Well When You Sit?
Yes, concealed carry holsters are designed to fit well even when you're sitting. The glove-like fit and secure retention system ensure that your firearm stays in place, offering comfort and peace of mind no matter your position.
How to Wear Concealed Carry Holsters?
Wearing a concealed carry holster is easy. Simply secure the holster to your belt or waistband on your preferred side, ensuring the firearm is positioned for a quick draw. Adjust the holster's retention settings for your comfort and preference.
What is the best concealed carry holster?
The best holsters for concealed carry are always custom made from premium, functional, and durable materials, most frequently leather, nylon, or kydex. They also have to be molded exactly for your firearm model. Last but not least, they have to provide sufficient comfort and security, which our most popular ccw holsters do:
How to break in a leather concealed carry holster?
If you get one of our custom holsters for concealed carry, it's highly likely you won't need to do any break-in. However, in case your new holster feels a bit too tight, just follow our
Break-in Guide
. And if you don't have any break-in solution at hand, feel free to get our
Small Break-in Kit
, which comes with everything you need for a successful holster break-in.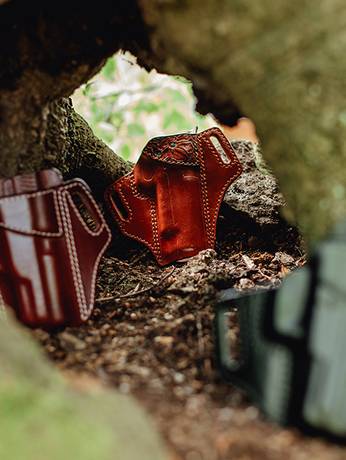 Create your unique custom holster design in our
CUSTOM SHOP
Become a part of the design of your own custom made holster from scratch with the help of our master craftsman.
More information