Leather Holsters
WHAT IS A LEATHER HOLSTER AND HOW DO LEATHER HOLSTERS WORK?
A leather gun holster is a type of gun holster made of leather. The main purpose of a leather gun holster is to contain your handgun when you're not using it as well as to offer your firearm extra protection during everyday carry.
The way leather gun holsters work is quite simple. Depending on the selected carry style, your gun holster is attached to the respective part of your body. In the case of leather belt holsters, these are attached to a gun belt (preferably made of leather) and there's several ways of attachment such as belt loops, belt clips, or holster paddles.
Once your gun leather holster is properly fastened to the given part of your body, all you have to do is to insert your gun in the holster and you're ready to start carrying your gun. If you need to use your firearm, you simply take it out, or in other words, you draw your gun from your leather holster. If you've stopped using your gun, you should put it back inside the holster, or to use proper terms, it's time to re-holster your firearm.
WHAT ARE THE DIFFERENT TYPES OF LEATHER HOLSTERS?
Gun holsters made of leather differ based on a number of parameters as well as the intended use. The two basic groups of leather handgun holsters are concealed carry leather holsters and open carry leather holsters.
Just like the name suggests, leather concealed carry holsters are mainly meant for everyday concealed carry and they can be only carried in the states allowing for concealed carry. They're called concealed because you usually hide them (or conceal) under a layer of clothing. Concealed leather holsters are the best choice for self-defense and can be used by the general shooting public (however, there are still states where concealed carry is illegal). Among CCW leather holsters are leather IWB holsters, appendix leather holsters, some leather shoulder holsters, leather ankle holsters, as well as leather OWB holsters with low profile.
Opposite to leather CCW holsters are leather holsters for open carry. Unlike concealed gun holsters, open carry holsters made of leather usually aren't concealed or their concealment is more complicated. While they offer quicker and more immediate access to your firearm, leather open carry holsters are illegal in some states and they are most commonly utilized by Law Enforcement, Military, or Security personnel. Leather holsters you can open carry are OWB leather holsters, leather paddle holsters, leather duty holsters, leather shoulder holsters, leather chest holsters, cross-draw leather holsters, SOB leather holsters and more.
Gun holsters also differ in the way they're built. What's great about leather holsters is the fact that they are molded on a particular firearm (or its replica), which is why they're often called custom leather gun holsters. Such gun holsters are not universal and can usually only be used with the handgun they're made for (at best they can be used with the guns that match the basic specs of the firearm they're meant for). Besides a high level of carry comfort, the best leather holsters for concealed carry provide a glove-like fit and come with a very high natural retention. Here's more on the most important benefits of leather holsters
WHAT GUNS ARE LEATHER HOLSTERS GOOD FOR?
It's safe to say leather holsters are compatible and work well with all sorts of handguns. The two basic categories of leather holsters are leather revolver holsters such as these J-frame revolver leather holsters and leather holsters for semi-automatic pistols, the best examples being 1911 leather holsters (in case of holsters for hammer-fired pistols), or Glock 19 leather holsters (when it comes to holsters for striker-fired guns). As most modern handguns can be upgraded by the means of aftermarket accessories, there's also a need for red dot leather holsters, laser and light-bearing leather holsters, and leather holsters for guns with red dot and light attachments.
WHAT KIND OF LEATHER IS USED FOR GUN HOLSTERS?
Most leather gun holsters are made of full-grain cowhide. The reason for this is that full-grain leather holsters are thick enough to offer adequate protection for your handgun and to prevent holster wear. Full-grain leather is also easy to condition or maintain. Here at Craft Holsters, we believe the best leather holsters are those made of full-grain Italian leather.
There's also a range of less expensive leather holsters made of so-called suede leather. Such soft leather holsters still offer enough protection for your firearm, but the material conforms to your body a bit better and suede leather holsters are also significantly lighter.

WHAT ARE THE BEST LEATHER HOLSTERS?
The best leather holsters always take into account all of the important parameters of your handgun. In other words, the best leather holsters are custom molded exactly for your gun. As such holsters are always built on a blue gun that matches the specs of your firearm, they grant your gun a perfect fit.
If you carry for personal protection or self-defense, then you should get a leather gun holster for concealed carry. Among the best leather CCW solutions are inside the waistband leather holsters (often called leather IWB holsters) or leather appendix holsters. The way these are attached means no one will ever notice you carry a firearm.
On the other hand, if you don't need to conceal your gun or your job requires you to carry a handgun and it's obvious to everyone you have a gun on you, then leather open carry holsters are your best choice as these are usually more comfortable and offer much quicker access to your handgun. The best leather holster options for open carry are outside the waistband leather holsters (simply called leather OWB holsters), cross-draw leather holsters, leather shoulder holsters, chest leather holsters, leather SOB holsters, leather duty holsters, and leather paddle holsters.
It's also important to point out that the best leather holsters should be available for as many guns as possible, which is why our leather holsters for revolvers and semi auto pistols are available for over 2,200 gun models. Almost every single design on our leather holster offer is also available for both right and left-handed shooters, which means you can select from the best left-handed leather holsters too.
Here's a short list of the best leather holsters by Craft Holsters:
Best leather OWB holster - Open Top Holster - Panther
Best leather IWB holster - Open Top IWB Holster - Lynx
Best cross-draw leather holster - Cross Draw Holster
Best SOB leather holster - Small of Back Holster - Grizzly
Best horizontal leather shoulder holster - Shoulder Holster System
Best vertical leather shoulder holster - Vertical Roto Shoulder Holster System
Best light-bearing leather holster - Belt Holster for Gun w Light
Best red dot leather holster - Comfortable Belt Holster for Gun w Red Dot
Best leather holster for 1911 - Holster with Belt Tunnel
Best leather holster for Glock 19 - Belt Side Holster
ARE LEATHER HOLSTERS MORE COMFORTABLE THAN OTHER MATERIALS?
As far as comfort goes, nothing beats leather holsters. Even though most leather holsters feel a bit rigid at first, their tightness eventually wears off. Leather holsters are comfortable mainly because of the way they contour your body, especially those carried inside the waistband. Over a couple of weeks of use, a leather holster loses its rigidness while maintaining a perfect shape, which means it gets a bit softer. If properly constructed, leather holsters are more comfortable than holsters made of other materials.
FEATURES OF LEATHER GUN HOLSTERS
High carry comfort
Molded exactly for your gun
Shaped to fit the specifics of your gun
Little signs of wear even after years
High natural retention
Glove-like fit that lasts a lifetime
Available for over 2,200 gun models
In mahogany and black colors
A great choice for right- and left-handed shooters
Suitable for open & concealed carry
Old World craftsmanship with modern touch
More durable than other materials
Great fit for valuable handguns
Entirely handmade and hand-engraved
Double-stitched for increased durability
Backed up by Lifetime Warranty
Other benefits of leather holsters
LEATHER HOLSTERS FAQ
WHO ARE LEATHER HOLSTERS GOOD FOR?
Leather holsters are a great choice for anyone who loves leather and traditional craftsmanship. The main reason leather holsters are good is that thanks to molding techniques used in their production, leather holsters
DO I NEED A GUN BELT FOR A LEATHER HOLSTER?
If you want to get a leather belt holster, then I'd say you'll also need a proper gun belt. While you can carry a gun holster without a belt, it's not advisable as your safety and comfort can be at risk. You can attach a leather holster to any kind of gun belt, but it's a good idea to match your leather holster with a leather gun belt.
If you decide for a holster that's carried attached to a different region of your body than your waistline, you don't need a gun belt, but it can still come in handy. For example, if you wear a leather shoulder holster, you can use the belt tie-down straps to attach it to your belt, increasing the stability of your shoulder holster system.
HOW TO BREAK-IN A LEATHER HOLSTER?
If you get one the best leather holsters above, it's highly likely you won't need to do any leather holster break-in. However, in case your new holster feels a bit too tight, just follow our Leather Holster Break-in Guide. The guide will answer your questions including how to stretch a leather holster or how to extend a leather strap on your holster. Also, if you want to make sure you have what you need for leather holster break-in, get your own Leather Holsters Break-in Kit.
HOW TO CONDITION AND CLEAN A LEATHER HOLSTER?
While products made of genuine leather such as custom leather holsters will last you a lifetime, it's always a good idea to regularly take care of your leather holster. If you need any guidance on how to clean and maintain leather holsters, check out this bit on Leather Holsters Care and Maintenance.
PROS AND CONS OF LEATHER HOLSTERS
Benefits of leather holsters:
Perfect fit for your firearm
High natural retention
Entirely handmade
Great carry comfort
Super durable and long-lasting
Leather holsters problems:
Won't pass higher retention level tests
Sometimes require break-in
More expensive than other materials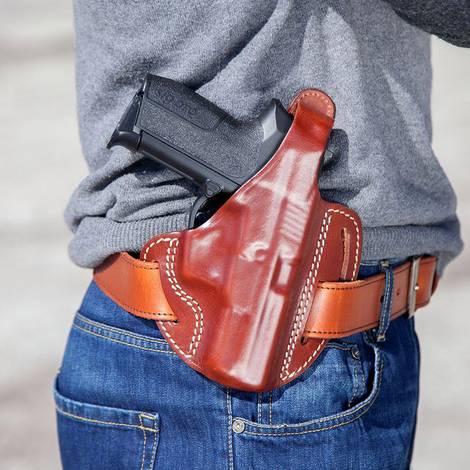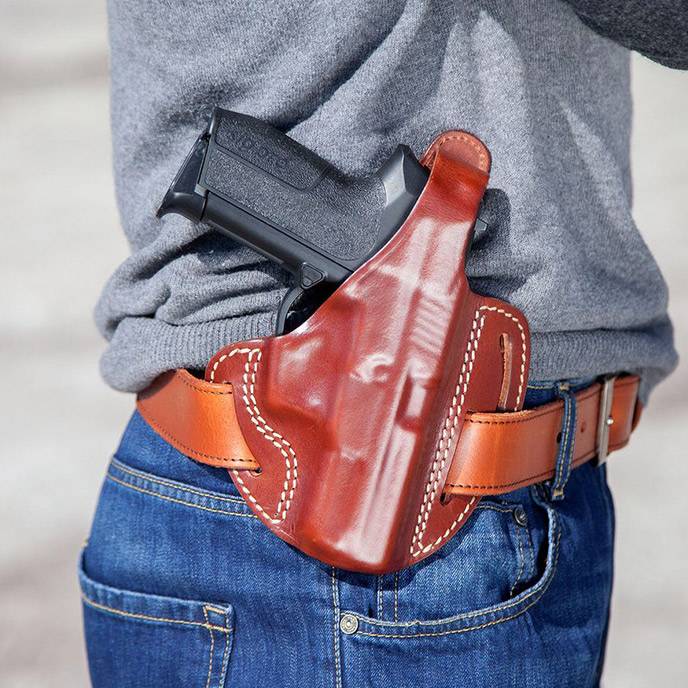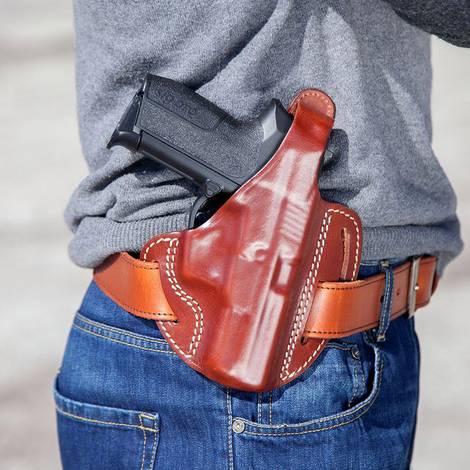 Best Gun Holster Accessories
Choose the right accessories below that will enhance your carry. Don't forget that a proper magazine pouch, a belt or a concealed carry bag are always good choices.
MAGAZINE
POUCHES
Get yourself a custom mag pouch or speedloader pouch. Becasue there is never "enough ammo" right?
See Magazine Pouches
GUN BELTS
A solid and stable gun belt is what you need to prevent your holster and the rest of your EDC from sagging.
See Gun Belts
care kits
Don't forget to get yourself a handy kit that contains everything you need to make sure your holster will last you a lifetime.
See Care Kits
Expand your Knowledge
Read More About Holsters & Holster Care
80+ Brands & 2000+ Gun Models
HOLSTERS BY GUN MODEL
Create your unique custom holster design in our
CUSTOM SHOP
Become a part of the design of your own custom made holster from scratch with the help of our master craftsman.
More information