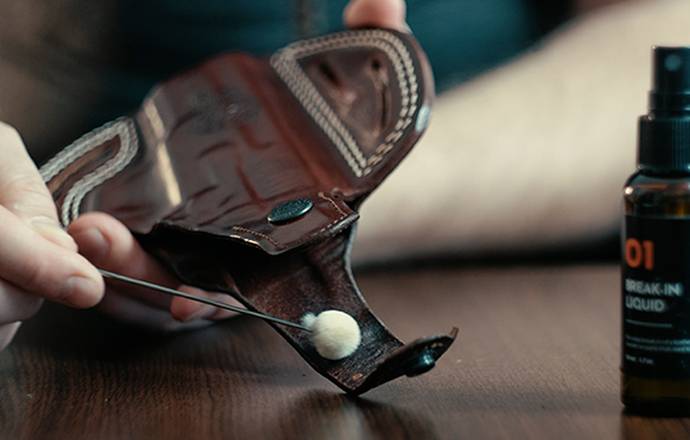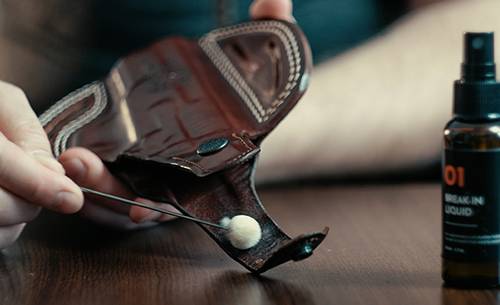 How to break in a leather holster you ask? Ideally you want to be able to use your new holster right after you get it, right? And you also want it to fit your pistol or revolver as well as possible. When it comes to kydex and nylon holsters, they are usually good to go straight out of the box. But they aren't as fancy and comfortable as leather holsters are. Moreover, the quality of craftsmanship and the smell of fresh and fine leather can hardly be beaten by other material gun holsters are made of.
However, a new leather holster can come with one downside - it might require some break-in before you can start carrying with comfort. That's why I'm here with a couple of proven methods for successful leather holster break-in. If your new leather holster doesn't fit right out of the box, don't panic and apply one of these methods so that you can enjoy a leather holster that lasts a lifetime.
how to break in your new holster - video guide
Are you struggling with the fit of your brand new leather holster? Don't worry and have a look at this quick video on 3 proven break-in methods that will definitely solve your problem. If you feel like your new holster is too tight, we advise you the holster break-in using denatured alcohol (the wet method). If the thumb-break strap of your new holster seems a bit too short, then the second method on our list is the way to go. Just watch this video guide and follow our step by step break-in instructions below the video.
#1 - Holster break-in
If you need to break-in your new leather holster, this is definitely the most effective method. It's sometimes also called the wet method or as we like to call it, the alcoholic way (please, don't drink any alcohol before you're successful with the break-in). The holster break-in can be done also without denatured alcohol (traditional plastic bag method) and we're aware that noone likes to get wet, but we strongly advise using chemicals for leather holster break-in. All you'll need is this:
Your gun
Denatured alcohol and a brush (available in our leather break-in kits)
Plastic bag (optional)
THE PROCESS - First of all, you should get either our Small or Premium break-in kit. Got it? Great. Now soak the brush in alcohol and apply the chemical to the key parts of the holster that keep your gun in place, such as the trigger guard. Run these parts over with the brush a couple of times, just to make sure.
The same can be done with the thumb break strap. Once you've applied the denatured alcohol on all the important parts of your holster, place your gun inside the holster (feel free to wrap it in a plastic bag first). Just like with the first method, let your gun sit inside the holster overnight. Now all you need is to get some sleep, and once you wake up, you'll be able to start carrying with comfort and great fit.
#2 - Leather strap break-in
Snapping the thumb break of your new leather holster closed is probably the most frequent problem with brand new leather holsters. And that's exactly what our second break-in tip is here for. This problem be solved very easily and although it takes a bit more force than the first method, you won't need anything but the following to be successful:
Your gun
A bit of force
Denatured alcohol (optional, but can help significantly)
THE PROCESS - Grab the strap in one hand, between your thumb and index finger, hold onto it and place your gun inside the holster. While pushing the gun inside, pull on the strap in the opposite direction. For better effect, twist and bend the strap a bit as you're pulling it. Don't be afraid to use some force, just don't overdo it as some harm might come to the leather if you apply too much force. This way the strap will stretch a bit and allow your gun to slide deeper in the holster. You'll also find it much easier to snap the thumb break strap closed. If there's no improvement, just carefully repeat the entire process.
If you're still having problem with snapping the thumb-break closed, we recommend you to use a bit of denatured alcohol available in our holster break-in and care kits (mentioned below).
Please note: Use reasonable force while pulling on the strap otherwise you can tear it apart. And more importantly while closing the snap be sure that the two parts are centered and coming together smoothly, otherwise you can deform the snaps with pressure and render them useless.
Leather holsters break-in kits

All of the methods for leather holsters break-in mentioned above are reliable and should do the trick if properly administered. However, searching for the right chemicals required in the wet method might take some time. To make it easier for you, we introduced our own break-in kits - Premium Holsters Care Kit & Small Break-in Kit.
Have a look at these videos and find out what our holster break-in and maintenance kits include and find out more about them here.
Premium Holsters Care Kit
The kit is designed to provide the necessary tools for a proper leather holster break-in and the subsequent care of the product. The occasional scratches or the wear and tear of each leather holster will be slowed down and/or repaired thanks to this handy holster helper. The kit itself contains a Break-in Liquid, Leather Conditioner, Leather Balm, Dauber, Microfibre Sponge, Wool Pad.

small break-in kit
This small break-in holster kitt is designed to provide the necessary tools for a proper leather holster break-in. The kit itself contains a Break-in liquid, Wool dauber, Microfibre cloth. It's a handy kit that you can use immediately after you open your holster and the gun won't fit easily.

How to determine your holster needs break-in
If you want a leather holster that fits like a glove, you should definitely get it in our store. However, even our holsters might not always come with a perfect fit straight out of the box. If this happens, don't lose hope as a bit of break-in is all you need to achieve the glove-like fit. Just follow the instructions above and you'll definitely be successful at breaking-in your new leather holster. If by any chance none of the methods works, you can always turn to our customer service or rely on our customer-friendly returns policy.
You'll most frequently have to go through the break-in procedure in the following cases:
ISSUE #1 - The strap of your new holster won't close or seems too short The strap break-in can stretch the leather of the thumb break strap up to one inch. It takes time and patience, but if you follow the second method on our list, you'll be successful. However, if you repeat the process a couple of times and the strap still seems too short, don't hesitate to contact us.
ISSUE #2 - Your new holster feels too small First of all, this is most frequently really just a feeling as our leather holsters are molded to fit your gun as well as possible. However, we're talking about fresh leather, which occasionally needs some breaking-in before a perfect fit is achieved. So, if the holster feels too small, try ramming your handgun in the holster and if there is still some space between the muzzle end of your gun and the holster's bottom left, then you need to do the break-in. Just follow the plastic bag or the wet method instructions above and you should be good to go.
Do you fancy some more light reading? Then carry on with these articles