OWB Holsters
The outside the waistband carry method is referred to as OWB. It represents one of the most comfortable handgun carry methods concerning the accessibility, comfort and the security. This carry method is commonly used by the law enforcement professionals. Though it's very comfortable and "natural" way how to carry the gun, disadvantage is a bit limited use mainly for the civilians. The firearm cannot be carried publicly and the gun must be covered up in the most of states/countries during the whole year, which might be inappropriate in some gun carrying situations (during the summer). One of the advantages of the outside-the-pants carry method is that it can be used with any size of the handguns. These kinds of holsters are particularly applicable to compact and full size handguns that have limited number of gun carry possibilities.
Carrying of the bigger handguns might be more comfortable and easily accessible. Another advantage of the OWB gun carry is a wide selection of the holsters offered in different designs; styles and materials that make this gun carry method to be one of the most represented. The holsters can be attached to the belt different ways, by the tunnels, loops, slots, clips or hooks. The outside-the-pants holsters are available in the traditional materials such as leather, nylon and also in more modern such as the Kydex and injection molded polymer. The OWB holsters might contain different designs features including the thumb break; open/closed muzzle design or other additional security features such as retention screws and various types of the security levels. There are many popular outside the waistband carry styles available including the strong side carry. The side holsters offered this style of carrying, where the handgun sits vertically on the strong side of the shooter's body.
Each style has its pros and cons. The strong hip holsters allow fast and easy access to the gun in a natural way and a con is that this kind of carry method is typically comfortable in the certain type of activities such as driving or sitting. The next popular outside-the-belt carry method is represented by the pancake style holsters with a closer fit to the body, FBI cant for an easy draw and the easy accessibility. These types of holsters standardly feature 2-3 belt slots; allow a higher ride and more carry positions possibility. The pancake holster can be standardly carried on the strong side with FBI cant and also on the weak side with rear cant. Other popular outside the waistband methods that need to be mentioned due to the popularity are the belt holsters carried in the back positions. To sum it all, the belt holsters represent a popular carry method thanks to the comfortability, security, accessibility and easy manipulation with the gun and only thing that the civilian shooter needs to consider is an appropriate covering garment.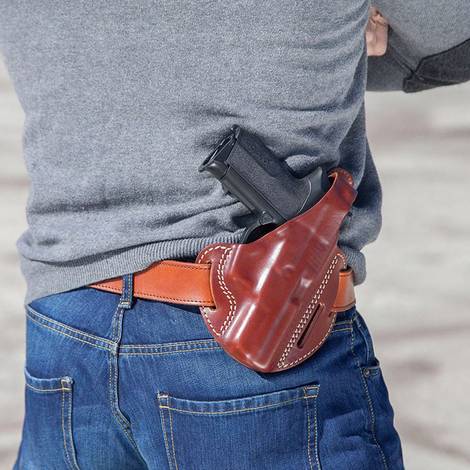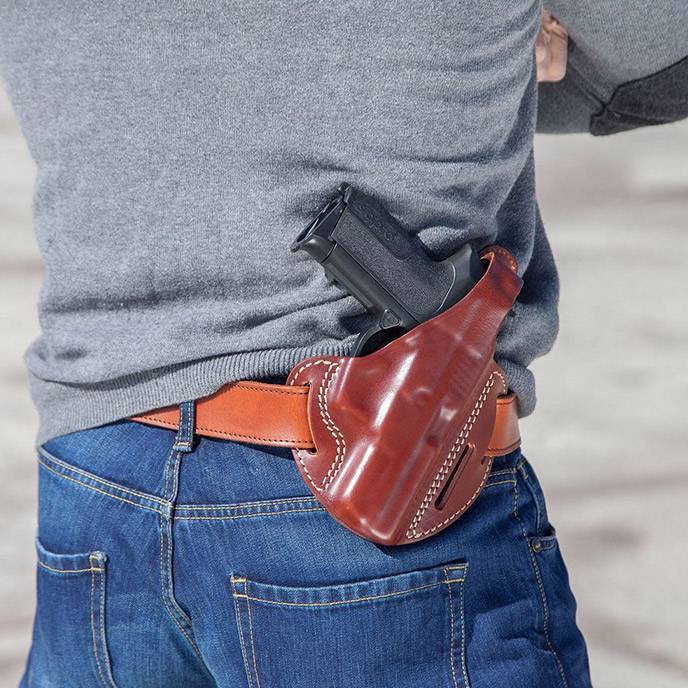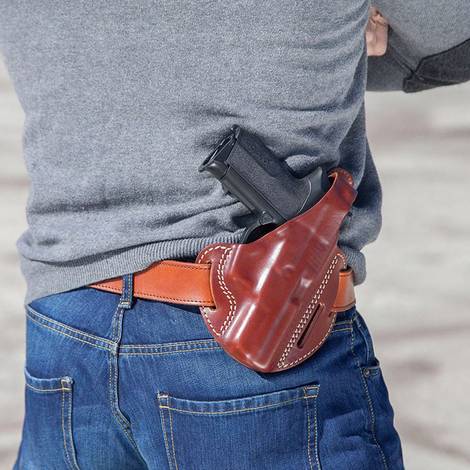 Your Personal Holsters Collection
Browse holsters by gun model