Holster That Lasts A Lifetime
Holster That Lasts A Lifetime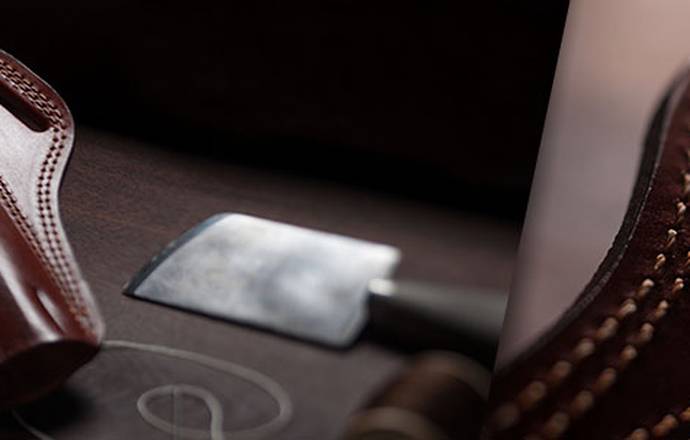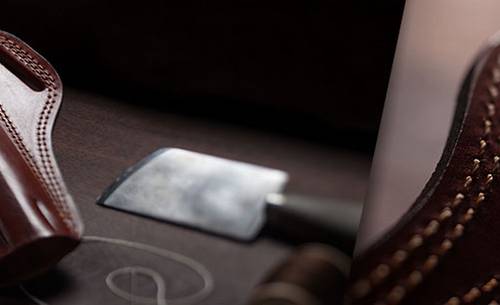 Do you know what makes the difference in handgun holsters quality? It's simple. It's the custom aspect put into each holster. Once you get your hands on a piece of leather that was hand made the difference will be visible. A proper gun holster is hand cut, precisely sewn and molded on the exact gun replica to achieve the perfect holster fit. The molding process leaves the holster very stiff and perfectly shaped. At last, lacquered finish is applied to add the shine, protection and the characteristic feel and smell of the real leather holster.
The Important Features
What to look for in a custom holster? There are features that are a must and by knowing them you can easily spot a proper custom holster. They can be divided into groups. Leather, stitching & details.
 
Leather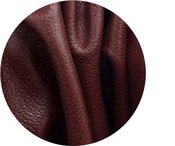 The common question that spawns two camps of leather holster lovers are thick vs. thin leather. The first one, the robust and thick leather is something that people like, because they can feel that the mass is present. The benefits of a thick holster are of course the robust construction and better retention features.  
 
Stitching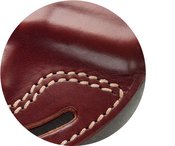 You may have the best leather in the world but if the sewing isn't perfect your holster will be useless in time. Quality threads and needlework can be visible at the first glance on the holster. Key points of the holster should be double-stitched, they don't have to be if the carry style does not put a lot of pressure on the draw, but having a double stitched holster is more safe.
Retention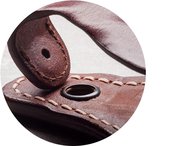 Your holster needs to do on thing in the first place - hold your firearm. Retention of the holster is the key feature. Those of you who love open top holsters surely know the upside down test. You place your firearm in your open top holster and flip it upside downt. If it sticks it has passed the test. Natural retention is a key part of a proper custom holster so don't forget to do your tests once you receive an open top leather holster.
Details & Features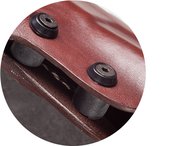 Last but not least, the beauty and functionality of a custom holster is in the details. You have to look for them to be able to find the optimal holster for you. If we take it from the bottom you can look into a closed, pariatlly open or open muzzle end. The first one protects the end of your firearm but can acumulate  dirtt. Open and partially open muzzle ends can keep the dirt away.
Are you looking for an open top holster? Then don't forget to check the sweat guard because a constant push of your firearm on your body may become a nusiance. If you are looking forward to carrying your OWB holster only outside your shirt and don't want no sweat guard then look for a holster with re-inforced top - it will easily guide your re-holstering the righ way.
Are you looking for maximum stability on the belt? Wide spread belt loops are what you're looking for - they will place the mass of the holster and gun evenly on your belt and the holster will sit in place. The list of details and features can go on forever, just have in mind that a proper custom holster is a combination of all things mentioned above and have good luck on the holster hunt.
Want more?
Here's Our 5 Year Warranty




A proper leather holster has to come with a guarantee that will cover all the needs. Our custom holsters come with a 30-day tryout period and a 5 Year warranty. We have the tryout because we beleive in the quality of our products and have the confidence that you will too. Don't waste your time now and choose your holster via the button below.
The 5 year warranty on top of that will cover all your possible holster problems. Let's say (based on a true story)  if your dog chewed on your holster after three years of use and you decided to contact us with this partially funny paritally sad situation to see what can be done. The 5 year warranty will cover this chew incident and either your new holster will be on the way or a refund. Browse your custom leather holsters now.