Concealed Carry Bags
Craft Holsters brings to you the finest range of %number% concealed carry bags, impeccably designed to provide you with a seamless way to carry your semi-automatic pistols and revolvers discreetly and in style. Our premium collection not only facilitates ease of access but also adds an edge to your daily fashion statement. Whether you are looking for concealed carry sling bags or concealed carry crossbody bags, we have an eclectic range to cater to your specific needs. With the quality we offer, carrying confidence was never so chic and effortless.
Benefits of Concealed Carry Bags
Lifetime Warranty:

Our concealed carry bags are designed to last, with each purchase backed by a lifetime warranty, showcasing our confidence in the product's quality.

Premium Materials:

Crafted using premium materials, our concealed carry bags and fanny packs promise durability and a sophisticated look that stands the test of time.

Wide Compatibility:

Our concealed carry bags are versatile, offering compatibility with over 2,400 gun models, ensuring you find the perfect fit for your firearm.
Secure Your Peace of Mind
When it comes to carrying your firearm safely and discreetly, there is no compromise. Our concealed carry bags for pistols are designed with your security in mind, merging comfort with functionality. Experience the perfect blend of style and security with Craft Holsters, where we not only promise quality but also foster trust and peace of mind. Make the wise choice today, choose concealed carry bags for an unmatched experience in safety and style.
Concealed Carry Bags FAQ
What makes a good concealed carry bag?
A good concealed carry bag is characterized by durability, easy access compartments, and functionality that does not compromise style. At Craft Holsters, our concealed carry bags are designed using premium materials that ensure longevity and provide a secure yet stylish way to carry your firearm discreetly.
Are concealed carry bags a good idea?
Absolutely, concealed carry bags are not only a good idea but a great one. They provide a safe, accessible, and discreet method to carry your firearm, ensuring you have your self-defense tool within reach without drawing unnecessary attention.
What is a concealed carry bag?
A concealed carry bag is a specialized type of bag designed to safely and discreetly house your firearm. Whether you opt for concealed carry sling bags or concealed carry crossbody bags, these accessories offer compartments and features that make carrying a firearm convenient and stylish. They blend seamlessly with your attire, offering a fashionable yet functional solution to your concealed carry needs.
What are the best concealed carry bags?
The best bags for concealed carry are designed to offer room for not just your firearm and holster, but also the rest of your essential edc items. They are also made of premium materials, mainly durable and breathable nylon. Among the best ccw bags on our offer are these: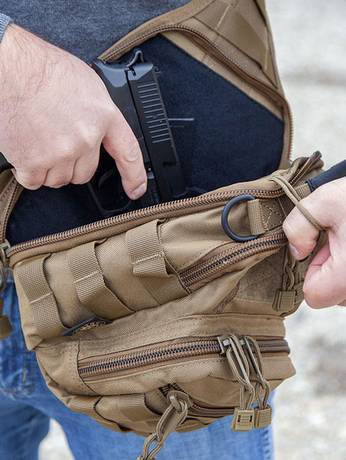 Create your unique custom holster design in our
CUSTOM SHOP
Become a part of the design of your own custom made holster from scratch with the help of our master craftsman.
More information