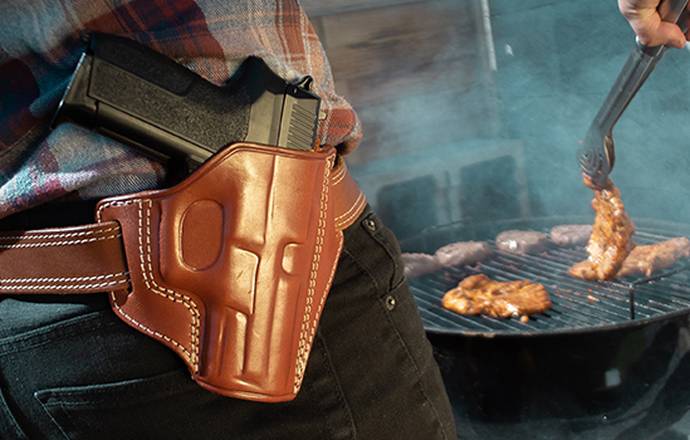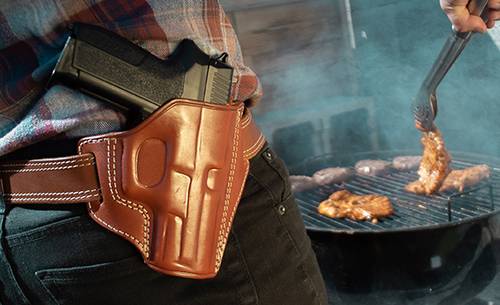 Although the need for everyday concealed carry has never been higher, OWB holsters still rank among the most popular carry styles. They might not offer the level of concealment that let's say IWB, or inside the waistband, holsters offer, but they sure come with a handful of benefits no other carry style does. And that's exactly why OWB holsters deserve your attention. So, without further ado, let's have a look at what OWB holsters are, what benefits they offer and what are the best OWB holsters for particular guns and occasions.
What is an OWB holster?
If you're fairly new to the world of holsters, you might be wondering what an OWB holster is. The abbreviation stands for "outside the waistband", which actually suggests how to carry them. If attached properly, an OWB holster rests on the outside of your pants. Most often, the holster is anchored to your body on a gun belt. A typical OWB holster comes equipped with loops, slots, clips or a paddle, through which it can be fastened to the belt. Due to their positioning, OWB holsters are ideal for states that allow open carry.
Choosing the best OWB holster
There are a couple of things you need to think of when selecting a new OWB holster. Some OWB holsters are ideal for full-size handguns such as the 1911, some for mid-sized pistols and revolvers, and some work best with sub-compacts like the SIG P365. The way an OWB holster is attached is also an important factor. Although most shooters go for traditional holsters with belt slots, others might prefer OWB paddle holsters. Also, if you live in a state with strict CCW laws, you'll need an OWB holster for concealed carry. And if you work in Law Enforcement, you might need a holster with high retention.
#1 - Best OWB Holster for 1911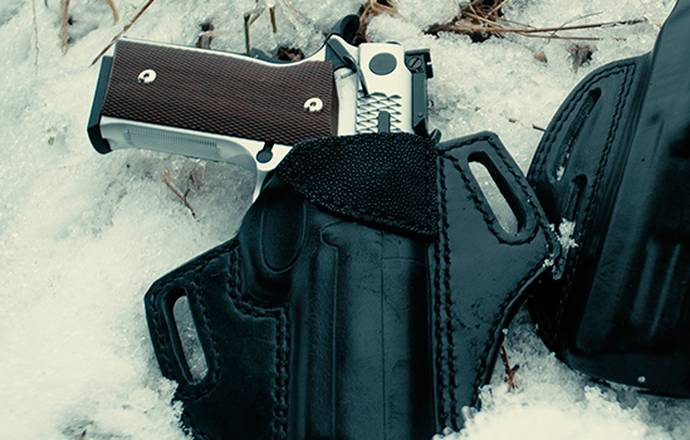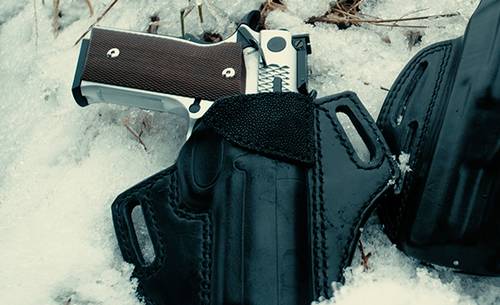 Let's first find the ideal OWB holster for 1911, because this full-size American icon deserves the best. As this is a rather big and heavy pistol, it needs a holster that's as light as possible, but it also needs to deliver great balance on the belt. And although there are many great OWB holsters for 1911, I believe the following one really has the edge.
This OWB holster for 1911 was made by the skilful hands of our Custom Shop craftsman. Molded on the exact replica of a full-size 1911, it delivers perfect, glove like fit and high natural retention. The holster's forward leaning cant secures quick draw and easy reholstering. The evenly spaced belt slots secure great belt stability. Although the leather is quite sturdy, the holster is still quite lightweight. The pancake design means the holster keeps very low-profile, allowing for easy concelment. And doesn't it look just beautiful?

#2 - Best OWB Holster for Glock 19
The Glock 19 is definitely the most popular mid-sized pistol ever produced. However, this polymer-framed, striker-fired bestseller can only reach its full potential when paired with a well fitting Glock 19 holster. The pistol is most frequently carried outside the waistband, but what's the best OWB holster for Glock 19? That's the question ... to which I have an answer.
This OWB holster for Glock 19 comes in the popular pancake stile, which grants it a low profile. This makes your Glock 19 super easy to conceal even when carried outside the waistband. The holster is entirely double-stitched, which increases its durability, a key feature of a great OWB holster. It's wet-molded on the replica of the gun, securing great fit and high retention. The open-top design allows for quick draw and the evenly spread belt slots make the holster sit firmly on the belt.

#3 - Best OWB Holster for P365
The SIG Sauer P365 is undeniably one of the best concealed carry pistols ever produced. This amazing micro-compact works is most often paired up with IWB or AIWB holsters, however, other styles of holsters for P365 aren't that uncommon either. As the pistol is very tiny, it can be easily concealed even when carried OWB style.
The P365 is mainly used for self-defense, which is why you need a holster with quick acces. The cut out opening of the holster delivers just that. It's wet-molded on the SIG's replica, giving it a glove-like fit. The retention of this holster can be further increased by tightening the tension screw, which is perfect for those who use the SIG as a service pistol. If you're looking for extremely quick draw and high retention, this is the best OWB holster for SIG P365 you can get.

#4 - Best OWB Holster for concealed carry
Just like mentioned before, OWB holsters aren't as great for concealed carry as let's say IWB holsters. However, this doesn't mean concealing your gun in an outside the waistband holster isn't possible. All you need to know is what makes the best OWB concealed carry holster - high ride and low profile. And I've got one just like that for you.
This OWB holster features a very compact design. It rides high on the belt and hugs the body well, which makes it very easy to conceal with just a shirt. It also features a reinforced thumb-break strap, which not only grants high retention, but also secures the firearm well. The holster is wet-molded on the exact replica of your firearm and it can be made for an endless number of pistols and revolvers. Moreover, the entire holster is double-stitched. This is simply the best OWB holster for concealed carry.

#5 - Best OWB Paddle holster
As they are rather difficult to conceal, paddle holsters are mainly popular among Law Enforcement and other on-duty professionals. The paddle is made of a durable plastic, in a design contouring the shooter's side. This makes the gun carry stable, preventing the holster from being pulled away when the handgun is drawn. Although it is recommended to use a gun belt with this type of gun carry, this type of holster doesn't really require a belt as the paddle itself presses against the holster creating a "seal" that enables to keep the holster in place solidly and independently of the belt.
This paddle holster comes with everything a great OWB holster should offer. To start with, it's very comfortable to wear. The open-top design delivers rapid draw and quick access to the firearm. The featured tension screw allows for adjustment of draw resistance and level of retention (essential for Law Enforcement professionals). Moreover, the rotary paddle can be adjusted to deliver the desirable cant and draw angle. The holster also features a partial sweat guard, which prevents skin abrasion and decreases the wear of your gun's finish.

#6 - Best OWB Holster with retention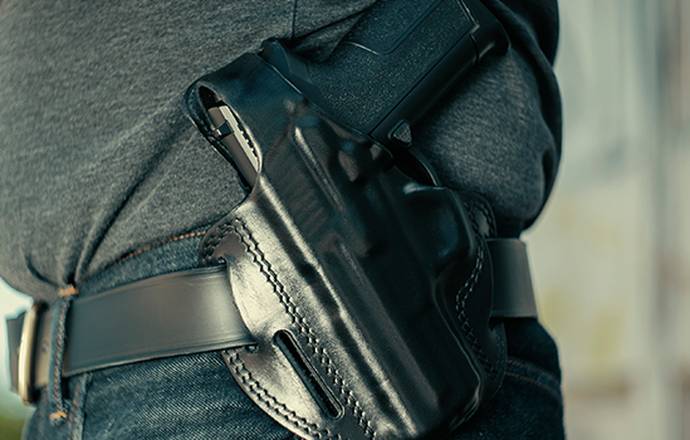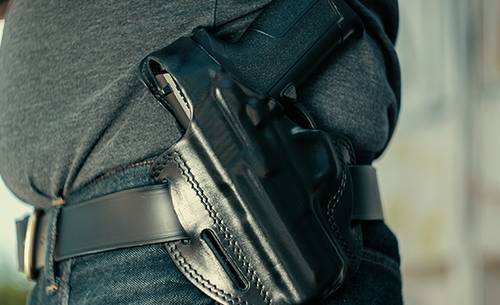 When you carry your gun oin an OWB holster, it becomes rather exposed. That's why you want your OWB holster to boast very high retention. If your holster features a retention device such as a thumb-break strap, you don't risk your gun falling out of the holster and you don't give anyone a chance to snatch your pistol or revolver away from you.
This is a perfect OWB retention holster. The thumb-break strap it's equipped with is reinforced with steel, which makes it retain its shape even after years of constant use. The holster sits comfortably on your belt and the pancake-like design allows for quite easy concealment. The holster is molded on the exact replica of your pistol or revolver, which not only delivers a perfect, glove-like fit, but also further increases the holster's ability to retain your firearm. This is simply the best OWB holster with retention.

Pros and Cons of OWB Holsters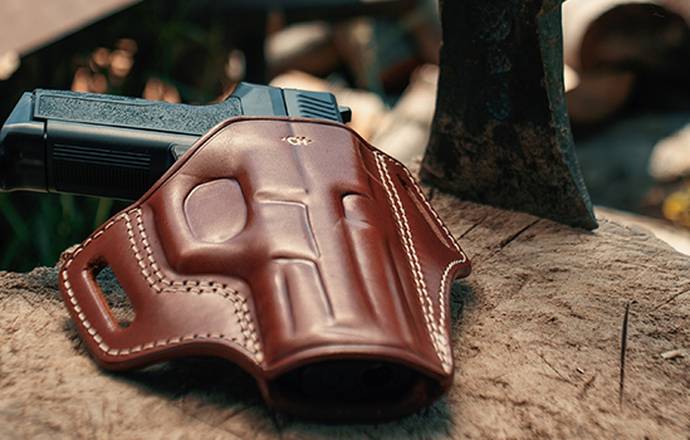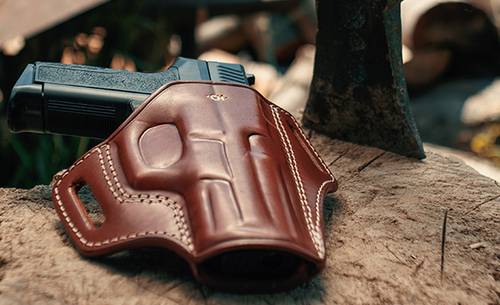 The biggest advantage of OWB holsters is that they are extremely comfortable to wear. If you carry your gun on the outside of your pants, there won't be anything poking you in the side.
OWB holsters also offer a super quick and intuitive draw. Also, when holstered, the gun sits further off your skin, which allows you to get your entire hand on it in the right position, resulting in a firmer and fuller grip.
On the other hand, OWB holsters offer less concealment as other types of holsters. However, there are tips & tricks on how to hide these holsters from others and our list will also include one of the best OWB holsters for concealed carry. You can read more about benefits and drawbacks of OWB holsters here.
Conclusion
Just like you could see, outside the waistband holsters are still a very viable style for everyday carry. Our selection not only suggests great options for full, mid, and compact-sized handguns, but you can also find a perfect OWB concealed carry holster among the list. And if you're looking for a high retention OWB holster or a great paddle option for your service gun, I'm sure you'll also find your favorite. And if this list of 6 best OWB holsters isn't enough, you can browse the rest of our custom made OWB holsters.
Do you fancy some more light reading? Then carry on with these articles