Nylon Holsters
Nylon has found its way to the gun owner mainly because of its low price and easy maintenance. The nylon used in holsters is either Ballistic nylon or Cordura nylon.As a material it's a dual-layered polymer nylon fabric with a textile membrane. This allows the whole holster to 'breathe'. The retention of the nylon holster is based on its light material design. As a concealed carry holster, the nylon ones have good retention because the lightness and softness of the holster allows the gun to be pressed between the body and the belt and thus proper friction is created. Otherwise, non-concealed, the retention meets the requirements needed but doesn't stand out on its own.
The material is light, the wearer doesn't have to mind sweat because the holster isn't as influenced by it as leather, but on the other hand, it sucks in water, oil and dust, which can endanger the weapon. The fabric finish requires a two-hand draw because the holster doesn't stay in position; to position a nylon holster other adjustments such as straps are needed. Apart from this, the fineness of the material has its benefits in almost minimal weight. Cordura nylon hand made holsters are probably the possibility, because cordura is blended with other fine fabric, so the holster stays in position, and the hand made finish keeps the retention high.
WHAT IS A NYLON HOLSTER AND HOW DO NYLON HOLSTERS WORK?
A nylon gun holster is a type of gun holster made of soft, breathable, yet very durable materials. The main purpose of a nylon gun holster is to contain your handgun when you're not using it as well as to offer your firearm extra protection during everyday carry.
The way nylon holsters work is quite simple. Depending on the selected carry style, your gun holster is attached to the respective part of your body. In the case of nylon belt holsters, these are attached to a gun belt and there's several ways of attachment such as belt loops, belt clips, or holster paddles.
Once your gun nylon holster is properly fastened to the given part of your body, all you have to do is to insert your gun in the holster and you're ready to start carrying your gun. If you need to use your firearm, you simply take it out, or in other words, you draw your gun from your nylon holster. If you've stopped using your gun, you should put it back inside the holster, or to use proper terms, it's time to re-holster your firearm.
WHAT ARE THE DIFFERENT TYPES OF NYLON HOLSTERS?
Gun holsters made of nylon differ based on a number of parameters as well as the intended use. The two basic groups of nylon handgun holsters are concealed carry nylon holsters and open carry nylon holsters.
Just like the name suggests, nylon concealed carry holsters are mainly meant for everyday concealed carry and they can be only carried in the states allowing for concealed carry. They're called concealed because you usually hide them (or conceal) under a layer of clothing. Concealed nylon holsters are the best choice for self-defense and can be used by the general shooting public (however, there are still states where concealed carry is illegal). A great example of CCW nylon holsters are nylon inside the waistband holsters (or simply nylon IWB holsters) and nylon appendix holsters. Another popular nylon concealed carry holster option are so-called nylon belly band holsters, ideal mainly for sports and outdoor activities such as hiking. Last but not least, you can always concealed carry in a nylon ankle holster or you can even opt for off-body carry options such as nylon concealed carry bags.
Opposite to nylon CCW holsters are nylon holsters for open carry. Unlike concealed gun holsters, open carry holsters made of nylon usually aren't concealed or their concealment is more complicated. While they offer quicker and more immediate access to your firearm, nylon open carry holsters are illegal in some states and they are most commonly utilized by Law Enforcement, Military, or Security personnel. Nylon holsters you can open carry are OWB nylon holsters, nylon paddle holsters, nylon duty holsters, nylon shoulder holsters, nylon chest holsters, cross-draw nylon holsters, nylon drop-leg holsters, and more.
WHAT GUNS ARE NYLON HOLSTERS GOOD FOR?
Nylon holsters are a good choice for both semi-automatic pistols as well as revolvers. However, what sets nylon holsters apart from leather holsters and kydex holsters is the way they're molded. While holsters made of leather and kydex are almost always molded to fit just one particular handgun, nylon holsters often feature so-called semi-universal or even universal fit.
Nylon holsters with semi-universal fit will take in not only the handgun they're originally intended for, but also any other gun that's more or less the same in size. This is why most Glock 17 nylon holsters will fit the Glock 22. This works both ways, meaning a nylon Glock 22 holster will fit the Glock 17. When it comes to nylon holsters with universal fit, these will fit a multitude of handguns, even if they're not that close in size. However, we don't recommend using gun holsters with universal fit, as they almost never offer adequate retention.
As nylon holsters are frequently used in Law Enforcement, they are available for all sorts of tactical handguns. That's the reason why there's so many Glock 19 nylon holsters, SIG P320 M17 kydex holsters, Walther PDP Full Size kydex holsters, or H&K HK45 kydex holsters. As most modern on-duty handguns come with all sorts of tactical attachments, there's also a need for red dot nylon holsters, laser and light-bearing nylon holsters, and red dot and light nylon holsters.
Besides semi-automatic pistols, nylon holsters are often used to carry revolvers of all types and sizes. A great benefit of nylon revolver holsters is the semi-universal fit they often come with as you can use one revolver nylon holster for many different revolvers of similar size that are built on the same frame.
Last but not least, as nylon holsters are less expensive than holsters made of other materials, they're a good choice if you're on a tight budget. Their low price is the reason they're often used with some of the least expensive carry guns such as Glocks and also the reason why most holster makers offer Glock 43X nylon holsters, Glock 19 nylon holsters, or Glock 48 nylon holsters.
WHAT ARE THE BEST NYLON HOLSTERS?
If you carry for personal protection or self-defense, then you should get a nylon gun holster for concealed carry. On the other hand, if you don't need to conceal your gun or your job requires you to carry a handgun and it's obvious to everyone you have a gun on you, then nylon open carry holsters are your best choice as these are usually more comfortable and offer much quicker access to your handgun.
It's also important to point out that the best nylon holsters should be available for as many guns as possible, which is why our nylon holsters can be made for over 2,200 different semi-automatic pistols and revolvers. All nylon holsters on our offer are also available for both right and left-handed shooters, which means you can select from the best left-handed nylon holsters too.
Here's a short list of the best nylon holsters by Craft Holsters:
Best nylon OWB holster - Nylon Holster with Magazine Pouch
Best nylon IWB holster - Nylon IWB Holster
Best nylon Appendix holster - Tuckable Nylon IWB Holster
Best nylon belly band holster - Breathable Belly Band Holster
Best cross-draw nylon holster - Nylon Cross Draw Holster
Best horizontal nylon shoulder holster - Nylon Shoulder Holster
Best vertical nylon shoulder holster - Nylon Roto Shoulder Holster
Best nylon chest holster - Nylon Chest Holster
Best light-bearing nylon holster - Belt Side Nylon Holster for Gun w Light
Best red dot nylon holster - IWB Nylon Red Dot Holster
Best nylon drop leg holster - Nylon Thigh Holster
ARE NYLON HOLSTERS MORE COMFORTABLE THAN OTHER MATERIALS?
As they're made of soft material that easily conforms to your body, nylon holsters are considered a very comfortable type of gun holster. Actually, many consider nylon holsters more comfortable than leather holsters. However, as they often feature semi-universal or universal fit, nylon holsters can get quite uncomfortable, especially in case you use them for a much smaller handgun than the one they have been made for. A loose gun can move inside a nylon holster quite a lot, which not only creates carry discomfort, but can also render your nylon holster unsafe.
FEATURES OF NYLON GUN HOLSTERS
Most feature semi-universal or even universal fit
Made of soft, breathable, yet very durable material
Good option for everyday concealed carry
Most affordable type of holsters
Available for over 2,200 handguns
Available for both semi-autos and revolvers
Frequently used by Law Enforcement and Military
Often available in different finishes or textures
A great choice for right- and left-handed shooters
Suitable for open & concealed carry
Comfortable to wear
Backed up by Lifetime Warranty
NYLON HOLSTERS FAQ
WHAT KIND OF MATERIAL IS USED FOR NYLON GUN HOLSTERS?
Nylon gun holsters are made of soft, breathable, yet extremely durable materials that combine into what's known as nylon. As such, nylon is a family of synthetic polymers composed of polyamides (repeating units linked by amide links). Nylon is a silk-like, thermoplastic, generally made from petroleum, that can be melt-processed into fibers, films, or shapes
Most frequently, nylon gun holsters are made of ballistic nylon or Cordura (a collection of synthetic fiber-based fabric technologies). Cordura is also used to make off-body nylon carry options such as cordura concealed carry bags and nylon concealment pouches.
WHO ARE NYLON HOLSTERS GOOD FOR?
As they're the least expensive holster option, nylon holsters are a great option for any shooter who's on a limited budget. Also, the fact that most nylon holsters feature a semi-universal or universal fit, they're a good choice for those who carry a number of similarly-sized handguns.
Nylon holsters are also popularly used among Law Enforcement and Military as they often come in wearing styles other materials don't. A great example are nylon drop leg holsters, nylon duty holsters, or nylon ankle holsters.
ARE NYLON HOLSTERS SAFE?
As long as you manipulate with your holster the way you should, nylon holsters are safe to carry. However, if you don't use your holster and firearm the intended way, holsters made of all materials including nylon holsters can be dangerous. That's the reason why you should always inform yourself before you start using a freshly acquired handgun or holsters.
DO I NEED A GUN BELT FOR A NYLON HOLSTER?
If you want to get a nylon belt holster, then I'd say you'll also need a proper gun belt. While you can carry a nylon gun holster without a belt, it's not advisable as your safety and comfort can be at risk. You can attach a nylon holster to any kind of gun belt, but it's a good idea to match your nylon holster with a reinforced nylon gun belt.
HOW TO BREAK-IN A NYLON HOLSTER?
As nylon holsters feature semi-universal or universal fit, they very rarely require nylon holster break-in. However, if you don't know how to stretch a nylon holster, just do the following. Wrap your gun in a plastic bag, shove it all the way down your nylon holster, and let the bag with your gun sit inside the holster overnight. When you take your gun out of your nylon holster after a couple of hours, you'll see the fit of your nylon holster has adjusted. For more information on holster break-in, check out our Holster Break-in Guide.
HOW TO TAKE CARE OF A NYLON HOLSTER?
If you get one of the best nylon holsters above, it's highly likely you won't need to do any serious nylon holster adjustment. However, if you want your nylon holster to last you for as long as possible, you'll have to regularly tend to your nylon holster. If you're not sure how to maintain a nylon holster, check out our blog on Nylon Holster Care.
PROS AND CONS OF NYLON HOLSTERS
Benefits of nylon holsters:
Most affordable holster material
Can be used for more guns of similar size
Soft and lightweight material
Comfortable to carry
Ideal for deep concealed carry
Nylon holsters problems:
Often quite flimsy and loose
Universally fitting holsters can be unsafe
Look nowhere near as classy as leather holsters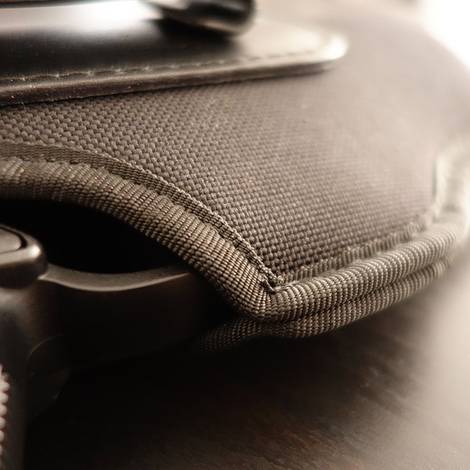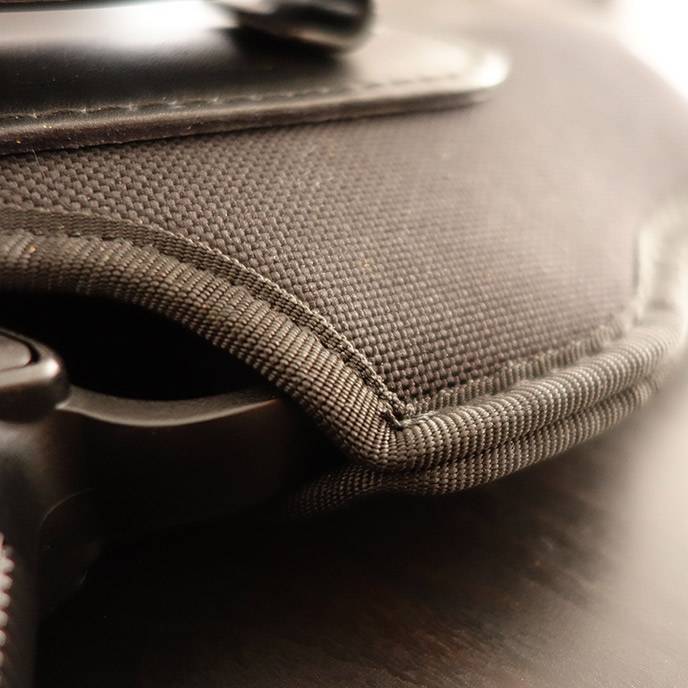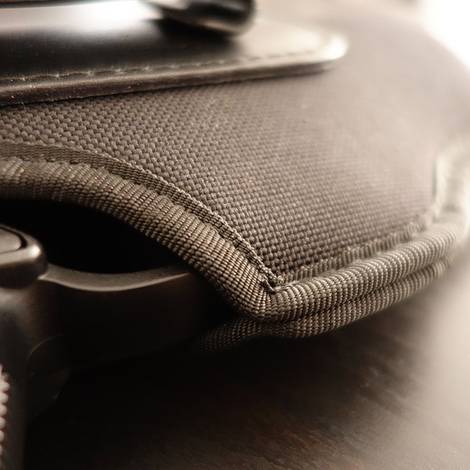 Best Gun Holster Accessories
Choose the right accessories below that will enhance your carry. Don't forget that a proper magazine pouch, a belt or a concealed carry bag are always good choices.
MAGAZINE
POUCHES
Get yourself a custom mag pouch or speedloader pouch. Becasue there is never "enough ammo" right?
See Magazine Pouches
GUN BELTS
A solid and stable gun belt is what you need to prevent your holster and the rest of your EDC from sagging.
See Gun Belts
care kits
Don't forget to get yourself a handy kit that contains everything you need to make sure your holster will last you a lifetime.
See Care Kits
Expand your Knowledge
Read More About Holsters & Holster Care
80+ Brands & 2000+ Gun Models
HOLSTERS BY GUN MODEL
Create your unique custom holster design in our
CUSTOM SHOP
Become a part of the design of your own custom made holster from scratch with the help of our master craftsman.
More information