Kydex Holsters
To start with, kydex is a synthetic thermoplastic PVC and it was first used as holster material in the early 1970s by Bill Rogers, a former FBI agent from Chicago. Ever since Rogers made his first holster back in 1972, kydex holsters have been gaining in popularity quite rapidly. As a matter of fact, holsters made of kydex are currently even more popular than those made of leather, especially among younger shooters.
There are several reasons why there's such a high demand for kydex holsters. Not only are holsters made of kydex super light, easy to form, and resistant to chemicals or bad weather conditions, they also offer more retention levels than holsters made of other materials. The multiple retention levels kydex holsters deliver are also the main reason why they are so popular among law enforcement or military professionals (as these are often required to carry holsters with Level III or higher retention).
Kydex holsters are known for the satisfying "clicking" sound made when the gun is drawn and re-holstered. As they are made of plastic, they are easy to customize. Not only can they be molded pretty much to any handgun out there, they come in an endless range of colors and finishes. The fact that they can be molded to fit pretty much anything makes them also much more ideal for tactical use than let's say leather holsters are. This is also the reason why there are so many light-bearing kydex holsters and kydex holsters for red dot pistols available. Another huge benefit of kydex holsters is that unlike leather holsters, they don't have to be run through the break-in procedure before first use.
Of course, nothing is perfect, including kydex holsters. The main disadvantage of kydex holsters is that if they are exposed to super high temperatures, they start melting and might even lose their shape. This is the reason why you should never leave your kydex holster on your car's dashboard or window sill. Also, even though kydex is resistant to all sorts of weather, it can still be easily scratched and it requires some maintenance work.
WHAT IS A KYDEX HOLSTER AND HOW DO KYDEX HOLSTERS WORK?
A kydex gun holster is a type of gun holster made of Kydex, which is a blend of thermoplastic acrylic-polyvinyl chloride materials. The main purpose of a kydex gun holster is to contain your handgun when you're not using it as well as to offer your firearm extra protection during everyday carry.
The way kydex holsters work is quite simple. Depending on the selected carry style, your gun holster is attached to the respective part of your body. In the case of kydex belt holsters, these are attached to a gun belt and there's several ways of attachment such as belt loops, belt clips, or holster paddles.
Once your gun kydex holster is properly fastened to the given part of your body, all you have to do is to insert your gun in the holster and you're ready to start carrying your gun. If you need to use your firearm, you simply take it out, or in other words, you draw your gun from your kydex holster. If you've stopped using your gun, you should put it back inside the holster, or to use proper terms, it's time to re-holster your firearm.
WHAT ARE THE DIFFERENT TYPES OF KYDEX HOLSTERS?
Gun holsters made of kydex differ based on a number of parameters as well as the intended use. The two basic groups of kydex handgun holsters are concealed carry kydex holsters and open carry kydex holsters.
Just like the name suggests, kydex concealed carry holsters are mainly meant for everyday concealed carry and they can be only carried in the states allowing for concealed carry. They're called concealed because you usually hide them (or conceal) under a layer of clothing. Concealed kydex holsters are the best choice for self-defense and can be used by the general shooting public (however, there are still states where concealed carry is illegal). A great example of CCW kydex holsters are kydex inside the waistband holsters (or simply kydex IWB holsters) and kydex appendix holsters. Most recently, some kydex holster manufacturers have also started offering kydex belly band holsters.
Opposite to kydex CCW holsters are kydex holsters for open carry. Unlike concealed gun holsters, open carry holsters made of kydex usually aren't concealed or their concealment is more complicated. While they offer quicker and more immediate access to your firearm, kydex open carry holsters are illegal in some states and they are most commonly utilized by Law Enforcement, Military, or Security personnel. Kydex holsters you can open carry are OWB kydex holsters, kydex paddle holsters, and kydex duty holsters.
WHAT GUNS ARE KYDEX HOLSTERS GOOD FOR?
As Kydex is a material that can be shaped for pretty much anything, kydex holsters are compatible and work well with all sorts of handguns. As there's heavy preference for kydex among armed professionals whose sidearm of choice is most frequently a tactical semi-auto pistol, Kydex holsters are mainly made for semi automatic pistols. That's the reason why there's so many Glock 19 kydex holsters, SIG P320 M17 kydex holsters, Walther PDP Full Size kydex holsters, or H&K HK45 kydex holsters. As most modern on-duty handguns come with all sorts of tactical attachments, there's also a need for red dot kydex holsters, laser and light-bearing kydex holsters, and red dot and light kydex holsters.
However, the world of kydex holsters isn't restricted to just semi auto pistols. There's also a number of revolver kydex holsters to choose from. Just like semi-autos, kydex revolver holsters are also molded to provide a perfect fit for your revolver.
WHAT ARE THE BEST KYDEX HOLSTERS?
The best kydex holsters always take into account all of the important parameters of your handgun. In other words, the best kydex holsters are custom molded exactly for your gun. As such holsters are always built on a blue gun that matches the specs of your firearm, they grant your gun a perfect fit.
If you carry for personal protection or self-defense, then you should get a kydex gun holster for concealed carry. Among the best kydex CCW solutions are inside the waistband kydex holsters (often called kydex IWB holsters), kydex appendix holsters, or even belly band kydex holsters. The way these are attached means no one will ever notice you carry a firearm.
On the other hand, if you don't need to conceal your gun or your job requires you to carry a handgun and it's obvious to everyone you have a gun on you, then kydex open carry holsters are your best choice as these are usually more comfortable and offer much quicker access to your handgun. The best kydex holster options for open carry are outside the waistband kydex holsters (simply called kydex OWB holsters), kydex paddle holsters, and kydex duty holsters.
It's also important to point out that the best kydex holsters should be available for as many guns as possible, which is why our kydex holsters can be made for hundreds of semi-autos and a number of different revolvers. All kydex holsters on our offer are also available for both right and left-handed shooters, which means you can select from the best left-handed kydex holsters too.
Here's a short list of the best kydex holsters by Craft Holsters:
Best kydex OWB holster - Belt Side Kydex Holster
Best kydex IWB holster - AIWB Holster w Mag Pouch
Best duty kydex holster - Level 2 Duty Holster
Best kydex belly band holster - Belly Band Kydex Holster
Best light-bearing kydex holster - Belt Side Kydex Holster for Gun w Light
Best red dot kydex holster - Belt Side Kydex Holster for Gun w Red Dot
ARE KYDEX HOLSTERS MORE COMFORTABLE THAN OTHER MATERIALS?
While Kydex gun holsters are not uncomfortable, nothing really beats leather holsters as far as carry comfort goes. The problem with kydex holsters is that the material is very rigid, which means kydex doesn't conform to the body as well as leather or nylon does.
FEATURES OF KYDEX GUN HOLSTERS
Molded exactly for your gun
Shaped to fit the specifics of your gun
Ideal option for modern tactical handguns
Very high and easily adjustable retention
Most will pass Level II & Level III Retention tests
Glove-like fit that lasts a lifetime
Available for hundreds of handguns
Great choice for Law Enforcement and Military
Often available in different finishes or textures
A great choice for right- and left-handed shooters
Suitable for open & concealed carry
Backed up by Lifetime Warranty
KYDEX HOLSTERS FAQ
WHAT KIND OF MATERIAL IS USED FOR KYDEX GUN HOLSTERS?
Kydex holsters are made of thermoplastic acrylic-polyvinyl chloride materials. All of the kydex holsters available at Craft Holsters are made of 0.08'' thick, genuine US Kydex. Besides being easy to mold and shape, kydex can be also easily dyed, which means you can apply all sorts of finishes and patterns on kydex gun holsters.
WHO ARE KYDEX HOLSTERS GOOD FOR?
Kydex holsters are built to pass even the strictest holster retention tests, they're primarily used in Law Enforcement and Military. As armed professionals carry firearms on a day-to-day basis and mostly rely on open carry, their holsters must be equipped with all sorts of tension and adjustment gadgets, for which kydex is an ideal material.
Kydex holsters are a good choice also for the general shooting public, especially for dynamic competition shooters or for tactical shooters. Nowadays, people commonly use kydex holsters for self-defense and kydex holsters for everyday concealed carry have also become extremely popular.
DO I NEED A GUN BELT FOR A KYDEX HOLSTER?
If you want to get a kydex belt holster, then I'd say you'll also need a proper gun belt. While you can carry a kydex gun holster without a belt, it's not advisable as your safety and comfort can be at risk. You can attach a kydex holster to any kind of gun belt, but it's a good idea to match your kydex holster with a reinforced gun belt.

HOW TO BREAK-IN A KYDEX HOLSTER?
Generally speaking, kydex holsters require no break-in as the material is already formed to the exact specs of your firearm, meaning your kydex holster should never feel too tight or loose. However, it's still possible to adjust a kydex holster and you can adjust both the tension and draw resistance of your kydex holster. Adjusting a kydex holster can be done by tightening or loosening the tension screws a particular kydex holster is equipped with.
HOW TO TAKE CARE OF A KYDEX HOLSTER?
If you get one of the best Kydex holsters above, it's highly likely you won't need to do any serious kydex holster adjustment. However, if you want your kydex holster to last you for as long as possible, you'll have to regularly tend to your kydex holster. If you're not sure how to maintain a kydex holster, check out our blog on Kydex Holster Care.
PROS AND CONS OF KYDEX HOLSTERS
Benefits of Kydex holsters:
Ideal choice for tactical handguns
Adjustable retention
Made to pass higher level retention tests
Cheaper than leather holsters
Kydex holsters problems:
Very prone to overheating
Not as exclusive as leather holsters
Not the most comfortable material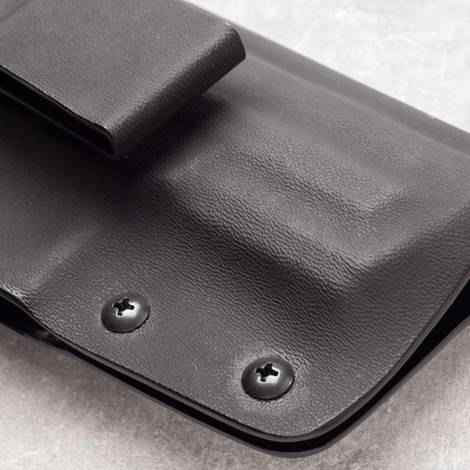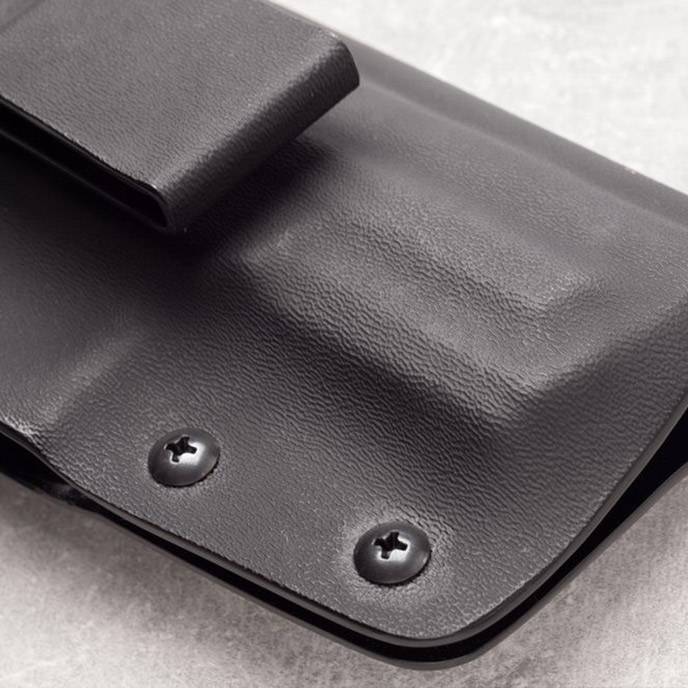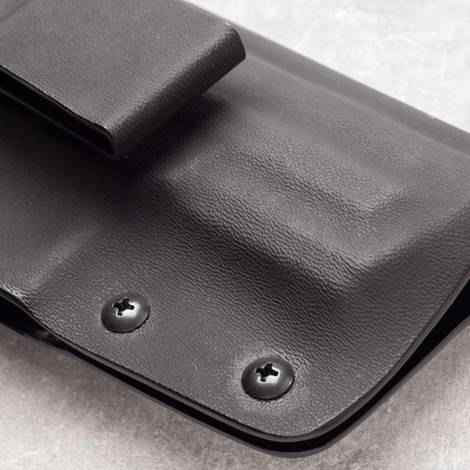 Best Gun Holster Accessories
Choose the right accessories below that will enhance your carry. Don't forget that a proper magazine pouch, a belt or a concealed carry bag are always good choices.
MAGAZINE
POUCHES
Get yourself a custom mag pouch or speedloader pouch. Becasue there is never "enough ammo" right?
See Magazine Pouches
GUN BELTS
A solid and stable gun belt is what you need to prevent your holster and the rest of your EDC from sagging.
See Gun Belts
care kits
Don't forget to get yourself a handy kit that contains everything you need to make sure your holster will last you a lifetime.
See Care Kits
Expand your Knowledge
Read More About Holsters & Holster Care
80+ Brands & 2000+ Gun Models
HOLSTERS BY GUN MODEL
Create your unique custom holster design in our
CUSTOM SHOP
Become a part of the design of your own custom made holster from scratch with the help of our master craftsman.
More information