Drop Leg Holsters
Drop leg gun carry is represents the carry method positioned on the leg that requires an open style of gun carry. It is a tactical method of carrying the weapon comfortably and it is a perfect option for the shooters who aren't concerned about the coverage of the gun. This gun carry method is very popular among the uniformed professionals. The drop leg holster also known as the " thigh holster" allows the shooter to access the gun from virtually any position including sitting, kneeling, standing and the weight of the weapon is putted in more natural-feeling position. The drop-leg holsters are designed and oriented mainly towards the tactical use. Naturally, it has a great appeal and use for the law enforcement or military personnel carrying their sidearm.
The biggest benefit of this type of gun holster is the accessibility and practicality of the use, as "professional" shooters carrying the guns in more convenient locations and situations and they need to have an immediate and easy access to the gun. This type of gun holster might be usable also for the civilian use when using at the shooting range or when used as a backup gun carry option in the woods or in a wild nature. The drop leg holster offers the comfort, security, and accessibility needed for this type of gun carry. The optimal stability on the thigh holster is standardly provided by the thigh straps secured on the leg and secondly by the belt loops, that both helps to keep the holster stably in the drop leg position. The straps might feature anti-slip layer to minimize the unwanted movement. And the leg holster might be extra padded or it might be attached to the platform for more comfortable carry.
The security on the thigh holster is provided by the passive retention that might be increased by other active retention devices allowing a higher Security Level configuration that is often needed for the tactical use. The drop leg holsters often feature also the extra magazine pouch part that offer the possibility to carry also the extra magazines. The tactical thigh holster is standardly made of durable polymer or nylon material in various colors including the "camo" pattern to match the shooter's uniform. The traditional leather material is abandoned and might be used on the "western" styles of drop leg holsters. The quality drop leg holster should be comfortable to wear, stable for the carry securely and the handgun should be hold adequately with the appropriate retention level that is needed and appropriate by the shooter. The drop leg holsters are primarily designed for carrying openly, when the coverage of the gun is not an issue, but the comfortability, gun's access, retention, resistance and appearance are.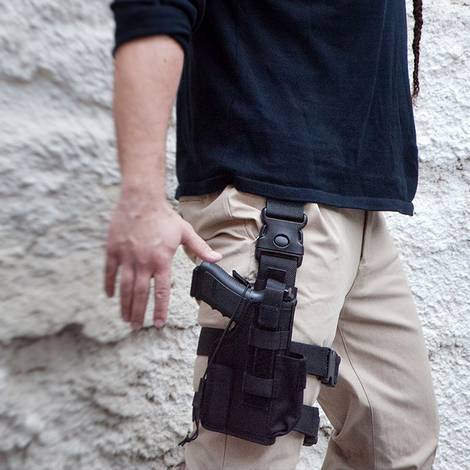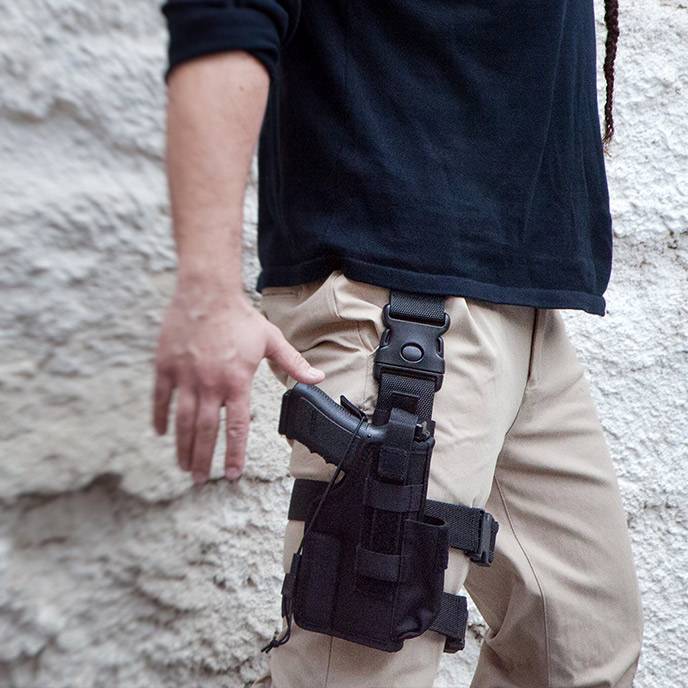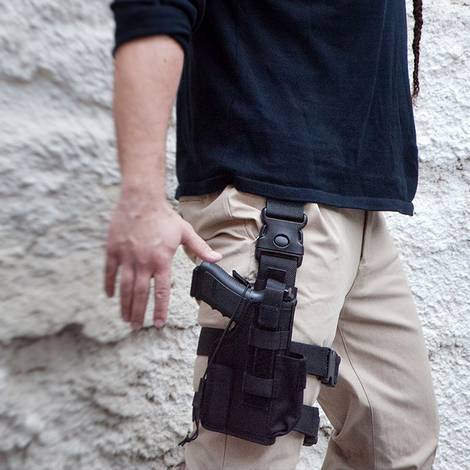 Your Personal Holsters Collection
Browse holsters by gun model