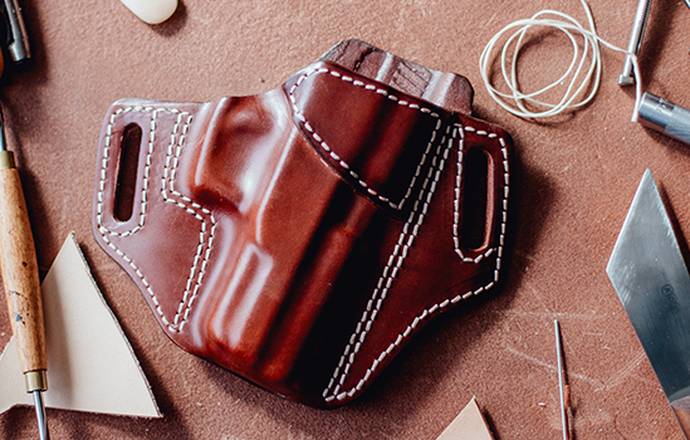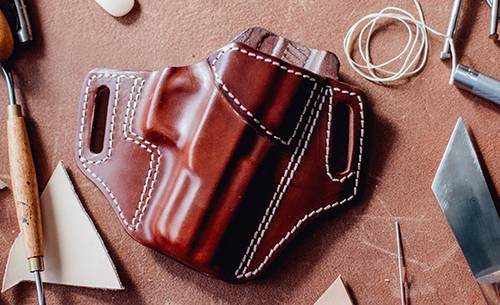 Are you in the market for a new handgun holster? Well, I really want to say you're in the right place then, but that won't tell you much, will it?
It would be much better to tell you why you're in the right place. And that's exactly what I'm about to do - I'll take you through the main benefits of leather holsters offered by Craft Holsters and give you a bunch of reasons why you should buy your new holster from us ...
... and if you don't know why you should make Craft Holsters your new go-to holster place by the time you've finished reading this blog, I'm ready to offer my resignation!
BENEFIT #1 - The Custom Aspect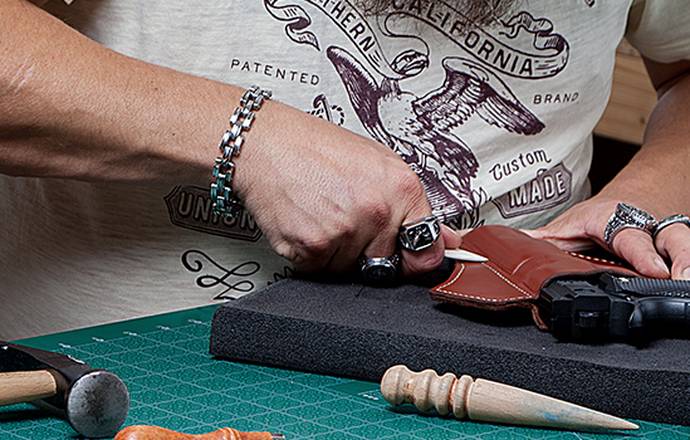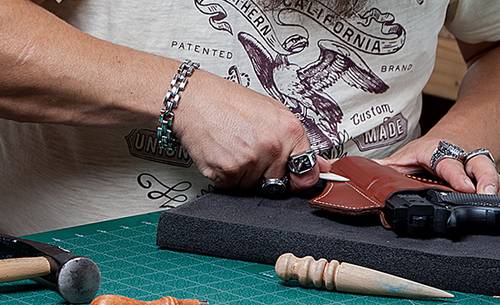 A holster is a container that holds a gun. And it should work like a sheath, which means it should be a close-fitting cover for your firearm.
The quesion is how to make it as close-fitting as possible. Now I've got an answer for that - your holster should always be molded on the exact replica of your gun. And that's exactly how our leather holsters are made.
Molding a holster on a replica of a semi-automatic pistol or revolver ensures that the holster is properly adjusted to the specifics of a given handgun. The specifics I'm talking about aren't just the basic parameters of your gun such as the barrel size, gun width, or overal length, but also other extremities of your pistol including sights, trigger guard shape, muzzle extensions, safeties or various aftermarket accessories.
If the holster you buy is molded like this, you can be 100% sure it'll deliver a perfect, glove-like fit. However, a perfect fit isn't everything good gun holsters need, so let's look at some other benefits your new holster by Craft Holsters boasts.
BENEFIT #2 - Premium Italian Cowhide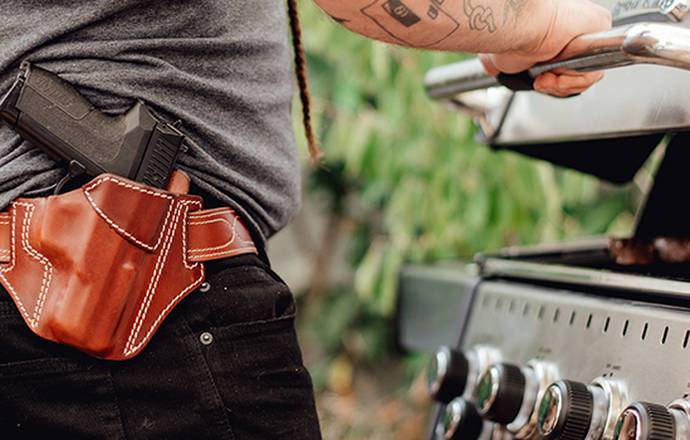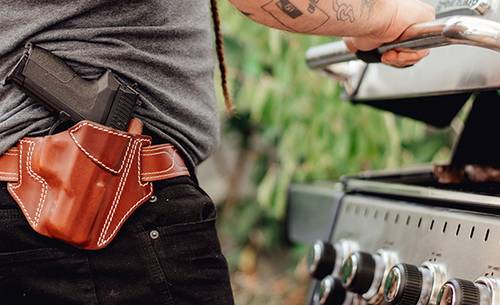 A really good leather holster must be made of the finest leather, right? That's why all of our leather holsters are composed of premium Italian cowhide. And we all know cowhide is the best product of cows ... ah, well, the second best, let's not forget about steaks!
However, no matter how premium the selected holster material is, if it's not hand processed, it'll never feel truly custom and exclusive. That's one of the reasons all of our custom leather holsters are entirely handmade. Entirely means entirely as the holster is not only hand-molded, but also hand-dyed.
It's not all about leather, though. Even the best materials would be useless if they were not bound by the best stiching. In order to grant your new holster as much longevity and durability as possible, all holsters offered by Craft Holsters are sewn with high-quality German threads and many of our models are even double-stitched to make sure your holster will hold your gun well even after years of constant use.
Other materials - kydex and nylon holsters
Even though we're best at least holsters, we want to stand by our word and really make our "custom holsters for everyone". This means you can choose from more than just leather holsters.
There's a number of different kydex holsters available. The kydex these are made of is a mixture of features that make them indestructible and easy to love and use. Each kydex holster on our offer is made of premium US kydex that is sturdy, hard and can withstand any environmental circumstance. However, it's not too rough cause the last thing we want is to cause any damage to your gun's finish. Just like our leather holsters, every single holster made of kydex is molded on the exact replica of your handgun, granting it a perfect fit.
Nylon holsters, on the other hand, present a "soft" carry solution. All of the nylon holsters available at Craft Holsters are composed of premium, multi-layered and highly functional nylon. The material might appear too soft, but thanks to the number of layers, it will still protect your gun very well. Our nylon holsters are divided into two categories. The first group are holsters with a fit specific to your handgun, while the rest features what's called a semi-universal fit. Such a holster will fit a number of handguns similar in size and attachments.
Last but not least, there's hybrid holsters you can now get in our store. These are usually a blend of two different materials such as kydex and leather, or nylon and leather. Can't decide whether you want a holster made of one of these materials? Then get yourself a custom hybrid holster. Problem solved.
BENEFIT #3 - A world of endless possibilities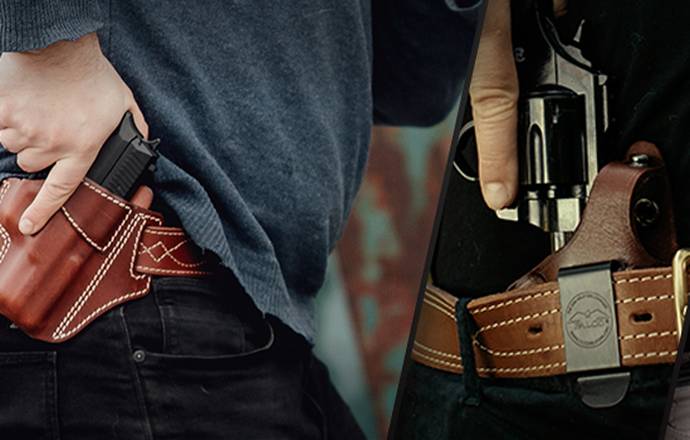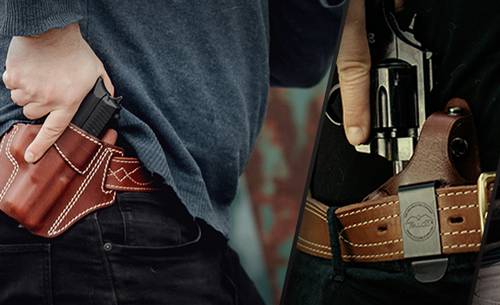 No matter what you carry, you can always (or pretty much almost always) find a holster for it on our offer. As our holsters are custom made, they can be crafted for pretty much any trending handgun, or even some of the rarest firearms ever made. On top of that, our designs are available for both right- and left-handed shooters and they come in mahogany and black leather. Craft Holsters is simply a world of endless possibilities.
Holsters for over 2,200 gun models by 80+ manufacturers
That's right, we holster over 2,200 different firearms, including hundreds of revolvers. As far as makes go, we currently supply holsters for firearms manufactured by over 80 different companies, including the world's most popular as well as lesser known brands.
This means you can get here Beretta holsters, CZ holsters, Glock holsters, Kimber holsters, SIG Sauer holsters, Smith & Wesson holsters or holsters for 1911 pistols by pretty much all of the 1911 makers out there.
However, as not everyone is a SIG or Glock fanboy, we supply carry solutions for some of the brands that haven't made themselves known all that well yet or even those that have been disbanded for some time now. The best examples would be Astra holsters, Arminius holsters, Sarsilmaz holsters, or Tokarev holsters.
The concealed carry market is constantly evolving and the number of newly introduced handguns has never been greater. And as we want to keep up the pace with firearms producers, we're making our holster designs available even for the latest handguns. That's why you can now get S&W Equalizer holsters, SIG P365-Xmacro holsters, Springfield DS Prodigy holsters, or Staccato XC holsters.
But then again, not everyone carries trending guns, right? That's why you can get fine Italian leather even if you're looking for Old West revolver holsters, Para Ordnance holsters, but even Umarex holsters if you love airosft guns.
Over 150 holster models for 25+ carry styles
I don't really want to boast, but we indeed do have it all. No matter what your carry needs are, I'm quite sure our selection of holsters can meet them. Let's take a quick look at the most popular carry styles and types of holsters you can get. However, don't hesitate to let us know if your needs haven't been met and we'll gladly add some more holster options to our holster roster. We want our world of holsters to be your oyster.
BENEFIT #4 - The Perks of Holsters Club™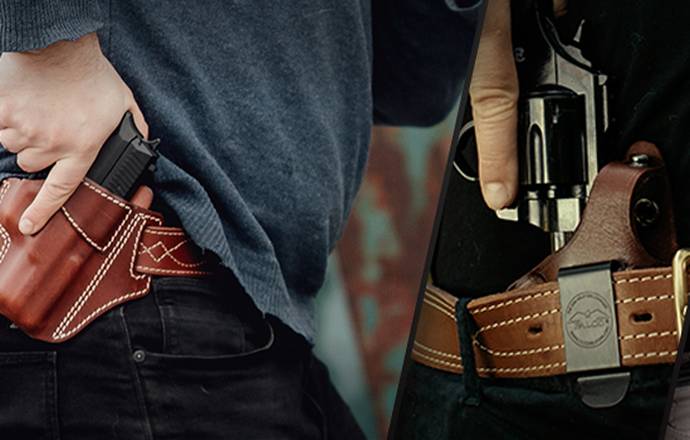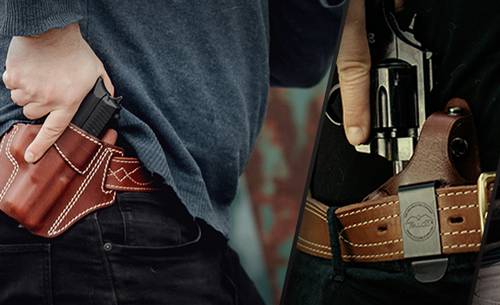 If you're like me and like the sense of belonging, you'll most certainly enjoy the option of becoming a member of our Holsters Club™.
Not only we want you to be more than just our customers, we also want to reward you for your loyalty and trust in our holsters.
Loyalty discount
Talking about loyalty and trust, you can now enjoy a 10% returning customer discount on any order from the second on. This means that if you get let's say a shoulder gun holster, you'll save roughly $20, which you can invest into spare ammo instead.
Free Shipping Option
Are you a club member and the order you're about to place exceeds $99? Great, then you're entitled to Economy shipping completely for free. A package shipped the Economy way might take a couple of days longer to deliver, but it's another couple of bucks you can save on top of your loyalty discount. This shipping option is also available for those who've just placed their first order with us, their order just has to be over $199. You can still choose from the expedited shipping methods, only these we have to charge you for.
Premium Lifetime Warranty
Now this is a perk that's not exclusive to our club members, but it's still worth mentioning here. While we 100% stand behind the quality of our handmade gun holsters, we want you to have as much trust in your product as possible. Also, while we strive for perfect, we realize mistakes happen and if, by any chance, there's something wrong with your holster, gun belt, magazine pouch, duty gear, or concealed carry bag, we'll do our best to help you out or give you your money back. If you'd like to learn more about the product warranty or our returns policy, don't hesitate to check out the respective sections of our website or contact our customer service for more support.
BENEFIT #5 - Customer Care that really cares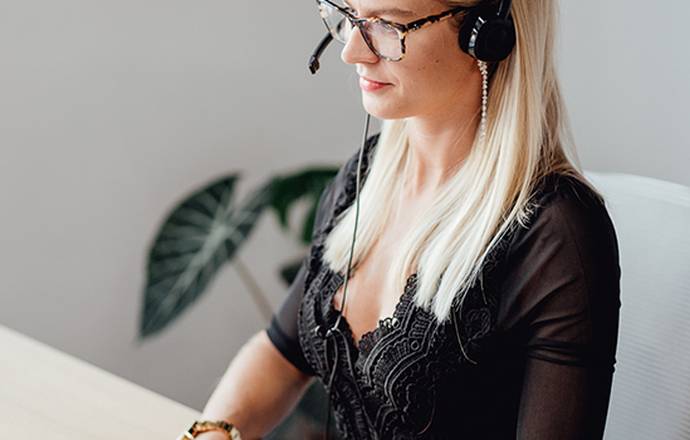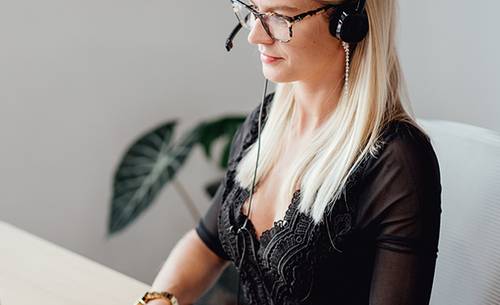 Your custom holster journey doesn't end with the moment your order is paid for. On the contrary, that's the point when it all starts. We want your holster to accompany you on any journey you set out on and we're confident it will serve you well all along.
However, if you every have any problem, our customer care representatives will gladly assist you. For example, if you're not sure how to adjust your shoulder or chest holster harness, or if your new holster feels a bit too tight and needs some break-in action, just shoot us an email at support@craftholsters.com and my colleagues will do their best to help you out.
You can email them or call in even before you start your journey with us. Not sure what holster to get or what the best fit for your might be? Just contact the support team and they'll give your all the advice you need, at no fee. But if you're a tad too shy or want to get answers immediately, check out our FAQ section.
BENEFIT #6 - No limits to imagination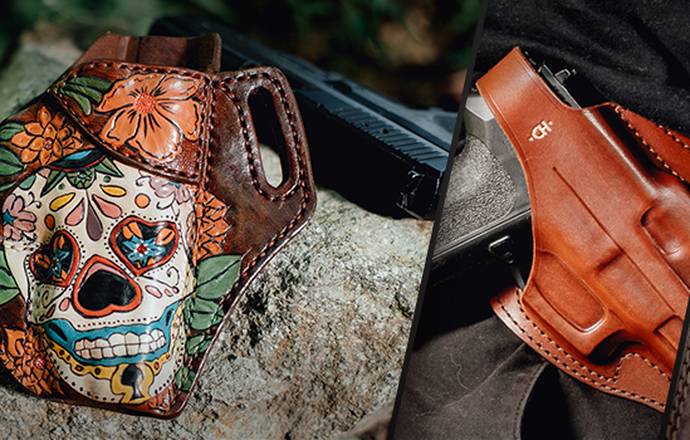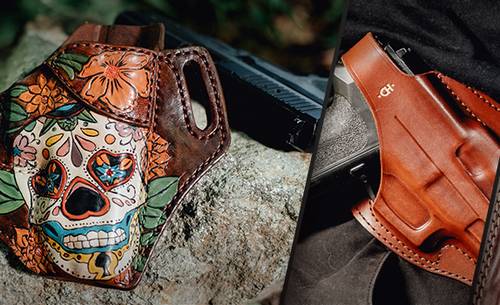 While all of our holsters are custom molded to fit each and every gun on our list like a glove, there's a couple more customization options you'll just love. Let's wrap the list of benefits of our holsters with the best ways to make your new holster even more custom and truly yours.
Monogram Embossing
If something on our holster offer catches your attention, there's a simple way to make it a bit more personal.
You can now have anything made of leather embossed with a custom monogram, which is a sequence of up to 3 letters or numbers, meticulously embossed into your new piece of leather. This inexpensive solution (monograms come at $9) not only looks good, but it enables your holster to give off a truly personal mood. Not sure what I'm talking about or what it looks like? Then check out all you need to know about monogram embossing.
Custom Shop Holsters
Did you notice the Sugar Skull holster above? This is what I meant by not limiting your imagination. Thanks to our Custom Shop, you don't have to be a craftsman to make your holster your own creation.
All of our Custom Shop holsters are entirely handmade, which means they're both hand-molded as well as hand-engraved. We realize not everyone is full of design ideas, which is why there's a number of exclusive holsters to choose from including the John Wayne holster, Fallout holster, Lone Star holster, or Goldfinger holster. But if you want to carry a holster like no other, just contact our Custom Shop craftsman at craftsman@craftholsters.com who'll gladly take on any holster challenge.
There's a set of hand-engraved holsters readily available on our regular offer too. If you're not sure what design to choose, just put your trust in our craftsman and get the Craftsman's Choice holster.
CONCLUSION - Start your custom holster journey today
So, these are the main benefits your new custom holster will deliver. And as I don't really want to leave my post, I hope they're convincing enough to make you get yours today.
If you get a holster from us, not only will you enjoy a glove-like fit, but you'll also get a proper assistance and, most importantly, have a holster that will last you a lifetime.

Do you fancy some more light reading? Then carry on with these articles