The Story of Glock Holsters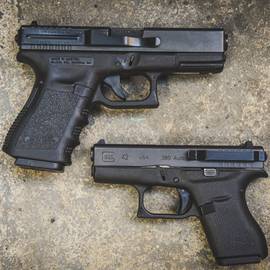 Glock Ges.m.b.H., trademarked as Glock is one of the most famous and successful firearm producer, well known all over the world. Engineer Gaston Glock, company's founder who had no experience with firearms manufacture or design, became one of the most successful firearms designer of all times. Glock had extensive experience in advanced synthetic polymers, knowledge of which was very important in the company's design of the first commercially successful line of polymer frame pistols.
Beginnings of this company were very interesting. Gaston Glock overheard a talk of two Austrian colonels, who were talking about the Army's Request for Proposal(RFP) for new short firearm. Glock asked the colonel if they need a new gun and he get a positive answer. He started the project immediately but as it were just a hobby for him. He had never used any gun before. He bought Walther P38, standard Austrian army duty gun, CZ 75, Beretta 92, Sig Sauer P220 9x19mm pistols. He started to stripe them down and when he found out how it is constructed he assembled them again. This method helped him to assimilate their manufacturing procedures and mechanical principles necessary for gun producing. Austrian army appealed to him that he has to show serial production gun for tests, not a prototype.
Glock answered he could design completely new gun in fixed term. So the construction of their new gun would not be so difficult, the gun should be made of less than 40 parts, that were placed in independent subgroups such as trigger mechanism, safety set and so on. It allowed to gunsmiths easy and quick replacing.
Select your Glock model