The Story of 1911 Holsters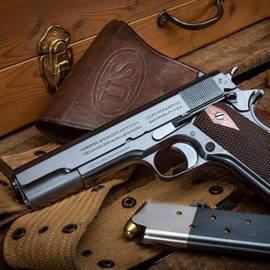 The M1911, frequently referred to as Colt 1911, or Colt Government pistol, is probably the most popular single-action handgun ever produced. At the same time, it's the most widely copied handgun and there are lots of firearms manufacturers offering their own line of 1911 pistols. Just like the pistol's name suggests, the first M1911 version was developed in 1911. However, the work on America's most iconic firearm commenced back in the 1890s, when John M. Browning, a famous American gun designer, started developing the pistol for Colt's Manufacturing Company. The semi-automatic, self-loading design quickly rose to immense popularity (mainly among law enforcement and military professionals) as the pistol was much more effective and convenient to use than most of the revolvers that were used in service back then.
The 1911 pistol is a recoil-operated, single-action only, semi-automatic handgun. The pistol is most frequently chambered for the powerful .45 ACP cartridge and it usually comes with a 5 inch barrel. However, many of modern 1911 pistols often rely on the use of the 9x19mm Parabellum, a caliber that's more affordable than the .45 ACP, but at the same time less powerful. Shorter as well as longer versions of 1911 pistols are also available. When it comes to concealed carry, the 3 inch barrel version is the most frequent one. Also, when it comes to law enforcement agencies using 1911 pistols, they tend to prefer the Commander version with a 4.25 inch long barrel. Almost all 1911 pistols come with a single-stack magazine, the capacity of which differs based on the caliber used. The .45 ACP versions usually take in 7+1 rounds while the standard capacity of the 9x19mm models is 8+1 rounds.
As 1911s are hammer-fired handguns, they are a complete opposite to modern striker-fired pistols. At the same time, the 1911 pistol is the world's most popular single-action handgun (even though Old West SAO revolvers might disagree). In order to fire the pistol, its hammer must be cocked, or locked in the rear position. Upon inserting a loaded magazine into the gun, the slide must be racked to the rear and allowed to slam closed. Do this and the pistol's hammer cocks or locks to the rear. Once the trigger is pulled, the hammer rotates forward and strikes the firing pin. While such a mechanism is much more complicated than that of striker-fired handguns, it's more reliable and significantly more powerful.
Even though 1911 pistols don't come anywhere near Glocks as far as their customization goes, there are still many aftermarket products available. M1911s with accessory rail let you attach all sorts of tactical lights and lasers to it. If you end up getting yourself a new tac light or laser for your 1911, don't forget to grab one of these light-bearing 1911 holsters. The accuracy of your 1911 can also be enhanced through a red dot sight, but if you get one, make sure you pair it up with a custom made 1911 red dot holster. Quite many of the 1911 manufacturers also offer their own custom line of 1911 pistols, which usually come with visually appearing grips or modified slides. A great example of such a brand would be Nighthawk Custom, Dan Wesson, or Les Baer.
Based on its dimensions, the M1911 is most frequently used for open carry. This means that there's a high demand for custom made 1911 OWB holsters as well as 1911 shoulder holsters. Even though the pistol is quite big, many still prefer 1911 concealed carry holsters (sort of due to the fact that some states still don't allow for open carry).
If you still haven't got your own 1911 holster, check out our 1911 holster guide, which will introduce you to some of your best 1911 holster options. However, as 1911 pistols are often rather expensive and some look quite unique, it's leather 1911 holsters that you should pair your pistol up with to grant your setup an even more unique look.
Just in case you don't have your own 1911 pistol yet, there's many guides out there with lots of useful advice on how to pick your new 1911. If price matters to you, then check out this
1911 guide by Pew Pew Tactical
, taking you through your best options for different price ranges. If your budget isn't restricted and you're after a precious piece, then take a look at this
list of high end 1911 pistols
, which appeared in Personal Defense World magazine.
Select your 1911 model