Fan 1911 Favorite Holsters
The Story of 1911 Holsters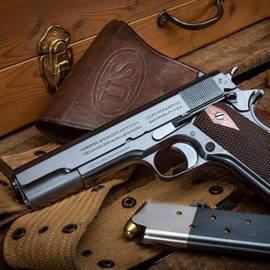 The 1911 is a classic and powerful handgun known for its robust performance and precision, making it a favorite among enthusiasts and professionals alike. If you want to learn more about 1911 pistols, check out our blog section and delve into articles on 7 Best 10mm 1911 pistols, learn about 5 Most frequent 1911 problems and more. Secure and enhance the utility of your handgun with a perfect 1911 holster from Craft Holsters. Also, 1911 has got its successor in form of 2011 pistols, most notable ones being produced by Staccato 2011. If you wish to learn more about what sets 1911 pistols apart from their 2011 counterpart, check out our blog on 1911 VS 2011 handguns.

Extensive Range of 1911 Holsters
Whether you're in search of a 1911 iwb holster for discreet and comfortable carry or desire a 1911 shoulder holster for convenient and easy access, discover the ideal solution for your needs. Explore an extensive range that includes various styles like 1911 chest holster, ensuring every requirement is fulfilled with precision and excellence.
Leather 1911 Holster: Timeless Elegance & Robust Protection
Experience the classic charm and unmatched safeguarding of a leather 1911 holster. The superior quality leather is not just stylish but also provides robust protection and a customized fit for your firearm, assuring a quick draw and steadfast retention.
Holsters for 1911: Selection and Comfort
Choose from a wide variety of holsters for 1911 ensuring your comfort and easy access. From 1911 concealed carry holster to other diverse designs, find a holster that seamlessly blends with your lifestyle and carrying preferences.
Opt for Premium Quality and Convenience with 1911 OWB Holster
Your 1911 deserves a holster that not only offers unmatched protection and security but also ensures comfort and convenience for daily carry. Explore the range of OWB holsters for 1911 and find the perfect match that enhances your carrying preference and lifestyle.
1911 Holster FAQ
How to make a leather holster for a 1911 pistol?
To make a leather holster for 1911 pistols, it's important to have the right materials and tools, including high-quality leather, cutting tools, and stitching equipment. It's also crucial to follow a detailed guide or tutorial to ensure the holster is properly constructed for optimal functionality and safety.
What are the best 1911 holsters?
The best 1911 holsters we recommend are those that provide a perfect fit, exceptional retention, and comfortable carry. They should be made from top-quality materials, allowing quick and easy access to your firearm. Your choice of holster will depend on your specific needs and preferences.
Open-muzzle IWB Holster for 1911 - Choose the Open-muzzle IWB Holster for a snug fit and easy access, making your 1911 readily available whenever you need it.
1911 Shoulder Holster System - Opt for the 1911 Shoulder Holster System for a comfortable and convenient carry, ensuring your 1911 is always within reach.
1911 OWB Open Top Holster - Panther - Select the 1911 OWB Open Top Holster - Panther for a stylish and robust holster that guarantees the safety and accessibility of your 1911 handgun.
How to break in a 1911 holster?
If you get one of the best holsters for 1911 pistols suggested above, it's highly likely you won't need to do any break-in. However, in case your new holster feels a bit too tight, just follow our Break-in Guide. And if you don't have any break-in solution at hand, feel free to get our Small Break-in Kit, which comes with everything you need for a successful 1911 holster break-in.
Secure your 1911's security and accessibility with a perfect 1911 holster, where quality meets convenience and comfort, ensuring you are always ready, and your firearm is always within reach when needed. Trust in the quality and diversity offered to make the ideal selection for your 1911 holster needs.
Select your 1911 model