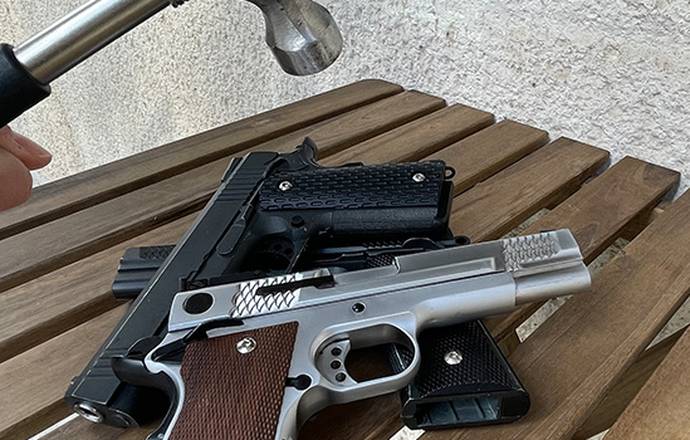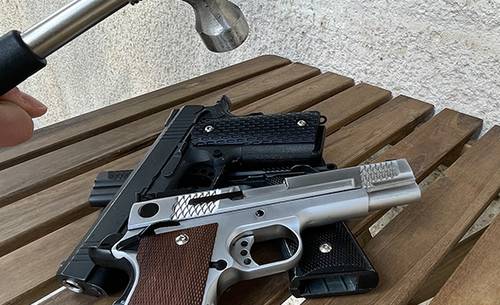 I sincerely doubt there's a person among us that hasn't heard about 1911s yet. After all, these legendary pistols have been around ever since … 1911? That's right, the history of America's most iconic handgun ever made is over 100 years long now.
For the first 70 years or so of its existence, the full-size M1911 was the standard-issue sidearm of the United States Armed Forces. This should give you an idea about how good a handgun the M1911 is. However, no matter how popular the design is, the M1911 does come with a number of problems, the most frequent of which we'll take a look at in a bit.
Problem 1 - Which 1911 should I buy?
Let's kick it off with a problem that concerns most of us - what's the best 1911 to buy? Even though the question looks quite simple, I can hardly offer you a simple answer. The reason for this is quite simple, though - the 1911 that works for me doesn't have to fit you at all. And as M1911 pistols come in a number of different sizes and calibers, it's probably best to first think about what you need the pistol for before you buy one.
While they are difficult to conceal, full-size 1911 pistols are an ideal choice if you're a dynamic competition shooter, or if you simply like to spend hours on end at the range. Also, if you work in Law Enforcement or Military, there's a chance you'll end up using a full size 1911 pistol, so you better get yourself familiar with the design.
If you want to use an M1911-style pistol for self-defense, then I'd definitely go for the Colt Commander (4.25'' long barrel) or even something smaller such as the Kimber Ultra Carry (3'' bbl). When it comes to concealment, the rule here is quite straightforward - the shorter the barrel, the easier concealing your 1911 it becomes.
While it's rather simple to pick the correct size of your 1911 pistol, selecting the best caliber is a bit of a toughie. And the fact that there are really just two cartridges to choose from (the .45 ACP and 9mm Luger) doesn't make your choice any easier.
The .45 ACP cartridge (Automatic Colt Pistol) is definitely the more powerful of the two. However, if you've never shot a .45 handgun, it will take a couple of practice sessions to learn how to handle the recoil (especially if you go for a full-size model). The problem with .45 ACP 1911s is that they only come with a single-stack magazine, which can be loaded with 7 or 8 rounds of ammo. At the same time, if you get yourself a .45 ACP 1911 pistol, you better start saving for the ammo right now.
The 9mm Luger (or 9x19mm Parabellum) is your best choice if you want the pistol just for home and self-defense purposes. While the .45 ACP offers higher stopping power, the 9mm offers deeper penetration. Besides that, the 9x19mm Parabellum is much less expensive than its counterpart. Most importantly, as the 9mm ammo is much slimmer, the M1911 pistols chambered for the 9mm offer much higher capacity than the .45 ACP models.
To sum it up, if you want to utilize your M1911 for competition or range shooting and you want to get as much bang for money as possible, get a full-size 1911 pistol chambered for the .45 ACP. If your budget is lean or you mainly use guns for concealed carry, then a Commander-sized (or smaller) 1911 pistol fed by the 9mm Luger is your best choice.
BTW, just in case you wanted to find out more about the pros and cons of the 9mm and .45 ACP, check out this interesting comparison put together by our friends from Pew Pew Tactical.
Problem 2 - 1911 reliability issues
For many decades, the M1911 used to be a synonym for reliability, which is also the main reason why the pistol spent so many years of "service" in the US Army (and many more across the world). Also, the fact that the M1911 has won two world wars tells you a bit about its reliability, right?
Why even talk about reliability issues then? Well, just like anything else that's sort of mass produced, you might come across an odd, faulty M1911 pistol. After all, a number of shooters have reported all sorts of problems with 1911 pistols, including feeding issues, magazine jamming, or 1911 slide lock problems.
I believe these problems mainly occur if you get one of the low-end 1911s. These are manufactured by scores and while I'm sure they are made diligently, you can hardly expect a $300 1911 to work better than a custom made M1911 pistol that can cost as much as $7000.
While there will always be odd complaints about 1911 malfunctions, I'd say you will hardly come across a pistol as reliable as the good old M1911.
Problem 3 - 1911 safety issues
You know the saying "better safe than sorry", right? While it's great the M1911 offers a number of different safety devices, it might take a while for those completely new to the world of handguns to get used to them. Standardly, each and every M1911 pistol should boast a thumb safety and a grip safety, both of which have to be operated manually.
The grip safety doesn't look like too much trouble, especially if you carry your 1911 with the hammer forward (but more on that later). As the grip safety is almost exclusively located right under the pistol's beavertail, it's only natural that you disengage the safety upon cocking the hammer. And if you carry Cocked & Locked, you probably already know how the grip safety works.
Just like its name suggests, the 1911 thumb safety (often referred to as manual safety) is operated with one's thumb. This safety device is located at the top left rear of the frame and its sole purpose is to lock the slide and block hammer disengagement when engaged. The problem with this safety is that not every single M1911 pistol features ambidextrous design. And as most guns without ambidextrous features are mainly meant for right-handed shooters, it's the lefties who are bound to have a real problem with 1911 manual safety.
Problem 4 - The best 1911 carry position (or the least dangerous one)
How to carry a 1911-style pistol, that is the question. And it's a question that proves even more difficult to answer than anything else you might ask (or be asked) about 1911s. First of all, it's important to mention that the 1911 carry methods are referred to as conditions. And there's four basic 1911 carry conditions.
If you carry your 1911 Condition 1 (as you should), your 1911 is fully loaded, there's a round in the chamber, the hammer is cocked and the manual safety is on. This carry method means your pistol is always at the ready, but there's no threat of accidental discharge when your pistol is holstered. In other words, you'd have to be really clumsy to disengage the manual safety when your gun is at rest. However, if you decide to carry your 1911 this way, don't forget to get yourself a custom made 1911 cocked & locked holster.
Condition 2 means there's a round in the chamber, your 1911 magazine loaded and in the right place, but the hammer isn't cocked. This carry condition could be the right choice for those who don't like fiddling with safeties after shooting or prior to holstering their gun, but if you want your gun to be constantly at the ready, Condition 2 isn't the best choice for 1911s.
Another way to carry a 1911, but quite obsolete, is referred to as Condition 3. Carrying like this simply means there's no round in the chamber, the hammer is positioned forward (needs to be cocked), but your 1911 magazine is fully loaded. This is probably the least popular of all the 1911 carry positions … and to be honest, it's also quite awkward.
The last of the officially acknowledged positions is so-called Condition 4. If you carry like this, you're pretty much defenseless as there can't be any round in the chamber or the magazine well. On top of that, if your M1911 has a manual safety, it must be engaged and the hammer mustn't be cocked. While this 1911 carry condition seems even more pointless than the previously mentioned one, it's quite useful to learn, especially if you want to take regular care of your 1911 (if not, please, don't even consider getting one).
Last but not least, there's Condition 0, which isn't officially recognized, but it works like this. The safeties are off, the chamber and magazine are loaded, the hammer is cocked, and your sights are on the target. This means that Condition zero occurs shortly before you fire your gun.
Personally, I like my guns always at the ready. And when it comes to 1911 pistols, it means I carry them Condition One. While there are some that would tell you this is an unsafe condition, if you practice with your 1911 often enough, carrying like this could save your life one day.
BTW, in case you'd like to find out more about all the benefits and drawbacks of each particular carry position, or want to know whether the M1911 is dangerous to carry or not, check out this bit by the Armory Life (the official blog of Springfield Armory).
Problem 5 - How to choose the best 1911 holster?




Now you might think that this is not a real 1911 issue. However, try imagining that your 1911 feels loose inside the holster, or that everyone can see your gun even if you're not using it. Such scenarios could lead to serious trouble, mainly when it comes to your own safety. That's the reason why you should always get a custom 1911 holster, one that's been built to fit the exact dimensions of your gun.
Now that you know you need a custom 1911 holster (in fact, you should get yourself a custom 1911 leather holster), let's talk about the best carry styles. If you carry a full-size 1911, then you'll most probably end up getting a 1911 OWB holster or perhaps a 1911 shoulder holster. A handgun with 5 inches long barrel (or even 6'' when it comes to the 1911 long slide models) isn't the best choice for deep concealed carry anyway.
If you're an armed professional and your primary sidearm is a 1911 pistol, then you should get yourself one of these 1911 duty holsters. If you aren't a fan of traditional holster attachment (belt loops or belt slots), then any of these custom 1911 paddle holsters will do the trick. If by any chance your 1911 has a tactical light or laser, or perhaps a red dot sight, then you'll definitely need a 1911 light-bearing holster or a red dot holster for 1911 pistols.
While the full-size 1911 isn't the best choice for deep concealed carry, the 1911 models with shorter barrels (Commander & Officer models, etc.) will work just fine when carried inside the waistband. So, if you've got a compact version of the M1911, you might want to check out these custom 1911 IWB holsters as well as 1911 appendix holsters.
BTW, if you end up getting one of the more expensive custom 1911 pistols, you might want to consider visiting our Custom Shop and getting yourself a truly custom, hand-engraved 1911 holster.
Conclusion - Is 1911 worth buying despite its problems?
Sure thing, the pistol is not perfect and some even consider the M1911's design slightly obsolete. However, there are still many shooters who would never choose any other handgun over the American icon. And I completely understand why. For me, a good M1911 pistol is just like a really good pizza. No matter who's made it (Colt, Kimber, S&W, Springfield, to name the few), your 1911 pistol will always be based on the same iconic design. All your M1911 might differ from the rest is the size and toppings (custom work). But the taste of a good old pizza … I mean pistol … will always be there (just don't put pineapples on it).
That being said, I'd say 1911s are definitely worth it, even though they might give you a bit of a headache when it comes to carry conditions, safeties, or when deciding which 1911 model you'll buy. However, if you want to make sure you avoid any mechanical issues, I'd recommend investing a bit more and getting one of the high-end M1911s. And there's one final recommendation I have for you. Once you get your new M1911, make sure you pair it up with a custom M1911 leather holster.