The Story of Beretta Holsters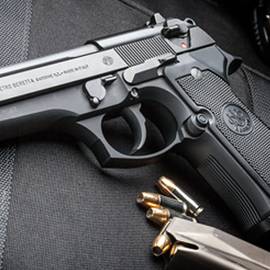 Beretta is probably the largest company producing firearms in the world. It's output is approximately 1,500 produced weapons a day. One of the biggest achievements of Beretta is definitely the fact that the American Armed Forces and State Police Forces started using Beretta 92 series in 1985. The company added to its classical sporting guns production a completely new line of hunting apparel and accessories, clay target shooting and outdoor sports items in the early 1990s.
Today is this unique company owned by Ugo Gussalli Beretta and his sons, Franco and Pietro. What makes Beretta Beretta if not the traditional father-to-son dynasty? However their dynasty was a little interrupted because Ugo married into the Beretta family and he adopted the last name Beretta. Beretta Holding that is the parent company also owns Beretta USA, Stoeger, Benelli, Franchi, SAKO, Uberti, Tikka and the Burris Optics company. Besides numerous high-quality firearms, the Beretta family produces a plenty of renowned Italian wines. Around 1950, Giuseppe Beretta, Luigi Castelbarco and motorcycle designer Giuseppe Benelli started designing and manufacturing automobiles.
In 2015 the company celebrated the 100-year anniversary of the production of Beretta's first semi-automatic pistol. Although the company's trademark sidearm is 92FS, its semi-automatic roots rest with the Model 1915, that was adopted by Italian forces during the World War I.
Select your Beretta model