Fan Beretta Favorite Holsters
The Story of Beretta Holsters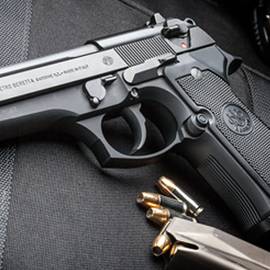 For firearm enthusiasts, the Beretta stands as a symbol of quality, reliability, and versatility. When you have a weapon of such prestige, it's only logical to pair it with a holster that mirrors these attributes. Craft Holsters presents an exclusive range of Beretta holsters, meticulously designed to ensure a seamless draw, secure retention, and an impeccable fit.
Holsters for Beretta
Our extensive collection caters to every Beretta owner's unique needs. Whether you're in the market for IWB, OWB, shoulder, or ankle holsters, you'll find the perfect match for your Beretta right here at Craft Holsters. Explore the range and discover the perfect holster that complements your Beretta's iconic status.
Beretta Shoulder Holsters
If ease of access and comfort are your priorities, look no further than our Beretta shoulder holsters. These holsters are ideal for those who are always on the move, ensuring that your Beretta is just a quick draw away. The balanced design distributes the weight of your firearm evenly across your shoulders, reducing the strain on your back and hips.
Beretta Holsters Concealed
For those who prefer to keep their firearm discretely tucked away, our range of Beretta holsters concealed is the right choice. The slim profile and snug fit against your body make it a comfortable choice for everyday carry. Experience the peace of mind that comes with knowing your Beretta is close at hand, yet out of sight. Select from a wide range of Beretta concealed carry holsters at Craft Holsters. Chances are you won't regret it.
Beretta Leather Holsters
The classic appeal of leather coupled with its durability makes our Beretta leather holsters a timeless choice. The fine craftsmanship of these holsters ensures a perfect fit for your Beretta, while the premium leather ages gracefully over time, adapting to the contours of your firearm and body.
Frequently Asked Questions
What holsters fit a Beretta with rail?
The Beretta's rail system allows for customization and added functionality. Our range includes holsters that are designed to accommodate Beretta models with a rail, ensuring a secure fit while providing easy access to your firearm.
What is the best Beretta holster?
The best holsters are subjective and depend on personal preferences and requirements. However, when it comes to top-tier quality and functionality, the best holsters for Beretta pistols we recommend are:
Beretta IWB Holster w Steel Clip
Beretta Shoulder Holster System
High Ride OWB Holster for Beretta
How to break in a Beretta holster?
If you get one of the best holsters for Beretta, it's highly likely you won't need to do any break-in. However, in case your new holster feels a bit too tight, just follow our Break-in Guide. And if you don't have any break-in solution at hand, feel free to get our Small Break-in Kit, which comes with everything you need for a successful Beretta holster break-in.
Select your Beretta model