Fan Tokarev Favorite Holsters
The Story of Tokarev Holsters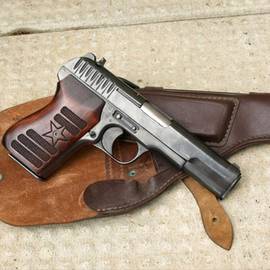 The Tokarev company marketed the World War II-surplus Russian-made Tokarevs in Europe and the United States as the Phoenix. Tokarev became famous for its two pistols Tokarev TT-30 and TT-33. The TT-33 pistol is still in service. The Tokarev company based in Russian Tula which produces the TT pistol was developed as a result of continuous trials, with the main aim to produce and supply firearms for the Red Army during the mid- and late 1920s.
The Red Army tested several pistols of various construction and designs, and finally in 1930 was selected the design of the famous Russian arms designer, Fedor Tokarev. During 1930 - 1932 the Red Army manufactured several thousands of new pistol models and after initial field testing requested several improvements of the design, that resulted in the adoption of the model 1933 Tokarev pistol early in 1934. This pistol was produced in increased amount prior to the Great Patriotic War. For instance, before July 22 in 1941, about 600 000 TT-33 pistols were manufactured for the Red Army. During the war these pistols were made in increasing numbers. The TT was slightly modified in 1946 to cut production costs, and its manufacture in USSR finally ceased in 1952, also with the adoption of the more modern 9mm Makarov PM pistol. However, the TT served with the Soviet Army even until 1960s, and with the Soviet Police until 1970s.
Most military TT pistols of non-Soviet manufacture were also produced in 7.62mm, with some commercial export versions that were available in 9x19mm Luger, and fitted with some sorts of manual safety.
Select your Tokarev model