Fan Sig Sauer Favorite Holsters
The Story of Sig Sauer Holsters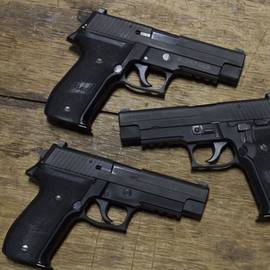 The Sig Sauer company began in 1853 and was at first a wagon factory - until the revolutionary design of the Prélaz-Burnand rifle, which this factory manufactured, had won a Switzerland's Federal Ministry of Defense competition to produce 30 000 Prélaz-Burnand rifles. The factory then changed its name to Schweizerische Industrie Gesellschaft - SIG (Swiss Industrial Company in English).
Their production portfolio changed and they started to concentrate on arms, producing and introducing new designs a pioneering the first automatic rifle - The Mondragón Rifle - produced until 1910. Another breakthrough was the SIG P210 pistol developed in 1937. The SIG company purchased two companies in 1970, Hammerli and J.P. Sauer and Sohn, thus the name changed to SIG Sauer. At the same time SIG Sauer adopted new means of production granting them the ability to produce high precision parts while lowering their costs significantly. This new way of production combined with the demands of the Swiss Military and Police to produce a handgun that would replace the P210 meant that the SIG Sauer P220 type was produced and this was the first SIG Sauer gun sold in the USA.
In January 1985 SIGARMS was established in Virginia, USA, where the P220 and P230 models were imported and sold. The company then moved and settled in New Hampshire in 1990 where it is up to this day. In 2000 the Swiss - based Sig Sauer company was purchased by L & O holding. Now it's known as Swiss Arms. The American branch changed the name to SIG Sauer in 2007.
Select your Sig Sauer model