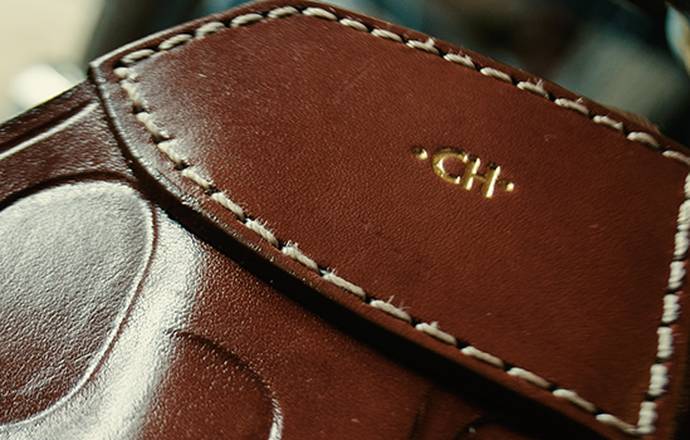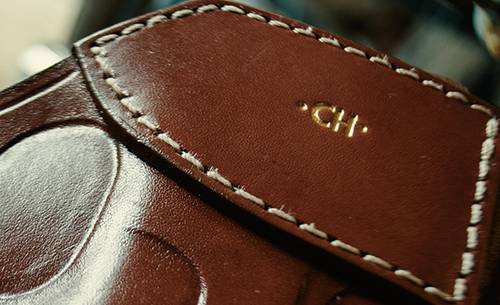 If you get a custom leather holster from our store, I'm sure your beloved pistol or revolver will thank you for that. Why? It's simple - our custom leather holsters are molded to fit your gun as closely as earthly possible. However, you've got one more option how to customize your new holster even more - the custom golden monograms! If you get your holster embossed with our golden monograms, it'll be even more unique and personal. All you have to do is select a sequence of up to 3 letters or numbers and no one will mistake your own holster for someone else's anymore!
The Background



The idea of custom monogram embossing sparked up in our heads a couple of years ago. At first we thought offering custom molded holster was enough, but then we realised you guys deserved a bit more. You're getting a custom leather holster for your own gun, not someone else's (unless it's a gift to your closest, which is a great idea, BTW), which is why you should get a chance to make it as personal as possible. So we asked ourselves: "How to make your holsters even more personal?". Thus, the monogram embossing came to being.
However, we wanted the monograms to be unique, unlike any other, so we decided to come up with our own monogram embossing system, for which we had to get all the tools and machinery built. Why so much trouble? Because we want you to have a look at your monogram and think to yourselves that there's no other like yours out there. And did I mention your new monogram will be golden?
The Process



"What's so special about these monograms?", you might be asking. Well, they might look simple, but be sure that there are a couple of steps that must be taken before your custom golden monogram is given birth. I'll take you through them briefly and you can also have a look at each of these steps in the pictures below. 
THE FIRST STEP
First of all, the monogram embossing machine has to be heated up to the desired temperature. Then the letters and number you want on your new holster have to be placed into the matrix. To finish off this step, the matrix is inserted into the machine and the embossing can start.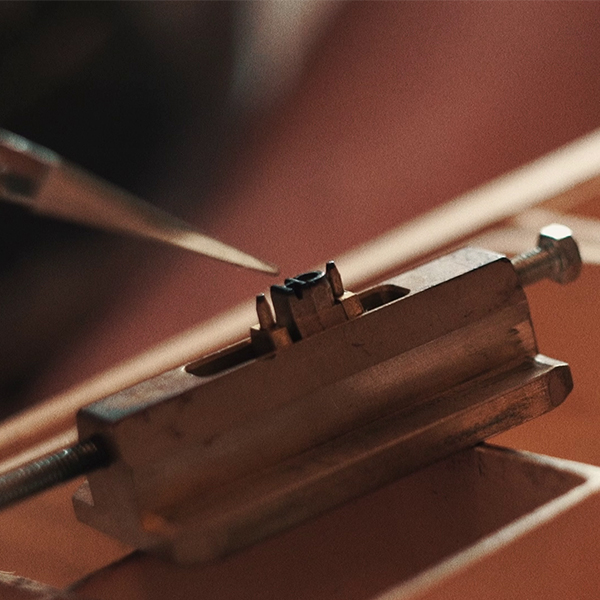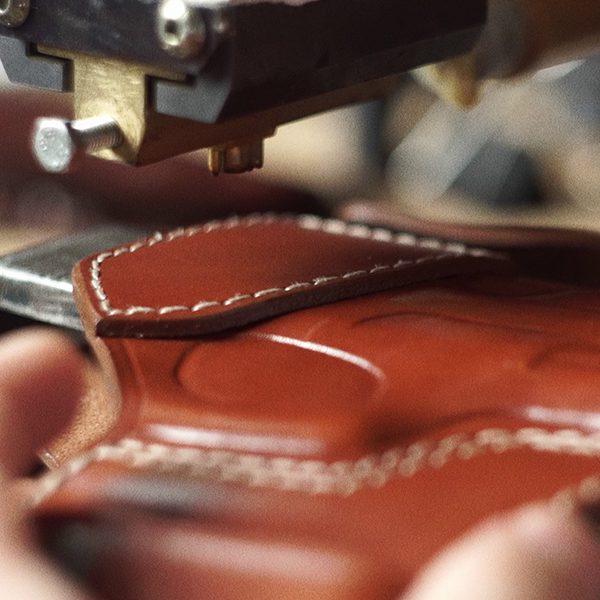 POSITION MATTERS
It's all about the placement, guys. The letters and numbers have to be put in the matrix in the desired order, that's obvious. But it's equally important to place the holster in the right position. You want your monogram in the place when it everyone can see it straight away, right? My colleagues approach this step very meticulously, so don't worry.
A bit of gold, focus and pressure
Now that the holster is in the correct position, the hardest step follows. A thin golden film is put on the place where your monogram will be. When everything is set, the machine's handle is pressed and comes down, resulting in the letters and number being pressed into the leather through the golden film. CAUTION - during this step, the holster can't move a single inch! That's why our Alex looks so focused in this picture.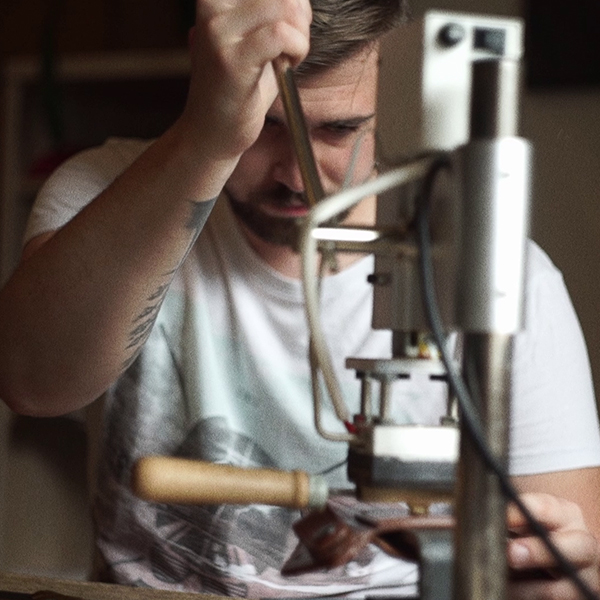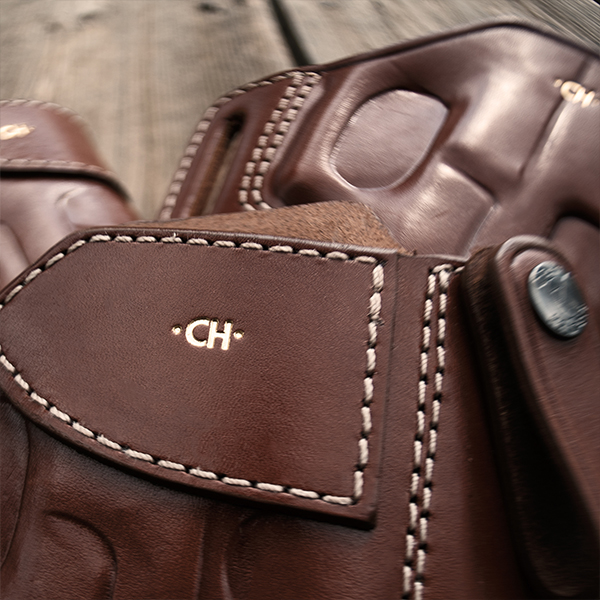 A golden monogram is born
If all of the above mentioned steps are taken correctly (don't worry, our Alex never fails), then you're new holster has just been embossed with a neat looking custom golden monogram! Now all that needs to be done is to carefully pack your new holster and ship it your way, so that you can enjoy a truly personal custom leather holster :)
The Facts
Each monogram that we make is done with precision and attention to detail, just like you could see in the pictures. However, this also means we double check your order to make sure your monogram says exactly what you want it to. In case you wonder where exactly your personal monogram will be embossed and how big it will be, here's a couple of facts about our custom golden monograms:
the monogram position depends on holster design and size - holsters for larger handgun offers enough space for correct monogram position, while holsters for small handguns offers limited space
we always try try to place the monogram to be visible and aesthetically pleasing
we are using a thin golden film that results in gold letters and numbers - this creates a unique contrast with the leather's color
the monogram is about 0.5" wide and 0.2" tall
your monogram can feature up to 3 letters or numbers of your own choice
the monogram can be embossed in mahogany, black, natural and suede leather
Get your custom golden monogram now
Your monogram awaits you, so don't hesitate and choose to make your custom leather holster even more personal. Check our selection of 100+ leather holsters that are waiting for your decision right here: Custom Leather Holsters.
P.S. - Here's a reward for reading the entire article, a short video of how your new custom golden monogram comes into existence:
Do you fancy some more light reading? Then carry on with these articles