Fan Arminius Favorite Holsters
The Story of Arminius Holsters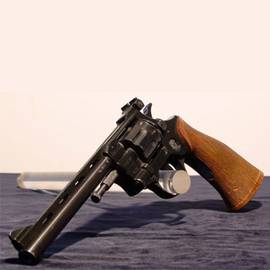 The Arminius trademark represents family of quality revolvers, well known for excellent accuracy, quality features and durability, manufactured in Germany from 1960. From the early 1900's, the first gun manufacturer that started to use the "Arminius" name for the revolvers was Pickert Waffenwerk (cousin of C. Walther) from Germany. This name was given after the brave commander who led the Germanic tribe during the period of the Roman Augustus Emperor reign.
In 1960, the first revolver model that was produced under the name Arminius HW-3. It was sold in Europe under the name Gecado and in USA, under the name Dickson Bulldog. Another revolver model was the HW-4 model. All models were available In 1965, the HW-5 model came out and had interchangeable cylinder in .22LR & .22WR caliber. There was a special version of this revolver made especially for the American market, chambered in .32 S&W caliber.
Gun distributors in Brooklyn were selling this model under the name Omega. In 1969, Weihrauch started to manufacture single-action revolvers based on the Colt Peacemaker. Over the past fifty years, various companies have imported the numerous of revolver models also into the USA. Gun importers used to rename the models to make them more marketable to American market. Today, the Arminius revolvers are still being made in Germany and distributing all over the world.
Select your Arminius model