Home - Old West Revolvers Holsters
Old West Revolvers Holsters
Find holsters custom made for your gun.
Fan Old West Revolvers Favorite Holsters
The Story of Old West Revolvers Holsters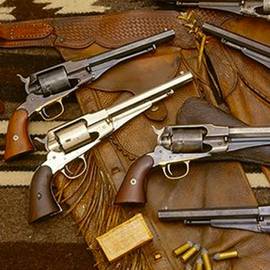 Old west revolvers are a specific part of the gun community. Western style revolvers are a favorite among competition shooters and quick draw competitions still stand out. Old west revolvers are generally single-action revolvers built in the finesse of old six shooters. The Single Action Army action is a refinement of the earlier Colt percussion revolvers and the Colt 1871 cartridge revolver. The cylinder is mounted on a central axis and operated by a hand with a double finger whose more extended action allowed the cylinder-ratchet to be cut in a larger circle, giving more torsional force to the cylinder.
Select your Old West Revolvers model