Fan Taurus Favorite Holsters
The Story of Taurus Holsters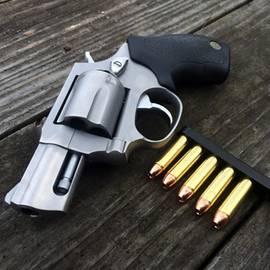 The Taurus company was founded in 1982 as the Taurus Holdings, Inc. which is a Florida based holding company which, in turn, owns several companies responsible for some of the most robust firearms brands in the United States. The Taurus produced it's absolutely the first revolver in 1941. In 1970, Bangor Punta, that owned the Smith & Wesson, purchased a controlling interest in the Forjas Taurus company.
During the following seven years, a great deal of methodology and technology was passed between this two companies. However, in 1974 Beretta had won a contract to produce and supply small arms for the Brazilian Army. In 1980 when the contract ran out, Beretta sold this plant to the Forjas Taurus. The Taurus currently owned everything which once belonged to Beretta, including also tooling, drawings, machinery, and employed a really experienced work force what was a big plus for the company. The Forjas Taurus joined the pistol business, and immediately tried to improve the Beretta design, what resulting in the design of the popular Taurus PT-92 or PT-99 pistols. The next impressive milestone for the Taurus came in 1982. The Forjas Taurus formed the Taurus Holdings, Inc., in Miami, Florida. The Taurus Holdings, in turn founded the Taurus International Manufacturing, Inc.
The Taurus in 1984 made an announcement which had a tremendous impact on the entire industry. This company became the first company that offers its customers an unqualified lifetime repair policy. It changed the course of this company in the U.S. market. Only recently has this policy been matched and it has never been exceeded.
Select your Taurus model