The Complete Guide To Gun Belts
The Complete Guide To Gun Belts

When it comes to carrying a either a pistol or a revolver, concealed or open carry, many people will imagine just the holster itself and forget that when it comes to carrying a gun there is one more thing that  needs to be taken into consideration. And that thing being a good quality gun belt. This guide will continually take you through gun belt benefits, types, materials, how to choose a gun belt and what to avoid when choosing a gun belt.
The Benefits Of [Real] Gun Belts
The mainthing to remember is - avoid gun sag. Gun belts are specially designed to support the weight of the gun that you are carrying. If you would to carry your Beretta 92 just on normal belt you would most certainly feel gun pulling you to the side.
To sum up the benefits of gun belts:
No gun sag - gun belts are re-enforced with a metal core / or an extra layer of fabric or leather to ensure that any weight of your weapon will not sag down the belt and pants.
Exact measurement for your holster loops - if your holster has a 1.5" loop and your gun belt has a thickness of 1.5" then that's a perfect match. Your holster won't do a your around your waist if you are equipped with a proper gun belt.
No stretching - self explanatory, proper leather won't stretch and you won't have any problems with your draw.
Damage resistance - scratches, cracks, tears. You won't find these on a proper gun belt. The thickness and the finish of the material prevents damage.
All in all, the benefits make up a belt that won't sag under any heavy duty equimpent and you can safely carry all your gear on your belt.

The leather gun belt is made of premium Italian leather and has heat-treated edges to prevent fraying. It has a solid brass buckle and lateral stitching. This stitching is not only decorative but also serves as a wear-preventing factor, reinforcing the belt. The combination of treated edges, stitching and a massive buckle makes an outstanding gun belt. The belt is available in S, M, L and XL sizes and in two colors - black or mahogany. You can get yours here.
TYPES OF GUN BELTS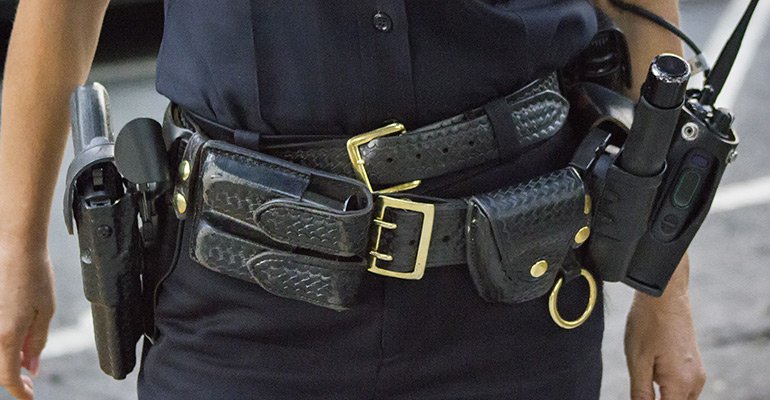 When it comes to gun belts, there are 5 main types. They vary in material, construction, design and functionality among other things. There is no best gun belt, as all people prefer one thing over another. But this is a list of, let's say, all star types.
Leather gun belts
Leather gun belts are the oldest ones out there, yet the most popular ones. They are usually made out of thick cowhide but others are used as well, mainly bulls hide and horse hide.When it comes to leather gun belt there is just one simple rule, the thicker the leather, the stronger the belt. Because of this your normal belts are around 1 or 1.25 inch wide but the gun belts are around 1.5 inches when it comes to width and 0.2 inches in thickness. People prefer them because they are just so comfortable to wear and can easily combined with your everyday clothes and daily concealed carry holsters.
Nylon Gun Belts
Nylon belts are somewhat of a side breed from your classic military belts. Thanks to their bigger size ( around 2 inches in width ) they are ideal for people who carry belt-slide or paddle clipped holsters but are because of their width are unusable in belt loops. Canvas belt are very aesthetically pleasing as they have that wild west look and usually have loops to hold your individual bullets. Because of this people tend to wear them when carrying a revolver. They can be also pretty easily found as surplus thanks to their use in WWII.
Reinforced synthetic gun belts
These belts are composed of single or multiple layers of woven or synthetic materials. A great example for this type of belt would be your typical rigger's belt. They are around 1.5 inches wide and 0.2 inches thick. These belts are so popular mainly thanks to their ability to perfectly support weight not just of your gun and holster but also many other tolls that you might punt on them.
Reinforced leather gun belts
The downside of leather gun belt is that no matter how thick the are they will always have a tendency to wear down faster than other gun belts and especially if plan to carry your pistol on this belt everyday. Things like water, dirt, sweat and tendency of leather gun belts to copy contours of users body are the main contributors to wearing down leather belts. Because you can't keep thickening leather forever designers have come up with idea of reinforced leather belts. These belts combine both leather and woven elements to bring two layers of leather into better alignment. Thanks to this you don't have to worry about the weight of your pistol or revolver as much as with other options.
Reinforced leather hybrid gun belts
These gun belt are special because of their incorporation of ABS, Kydex or steel which helps leather to bend and also regain its original form. These belts are usually around 0.25 inches thick and around 1.5 inches wide. This makes the belt much stronger and also makes it last longer. The downside of leather hybrid gun belts is that these enhancements can cause the belt to be too rigid. When you decide to buy this type of belt it is very important to read what people have experienced and what are their thoughts on certain product. Be aware of cheap belts which quality can be questioned and if it fits your needs for everyday carry. But if you buy the right one you can be sure that with proper care it will last you a lifetime and provide the best support for any pistol or revolver that you may choose to carry.

This reinforced duty belt is made of premium leather with double-breasted perforation with a two-hook silver colored belt buckle. It's a perfect addition for any professional, law enforcer or security guard. Get it here and don't hesitate.
Gun Belt Properties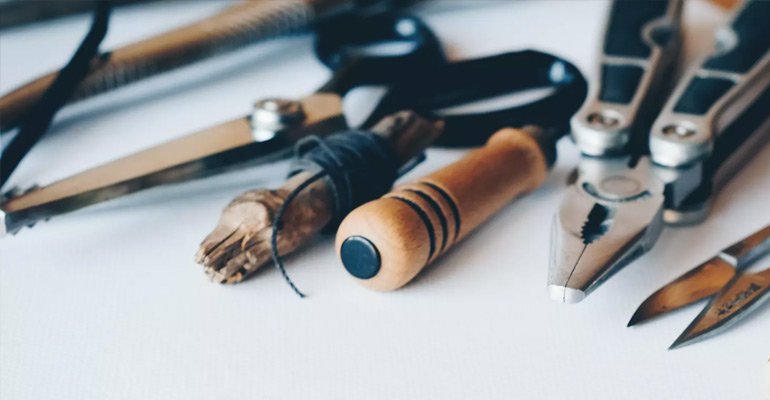 Specifications of proper gun belts work with material, thickness, stitching, length and proper measurement. We've talked about materials in the previous paragraph so let's skip that and go straight to thickness.
Gun Belt Thickness
The usual gun belt thickness is 1.5 inches. This thickness corellates with the most used belt loop thickness so it's a match made in heaven, in this case a match made in the workshop. Duty belts have a larger thickness, usually 2". The increased thickness ads mass to the belt and makes it more secure. You can also find thicker and thinner belts on the market, usable in various situations.
Gun Belt Stitching
The more the better. Stitching is an extra feature that improves the strength and safety of your belt. Plus, it looks good. If you have a stitched belt you know that the reliablity of the belt is increased. There are several ways of belt stitching, you can have a simple pattern or a more precise and aesthethical pattern.
Gun Belt Length & Measurement
The length of the gun belt should be optimal for you body. A short belt is not a good option and at the same time a belt that is too long is an obstruction. The best way to measure your gun belt length is to consider that the buckle should be placed in the center of the holes.

The duty belt is padded for a better comfort and for everyday carry. The belt is adjustable by Velcro system. It contains 3-way safety buckle, which is released by simultaneous activation of three buttons. Get yours now here.
WHAT MATTERES WHEN CHOOSING A GUN BELT
When choosing a gun belt one must take into consideration not just the looks but also its ability to support your holster, gun and also spare ammunition and magazines. Your gun belt should be able to keep your pistol or revolver stable and offer you back support. 
The ability to support the hoslter and the gun is a feature based on the construction of the belt. Sometimes you carry a a small Springfield XDs but sometimes you got to rock a Ruger Redhawk piece of metal. A proper gun belt will take care of this and allow you easy drawing, reholstering and overall stability of your carry. 
The ability to support extra magazine pouches or speed loader pouches is just extra cream on top of a proper gun belt. The more ammo you have the better, but sacrificing safety of your carry by using the wrong belt is a bad idea. You know a good gun belt when you can safely carry a heavy piece of metal and some extra mags for the bad guys to have extra bad luck.
Main mistakes when buying a gun belt
Buying belt of a poor quality
You always need to make sure that what you buy is of good quality and that it will last. There is no point in buying the cheapest belt because in the long run you will spend more money on many useless belts than on one well made.
Buying a gun belt with poor hardware
Gun belt are not just about the material from which they are made of, but also about the hardware on them. Stay away from buckles made out of soft materials and stick to good old metal ones. You want a belt, not overpriced piece of leather or nylon.
Buying a belt with limited stitching
Stitches are the ones that hold the belt in one piece so don't underestimate their importance. Generally stick with the rule that more stitches are better than less stitches.