Nylon Gun Belts
Are you in search of the perfect nylon gun belt to complement your firearm? Look no further than Craft Holsters, the home of premium quality gun accessories. All of our %number% nylon gun belts are crafted with top-notch materials, meticulously designed to offer unrivaled durability and functionality. Whether you are a professional or a firearm enthusiast, the right gun belt nylon can be a game-changer in your experience. Don't settle for less; choose a belt that speaks of quality and finesse.
Benefits of Choosing a Nylon Gun Belt
Lifetime Warranty:

We are confident in the quality of our products, hence we back our nylon gun belts with a lifetime warranty, offering you peace of mind with your purchase.

Premium Materials:

Our nylon gun belt is constructed using the highest quality materials that are both durable and lightweight, promising a long-lasting use.

Perfect Match for Gun Holsters:

Seamlessly pair your nylon gun belt with the wide range of nylon gun holsters available at Craft Holsters, ensuring a harmonious match that enhances your firearm carrying experience.
Embrace the synergy of comfort and style with a nylon gun belt that's a true testament to craftsmanship and quality.
Nylon Gun Belts FAQ
Are nylon duty belts better than leather?
This largely depends on personal preference and the specific requirements of your activities. Nylon gun belts are known for their durability and lightweight nature, making them a preferred choice for heavy-duty use. They are also generally more resistant to adverse weather conditions compared to leather belts.
Can I use a regular belt as a gun belt?
While it is technically possible to use a regular belt as a gun belt, it is not advised. Regular belts are not designed to carry the weight of a firearm and might not provide the required stability and safety. A specialized nylon gun belt from Craft Holsters is crafted to ensure that your firearm is held securely and comfortably.
What is the best material for a gun belt?
The best material for a gun belt depends on various factors including personal preference, the type of firearm you carry, and the activities you engage in. However, nylon is often considered an excellent choice due to its strength, durability, and weather-resistant properties.
What is the best nylon gun belt?
The best nylon gun holster belts are always custom made from premium, functional, and durable nylon. Among the best nylon belts on our offer are these: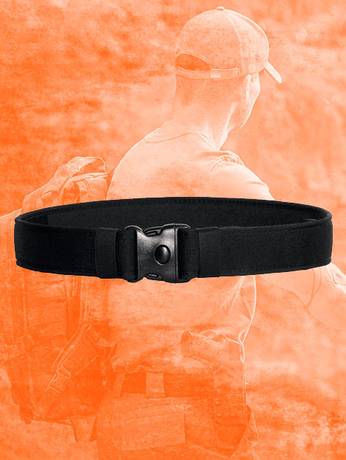 Create your unique custom holster design in our
CUSTOM SHOP
Become a part of the design of your own custom made holster from scratch with the help of our master craftsman.
More information