Leather Gun Belts
At Craft Holsters, we pride ourselves on offering not just a product, but a promise of durability and excellence. When it comes to carrying a firearm securely, nothing complements better than a premium leather gun belt. Crafted meticulously with high-grade materials, our selection of %number% leather belts stand the test of time. Choose a leather belt that brings both elegance and practicality to your everyday carry, embodying a perfect balance between style and functionality.
Unique Benefits of our products
Lifetime Warranty

- We stand behind the unparalleled quality of our leather gun belts, offering a lifetime warranty that assures reliability and peace of mind.

Premium Materials

- Experience the finesse of premium materials that make up our leather gun holster belt. These materials promise longevity and a refined look that enhances over time.

Perfect Match for Gun Holsters

- Our leather gun belts serve as a great match for leather gun holsters available at Craft Holsters, promising a seamless and comfortable carrying experience every time.
Secure Your Firearm and holster
When it comes to a robust and stylish leather gun belt, make no compromises. Our gun holster belt leather ensures you have a supportive and sturdy base for your holster, enhancing your safety and convenience. Whether you choose a leather belt for gun holster or explore other varieties, you're guaranteed the finest quality. Secure your firearm in style with a leather gun belt that epitomizes craftsmanship and excellence. Visit Craft Holsters today and invest in a product that offers unmatched reliability and aesthetic appeal.
Leather Gun Belts FAQ
What is the belt called that holds a gun?
The belt designed specifically to hold a gun is commonly referred to as a gun belt. At Craft Holsters, our leather gun belt is purposefully crafted to provide utmost support and durability for holding firearms.
How thick should a leather gun belt be?
A quality leather gun belt should typically be between 1/4 to 3/8 inches thick. This thickness ensures the belt is sturdy enough to carry the weight of the firearm and maintain its shape without sagging over time.
What makes a good leather gun belt?
A good leather gun belt combines several essential elements: durability, strength, quality craftsmanship, and aesthetics. It should be made from premium materials that can bear the weight of a firearm without stretching or sagging. Additionally, it should offer comfort for daily wear, a lifetime warranty as a testament to its quality, and a fine finish that complements your style – all of which are attributes embodied in the leather gun belts available at Craft Holsters.
What is the best leather gun belt?
The best leather gun holster belts are always custom made from premium Italian leather. Among the best belts on our offer are these: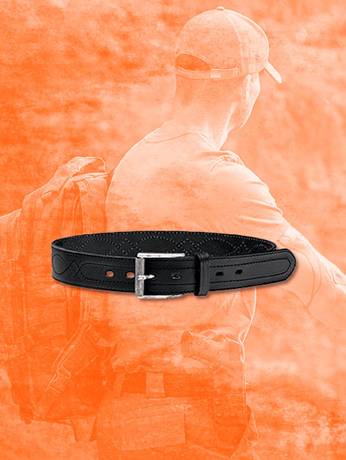 Create your unique custom holster design in our
CUSTOM SHOP
Become a part of the design of your own custom made holster from scratch with the help of our master craftsman.
More information