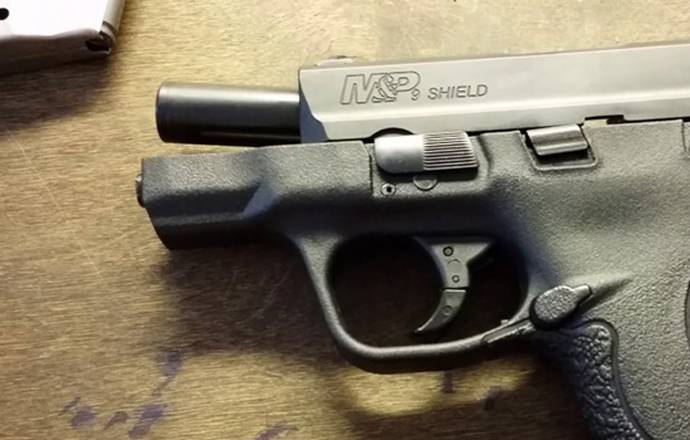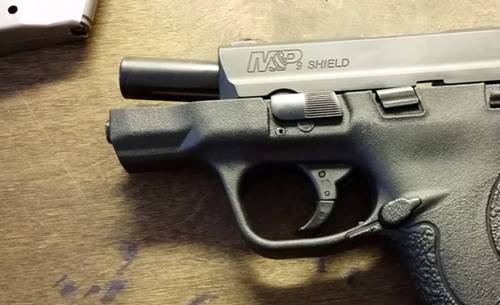 Source: YouTube.com/Fishing Mojados
The Smith & Wesson M&P Shield 9mm pistol is a single-action, striker-fired, semi automatic pistol that was originally designed for LE and Army purposes, but it quickly became very popular among shooters as a perfect choice for everyday concealed carry and self defense. And even though many other excellent CCW guns have been introduced since Smith & Wesson launched this model (among these are the SIG P365, Springfield Hellcat, Taurus G2c, Glock 43X), the 9mm M&P Shield might still be your best choice. The Smith & Wesson M&P Shield 9mm pistol offers almost everything you need from a solid carry gun. It's very compact with its 3.1" barrel length, which is about the average in its class of sub-compact firearms. It also offers quite satisfactory capacity (8+1), and, most importantly, it's extremely reliable. Find out more about its features by reading our S&W M&P Shield 9mm review.
Although it is a very comfortable gun that comes with a lot of interesting features, there is no surprise that it is not perfect. As nothing is perfect, some minor issues may occur within this pistol. In this brief article you can find out what the most known issues of the Smith & Wesson M&P Shield 9mm pistol are.
Problem #1 - SMITH & WESSON M&P SHIELD 9MM TRIGGER issue
The first issue that was noticed by some shooters using this pistol is the trigger issue. In 2013, the safety alert identified an issue where the M&P Shield's trigger bar pin could damage the trigger's drop safety feature. As a result of that, it was enabling the pistol to potentially discharge when dropped.
When the Smith & Wesson company realised this issue, they immediately warned all of the owners of the Smith & Wesson M&P Shield 9mm to stop using it. Until all of the pistols had been inspected and repaired if the wrong conditions were found. To make it more easier and fair for the owners of this gun model, the company decided to pay for all the repairs and also for the delivery. Since then they try to avoid this issue to appear on their gun models again
"Bonus" problem - Finding the best S&W M&P9 Shield holster



Before we go through some more S&W M&P Shield 9 problems, I'd like to highlight one "extra" problem you'll definitely have to face - finding the right S&W M&P9 Shield holster.
But this is a problem that can be easily solved. How? Just hit that button below and you'll find some of the finest holsters for S&W M&P Shield.

Problem #2 - SMITH & WESSON M&P SHIELD 9MM SLIDE ISSUE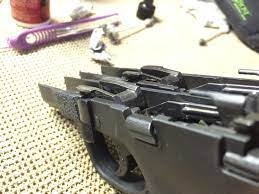 Source: www.smith-wessonforum.com
The second issue which is the most common within the use of the Smith & Wesson M&P Shield 9mm pistol is its slide stop issue. Some shooters experienced difficulties when trying to activate the slide stop. Usually after shooting the entire magazine, the slide locks back as it should. You then eject an empty magazine and put there full magazine and this is the moment when it comes to the issue. When you rack the slide back to chamber the first round, the slide stop does not release.
It is recommended to clean it and lube it, but in some cases it did not work properly and did not make any difference within the use of the slide stop.
Problem #3 - SMITH & WESSON M&P SHIELD 9MM FEEDING ISSUE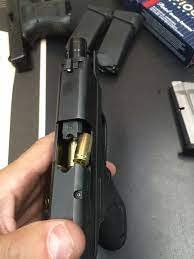 Source: www.thehighroad.org
Another issue that can cross your way while using the Smith & Wesson M&P Shield 9mm pistol is the feeding issue. It can happen that the slide constantly locks back even with rounds still in the magazine. That can lead to the failure to extract, probably because of the fact that in case this issue appears you have to chamber a round when it locks back and you can lose some of your grip.
No matter if you experience this issue or not, the Smith & Weson company is always there to help you solve any issue that may occur while using your Smith & Wesson M&P Shield 9mm pistol. They usually check the whole pistol and repair the issues for free, so it's always good to contact them directly when some issue is found on your pistol.
Problem #4 - SMITH & WESSON M&P SHIELD 9MM MAGAZINE ISSUES

Source: www.cheaperthandirt.com
Although the Smith & Wesson M&P Shield 9mm is known as a reliable compact pistol, some shooters experienced issues with its magazines. The first issue is that the magazines can be really hard to load, and require a magazine loading tool beyond the first 2 rounds to load the magazines any further. The other thing is that once a magazine is loaded, it's extremely difficult to insert it all the way into the pistol. Even if you hit the bottom of the magazine to get it to sit, it's not enough. This may happen when the slide is closed.
What can help? Sometimes it helps to lay the gun upside down on a surface and then apply your bodyweight to the bottom of the mag to insert it all the way. So this might be difficult for someone who is not that powerful. And this can also lead to another problem, concretely with the slide open and magazine inserted, it can be difficult to press the slide release to release the slide.
Conclusion - should I buy M&P SHIELD 9MM?
However there are some issues that may occur when using the Smith & Wesson M&P Shield 9mm pistol, still the benefits outweigh its problems. Not only the compact size and enough magazine capacity, but also other features that this pistol comes with and the other similar sized pistols doesn't include. Which makes it reasonable to buy. And in case some issue occurs, the Smith & Wesson company will surely give you a helping hand and check your pistol and repair it for free to make you satisfied.
Sure, there are still a lot of discussions with regards to the value of the  Smith & Wesson M&P Shield 9mm pistol and some shooters love it, some not, but at the end it's up to your preference if you choose it for an EDC gun or not. But if you do so, remember one more important thing. And that is to make your pistol secured and pair it with a well fitting holster. In our offer you will definitely find the best Smith & Wesson M&P Shield 9mm holster that will surely meet all of your carry needs.
DON'T LEAVE YET - YOU MAY FIND THESE ARTICLES READWORTHY
THE 4 WORST RUGER SECURITY-9 PROBLEMS
7 IMPORTANT THINGS TO CONSIDER WHEN CARRYING A GUN
MOST FREQUENT KIMBER MICRO 9 PROBLEMS