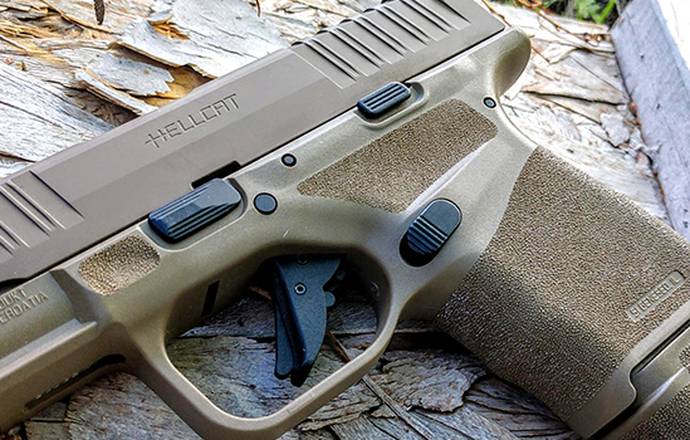 Source: News Dome
A couple of months back, we brought you a review on the SIG P365, which is a pistol we'd long considered the ultimate carry gun. But now that I've finally got a chance to spend some more time with the Springfield Armory Hellcat, I'm not so sure anymore if the SIG will be able to defend its title. Read on and find out why we think the Hellcat became one of the best concealed carry guns of all time.
Springfield Armory Hellcat - Introduction
The Springfield Armory Hellcat was designed by HS Produkt, a popular Croatian firearms manufacturer. However, it rose to fame thanks to Springfield Armory Inc., who had been talking about their new top-secret project for quite some time before revealing their new flagship. When the company finally introduced the pistol, it took everyone by surprise. I bet there was virtually no one who expected Springfield could deliver something that could fight with the likes of P365 and Glock 43 for the title of the best CCW gun.
And ever since September 2019, the pistol has been imported and distributed all across the states … and it quickly gained world-wide popularity and recognition. The last year was a huge success for both Springfield Armory and HS Produkt, as the Hellcat was named "2020 Handgun of the Year" by American Rifleman.
And I'll now tell you why. And you'll see if the Hellcat has a chance to maintain its title even beyond its production year.
Springfield Armory Hellcat - Specs and Features




Source: The Firearms Blog
What the Springfield Armory Hellcat actually is? Well, to start with, it's a micro-compact, striker-fired, polymer-framed, high-capacity, semi-automatic pistol. But so are many other guns, so let's have a closer look at Hellcat's main features and summary of the pistol's specs.
Hellcat's size … matters
Source: Handgun Hero
Yes, the size really matters when it comes to pistols designed with CCW in mind.
The Springfield Hellcat is a micro-compact pistol, which essentially means it's one of the smallest handguns in the market. The pistols' overall length is 6 inches, it's got a 3 inch long barrel, it's 4'' high (with a flush magazine) and 1'' wide. If you pair such a tiny gun with a well-fitting holster, the Hellcat instantly becomes the ultimate concealed carry pistol.
Hold on ... Don't forget to get the right Springfield Hellcat holster



You came here to find out as much as you can about this amazing CCW handgun, right? But did you know that the Hellcat becomes an even more amazing pew if you pair it up with a custom Springfied Hellcat holster?
Want to find the best Hellcat holster? Then just hit that button below and I'm sure you'll have lots to pick from. And in case you find it difficult to choose your new rig from so many options, check out our list of the best Hellcat holsters you might come across.

Springfield Hellcat magazine & capacity
The magazine capacity of Hellcat does not only matter … It actually makes a difference.
Simply put, the Springfield Armory Hellcat delivers a higher mag capacity than any other gun in the same class size. Even though the gun is extremely tiny, the double-stack magazine Springfield Armory packed inside their hellish cat allows for 11+1 rounds of ammo. Something previously unheard of among sub-compact pistols.
This already high capacity can be further increased with the 13+1 round extended magazine. And as if that wasn't enough, Springfield Armory recently introduced another extension, so the Hellcat can now take in as many as 15+1 rounds. Now that's something!
Hellcat Sights & Accuracy
Springfield Armory Hellcat features Tritium Sights, which deliver impeccable accuracy. If you've never shot a pistol this tiny, hitting the target will take a couple of practice sessions, but as soon as you get used to the Hellcat, you'll never miss.
Moreover, the pistol is optics ready, which is what makes it stand out from the crowd of concealed carry pistols. The rear slide serrations feature is actually what I believe makes it beat the SIG Sauer P365, which requires an optics plate to be installed to its slide before you can attach a red dot or reflex sight. So, this feature is another boost to the Hellcat's accuracy.
The serrations also make it easier for you to manipulate the slide in wet conditions. On the other hand, Springfield Hellcat serrations might catch on the holster at draw, which is why a holster made specifically for the Hellcat is a must.
The Hellcat is also available in the OSP version (Optical Sight Pistol). But the difference between the basic and OSP model actually isn't big. The Springfield Armory Hellcat OSP has the same open sights as the standard model, but a 0.190-inch-deep mortise machined into the top of the slide is a snug fit for a micro red-dot sight. However, thanks to the slide serrations, both standard and OSP models can be attached with an optics device straight out of the box.
Firing Mechanism
Just like most modern polymer-framed micro and sub-compact pistols, the Hellcat also is a striker-fired gun. Now what does that exactly mean? Simply put, a striker-fired pistol engages a round via a striker hitting the firing pin. The firing mechanism is built into the pistol and fully covered by the pistol's slide.
While hammer-fired pistols (such as the M1911) have always been considered more powerful, striker-fired guns also come with a number of advantages. They consist of fewer parts (thus reducing the chances of the pistol's malfunction) and they come with a number of internal safeties. This is also the case of Springfield Armory Hellcat, which makes it a very safe and reliable carry option.
There's one potential issue that comes with this firing system - striker drag. However, while the striker drag was one of the worst problems of the SIG P365 (once again, the Hellcat's fiercest competitor), not so many shooters who have tried the Hellcat complained about this issue. However, even though it looks like the Hellcat is a perfect handgun, there are still some problems you might experience.
Hellcat's Ergonomics
The Springfield Hellcat just feels right in our hands. I've already mentioned the rear slide serrations are a big plus as this feature makes the pistol optics ready. However, even if you don't plan on getting a red dot attachment, you can still benefit from this feature.
The serrated slide offers a better grip, which you'll particularly appreciate when you take your Hellcat down to the range. If it hadn't been for the serrations, I'd say shooting Hellcat is rather difficult, as the pistol is really very tiny and the pistol grip itself wouldn't be quite enough for a steady aim.
The Hellcat is also very light. Depending on the number of rounds loaded in the pistol's magazine, it weighs anywhere from  17.9 to 18.6 oz., so you won't even feel you carry one. The low weight also makes the pistol ideal for everyday concealed carry as well as allowing for easy operation and convenient manipulation.
Springfield Armory Hellcat Specs
So, these were the main features of the Springfield Armory Hellcat. Let's wrap this part with the summary of the pistol's specs so that we can move on to who the main competitors of the Hellcat are.
 Hellcat's main competition




Source: Youtube/hegshot87
Let's keep this part brief.
The main competitors of Springfield Armory Hellcat in the field of micro-compact concealed carry pistols are the Glock 43X, SIG Sauer P365, and Smith & Wesson M&P Shield. Of the four, the Hellcat offers the highest default capacity and it's less compact only when compared with the SIG.
Of course, deciding which of these handguns is the best falls down to a personal preference, but the Hellcat simply comes with everything needed to fare well in the ultimate concealed carry pistol battle.
How to conceal carry Springfield Hellcat?
The fact that the Springfield Hellcat is such a tiny pistol means it's also super easy to conceal it, no matter which carry style you prefer. But as I suggested before, the Hellcat was designed specifically for shooters looking for an ideal concealed carry solution. And there's no better concealed carry option than the Springfield Hellcat IWB holsters (inside the waistband), which allow for a very easy access, but also keep your Hellcat safe and secure. But if you don't like carrying your pistol on the side, then I suggest getting a Springfield Hellcat appendix holster. These two styles are your best choices when it comes to conceal carrying the Springfield Armory Hellcat, especially in warmer months.
Another benefit of the small size of the Hellcat is that it conceals well even in an outside the waistband holster (OWB). Springfield Hellcat OWB holsters are a decent CCW choice (especially pancake holsters), as the gun leaves virtually no imprint. And if you spend hours on end driving or have a desk job, then I'd definitely go for a Springfield Hellcat cross-draw holster.
When it comes to everyday concealed carry of my Hellcat, I wouldn't probably go for a shoulder holster as I don't think they're a good fit for a gun this tiny. But this is again a matter of preference, so feel free to give Hellcat shoulder holsters a try. They can be very beneficial and are super easy to conceal especially in winter.
As a bonus option, I'd say Springfield Hellcat ankle holsters are worth a try, especially if you want to use it as a backup gun.
No matter which carry style you decide to go with, just make sure your Springfield Hellcat holster is a well-fitting one, made of high-quality materials. Material-wise, I'd say it's Springfield Hellcat leather holsters that feel the best. But if you're not sure which one to get, then give our article on the best holsters for the Springfield Hellcat a read.
Upgrade your Hellcat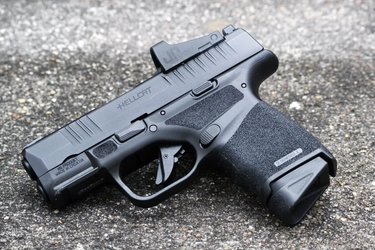 Source: The Armory Life
While the pistol already seems a bit too perfect to be true, it can be made even better! How come? Well, recently, many new Springfield Hellcat upgrades have entered the aftermarket. And here are a couple of excellent Hellcat aftermarket accessories that'll move your CCW game to a whole new level:
The Conclusion - Does Hellcat cut it?
As the Springfield Hellcat has a fierce competition in a number of other excellent CCW guns, it's hard to say if it becomes the handgun of the year again. However, it certainly does cut it and as Springfield Armory Hellcat certainly is a perfect carry gun.
It offers magazine capacity that no other gun can, it's super compact, it's super easy to conceal and it just feels right in hands. On top of that, the pistol is optics ready straight from the factory, which isn't something its main competitors offer.
So, if you're asking yourself - "Should I buy Springfield Armory Hellcat?" - I'd say definitely. Even though it's a tad more expensive than the P365 or Glock 43, the Springfield Hellcat is definitely worth buying. But if you get one, you can't forget to get a custom made Springfield Hellcat holster.
Do you fancy some more light reading? Then carry on with these articles