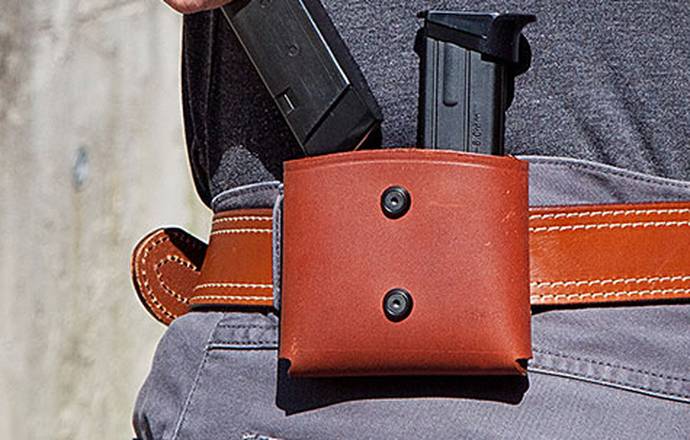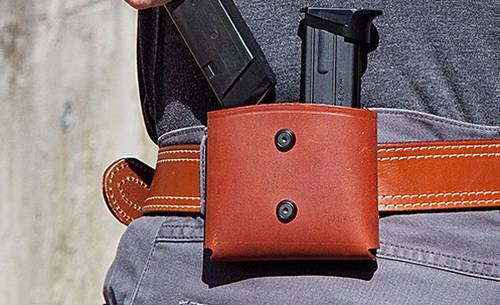 Do I need spare ammo? The obvious answer is yes, you do. Even if my Glock has 17 rounds? Yes, even then, because 34 is more than seventeen. The golden rule of many survivalists is that two is one, one is none and this can be easily applicable for magazine pouches. There are now amazing options for self defense handguns (and handguns in general) when it comes to the number of rounds in the magazine and the amount of spare ammo you will carry with you is your personal choice of course, but in times of danger and need for self defense can you really rely on one mag?
The number one priority of anyone should be being armed in order to protect you and your loved ones. If a worst case scenario comes around and you need to deal with multiple threats you must take a lot of factors into consideration. Your marksmanship and stress control is a first and key factor, then comes the second factor - do you have the power and skill to deal with all threats with your X rounds in your mag or cylinder? If you didn't shout Yes, I do! then just consider investing in a magazine pouch. Not everyone sports a FN Five-Seven with 20 rounds and even if, a Five-Seven with 20 + 20 rounds is much better.
How To Choose The Best Mag Pouch



Choosing the best mag pouch may seem like a hard thing but in the end it can be cut down to 3 basic categories. Single vs. double mag pouches, concealed, i.e. tuckable vs belt i.e. open carry and last but not least open vs. closed. Let's find out how to deal with these 3 questions.
Single  Vs. Double Mag Pouches
The first and easy question is Do you have one or more spare mags? If you have one the answer is pretty obvious, but if you have several mags you can consider trying out a double mag variant. The main benefits of single mag pouches is their compact size, you can clip them on your belt or push the belt through the loop and carry it with ease as it won't obstruct your movement. Single magazine pouches are a great choice, they add one spare mage and you don't have to sacrifice your belt capacity. Plus, if you are a fan of paddle attachments then a paddle single mag pouch is a great choice. Double magazine pouches are a great option if you are in need of extra ammo and you don't mind having a little more space on your belt occupied with a pouch. The larger mass means that the draw can be easier because of the stability the extra weight provides.
Concealed vs. Belt Mag Pouches
If you are able to carry your holster concealed, why not carry your spare ammo the same way? Concealed carry mag pouches easily fit inside your pants or are flat enough to be easily covered by a garment. The key point in this debate is the thickness of the mag itself. If you sports some thick  double stack glock magazine you may have trouble having a concealed carry mag pouch with it in it without having not the best feeling ever. The golden rule is if you can live with it being in your waistband than go for a deep concealment mag pouch. Belt mag pouches are a staple - do you like paddle attachments? Go for paddle. Do you like them flat? Go for belt looped magazine pouches and if you like versatility you can take belt mag pouches that have straps that can be easily put on and off.
Open Vs. Closed Mag Pouches
The last big deal while choosing your spare ammo carrier is the fact if you want it open or closed. One sacrifices safety the other the draw speed. Open top magazine pouches are ideal if you need a fast draw of the magazine. They often have retention screws to ensure that the magazine won't fall out or wiggle inside, plus, custom made leather mag pouches have the retention perfectly set because they are molded to fit the mag.  Closed mag pouches are perfect if you can sacrifice the few seconds during reloads. They are ideal if you are a LEO or a professional and carry owb mag pouches daily. The closability provides extra security for your spare ammo.
Material of the Mag Pouch



If you have your mind set on a specific design of the mag pouch consider thinking about the three most common materials available - leather, nylon and kydex. The specifics and properties of each material are basically the same as with holsters.
Leather Mag Pouches
Leather mag pouches are an all time favorite of many gun users as they are uniquely beautiful because they receive patina overtime. But leather has also its non-aesthetic quality, it can be easily manipulated by a craftsman, it can be cut, its form can be shaped, colored and made to fit perfectly. Handmade leather mag pouches offer great retention because the mag fits either by default or can be adjusted via a retention screw.
Nylon Mag Pouches
The nylon used in mag pouches is either Ballistic nylon or Cordura nylon.As a material it's a dual-layered polymer nylon fabric with a textile membrane. This allows the whole mag pouch to 'breathe'. The retention of the nylon mag pouches is based on its light material design. The material is light, the wearer doesn't have to mind sweat because the mag pouch isn't as influenced by it as leather, but on the other hand, it sucks in water, oil and dust, which can endanger the weapon.
Kydex mag pouch
Kydex is a synthetic thermoplastic PVC material. Its strengths are rigidity, formability, chemical resistance and good interior finish rating. It can be thermoformed, post formed, brake formed and laminated. It has all the advantages of a proper mag pouch. The material offers great retention, mainly because the temperature-molded plastic creates a slot in which the trigger guard can slide. Additional retention can be adjusted via screws.
Time To Choose Your Mag Pouch
Now that everything is considered you can browse our selection of custom made mag pouches. Be sure to give spare ammo a try and shop with our benefits and a 5-year warranty.
Do you fancy some more light reading? Then carry on with these articles