Source: LaptrinhX.com
At first glance, the Springfield Armory Hellcat seems like a perfect gun. It's tiny, it's super easy to conceal, it offers incomparable mag capacity, and it delivers great accuracy and overall performance. At least for a gun this tiny. But today, I'm not here to glorify the pistol, so if you want to learn more about its positives, check out our latest Springfield Hellcat review.
Instead of the benefits the pistol offers, let's now have a look at a couple of frequently discussed Springfield Hellcat issues. I'll briefly introduce each of the problems and I'll also try to explain why you might not want to take the negativity around Springfield Hellcat at face value, as most of the issues the Hellcat's got can be easily overcome.
Problem #1 - Hellcat Reliability issues?
While many say the Springfield Hellcat performs incredibly well, there are also those who believe that the pistol is lacking in one crucial aspect - reliability. Just go ahead and look up "Springfield Hellcat reliability" on Google, and you'll instantly see a number of forum threads pop up, where many people question the Hellcat's reliability.
But does the pistol really have any major performance issues? As I've only run a couple of hundreds of rounds through my Hellcat, I felt the need to do some research and here are a couple of interesting "on the range" reviews of Springfield Hellcat, which actually prove the Hellcat's reliability is more than satisfactory.
One such review was put together by the guys at ConcealedNation.org, who ran the pistol through a real torture test, putting in more than 10 thousand rounds. And what was the result of this hell they put the Hellcat through? For roughly a thousand rounds fired, they had less than 1 failure, which in their own words is "a glowing review in and of itself for the Hellcat." If you're interested in finding out more about the test, just have a look at this article and if you're already tired of reading, here's a video that documents the entire torture test.
If you're looking for some more expert opinions on the Hellcat, all of which actually consider the pistol's reliability one of its most positive features, just have a look at our list of the 5 Must Read Hellcat reviews, which you can find here.
Problem #2 - Springfield Hellcat Price

Concealment of this pistol really isn't a big problem as the gun's tiny dimensions make the Hellcat an obvious concealed carry choice. However, you'll only be able to get the most out of the pistol's CCW potential once you pair it up with a custom made Springfield Hellcat holster. Luckily, all the Hellcat holsters on our offer are custom molded on the pistol's exact replica, which results in great fit. And because these holsters fit the Hellcat like a glove, they are not bulky, which means your pistol will be super easy to conceal.
The small size of the pistol means it's great for IWB or appendix carry, but the pistol is equally easy to conceal even when carried outside the waistband. And if you have trouble deciding which holster to pick, then have a look at our recent article on the best Springfield Hellcat holsters for 2021, I'm sure you'll find your favorite there.

Problem #3 - Springfield Hellcat Price
When deciding for a new gun, you're mainly looking at what the pistol delivers and you're not concerned just with the pistol's price tag. However, the price of the Springfield Hellcat is a bit of an elephant in the room. And the elephant becomes even larger when you compare the Hellcat to the rest of the most popular CCW pistols such as the almighty SIG P365, Glock 43X, and Taurus G2c.
And while the Hellcat doesn't lag behind its main competition in any of the important features - it's just as compact, easy to conceal, and even comes with greater capacity - it's the most expensive one from the group. Just have a look at the numbers. While the Hellcat comes at $569, the MSRP of Glock 43X is $529, the SIG costs roughly $499, and the Taurus G2c is as cheap as $210.
So, if you're in need of a new carry gun, but your budget is quite lean, then I'd say you should go for one of the other popular concealed carry pistols, not the Hellcat.
Problem #4 - Springfield Hellcat Trigger issues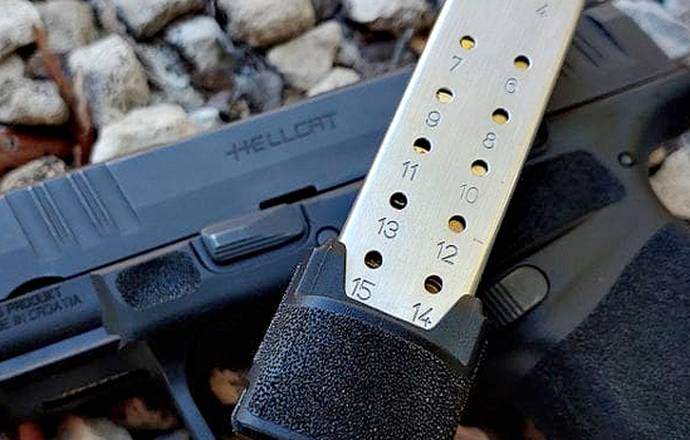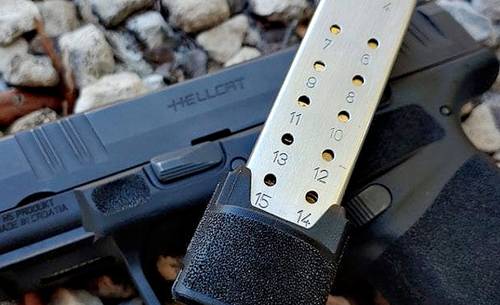 Source: Gunbuyer.com
Now the last problem on our list might not be all that obvious. But it still is a problem as it concerns the pistol's trigger. But what exactly is the problem in question? Just have a look at this YouTube video by The Zombie Bunker, who claims that the Springfield Hellcat isn't a safe gun to carry.
Now why would anyone say something as bold as that? Just like the author demonstrates in his video, even if the slightest pressure is put on the trigger blade from either of its sides, the trigger simply hangs up on the shooter and the pistol becomes impossible to shoot. The author of this video is bothered by this trigger problem to such an extent that he even claims that Springfield Armory should recall the pistol immediately.
The Zombie Bunker's theory is partially backed up also by our friend Darrell from Urban Gun Reviews, who demonstrated the said trigger blade issue on his own Hellcat. Having closely inspected the problem, he admitted that there might be a reason for concern, although he opened his video by saying that he hadn't experienced any real trigger issues in the past.
However, if you have a closer look at the comment section under Darrell's video, you'll see that this "problem" is seen by many as an intentional safety step taken by Springfield Armory. Just like one of the comments has it, "why would you want the gun to go off if it's not intentional?". Something that's hard to disagree with.
Had the trigger not been designed to work this way intentionally, I'd fully understand the concern. But it seems to me like Springfield Armory and HS Produkt (the Croatian manufacturer of this Springfield pistol) knew very well what they were doing. Just like many of those posting comments on Darrell's video suppose, we also believe this is just one of the mechanisms the companies integrated into the pistol to avoid any unintentional discharge.
Conclusion - is Springfield Hellcat worth buying?
It sure is!
Despite a couple of minor issues some of the Hellcat shooters have detected ever since this tiny CCW boon was released, it still offers many great features and the gun performs at least as well as some of its main competitors.
The Springfield Hellcat is a very reliable pistol that offers unmatched capacity + if you get the right holster for it, you'll be able to enjoy the best possible everyday concealed carry experience.
So, never mind the naysayers, visit a local gun range, try out the Hellcat and see how it feels in your hands. It's definitely worth a shot!
Do you fancy some more light reading? Then carry on with these articles