Duty Gear
A job of any Law Enforcement professional is to protect and serve others. However, even police officers deserve to be safe when on duty, fulfilling their mission. And that's why we're introducing our new duty gear. A proper custom duty gear not only helps protect those protecting lives of others, but it also helps keep police members their duty gear constantly at the ready.
Of course, a must have police duty gear must include a proper custom duty holster as well as a solid duty gun belt. These two are an absolute necessity. A high-quality duty gun belt will not only prevent your on-duty firearm and holster from sagging, but it will let you carry all of your on-duty gear attached safely to your waistline. Get a decent duty gun belt so that you have enough room around your waist area to carry your duty essentials such as handcuffs, baton, radio receiver, flashlight, taser, and more.
Material-wise, we offer two different types of duty gear. For those who love the feel and quality of genuine Italian cowhide, we offer custom
leather duty gear.
When matched with a custom
leather duty holster
, your new gear will not only allow you to carry with comfort and great fit, but also in style. For those who prefer lighter and perhaps a tad more practical duty gear, we offer a brand new line of custom
nylon duty gear
options. If you decide to have your service gear made of our premium nylon, don't forget to get a custom
nylon duty holster
for your service pistol.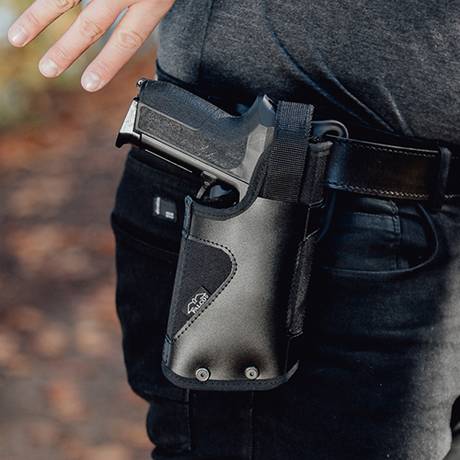 Create your unique custom holster design in our
CUSTOM SHOP
Become a part of the design of your own custom made holster from scratch with the help of our master craftsman.
More information