Drop Leg Holsters
Just like the name of this carry style suggests, drop leg holsters are fastened to one's leg (in the thigh area) and that they are carried in a lowered position. When you carry like this instead of the usual OWB carry, it leaves you a lot of space on the belt. This means drop leg holsters are an ideal choice for tactical shooters and armed professionals such as Law Enforcement officers and Military members. Due to the way drop leg holsters are attached, they are often referred to as leg holsters or thigh holsters. In a way, these holsters resemble western holsters used in the Old West by some of the most infamous gunslingers.
As drop leg holsters are carried much lower than most holsters, their huge advantage is that they are accessible from virtually any position including sitting, ducking, kneeling or standing (although when standing, you might need to lower your shoulder when reaching for your pistol). Another benefit of drop leg holsters is that they are greatly balanced as they are always fastened in at least two different points (next to the groin area and above the knee). Thigh holsters are also an excellent holster option for your sidearm as if you carry your backup gun in an OWB holster, it might get in the way of your primary gun, especially if you're on the move.
As drop-leg holsters are mainly used for tactical purposes, they usually let you carry more than just your pistol. Some thigh holsters come with pouches for extra magazines and most of them can be classified as light-bearing drop leg holsters or even red dot leg holsters. When it comes to material, nylon drop leg holsters prevail. These holsters are also mainly used for bigger guns and stronger calibers, which is why there are usually many 1911 drop leg holster, or Beretta APX leg holster options available.
Drop leg holsters are solely used for open carry and their concealment is pretty much impossible, which is why they aren't used by civilians. This would be probably the biggest disadvantage of leg holsters. They could also be slightly awkward to use by anyone who's sustained a shoulder injury and hasn't fully recovered yet. Drawing from a leg holster also takes a bit more practice when compared to the more common carry options.
If you've never carried in a drop leg holster, it's best if you first read through a couple of articles explaining whether
drop leg holsters are your best choice
. If you work in Law Enforcement, Security, or Military, then you'll surely appreciate a well-made drop leg holster. Based on the number of benefits these holsters come with, they might actually be your best option for tactical use. Apart from being tactical, the material they're usually made of is super durable, but also quite lightweight. At the same time, these holsters often come in various colors and patterns, of which the most popular one might be the "camo" texture. A camo drop leg holster perfectly blends in with your uniform (provided you work in Military), which means your sidearm is a bit more difficult to spot.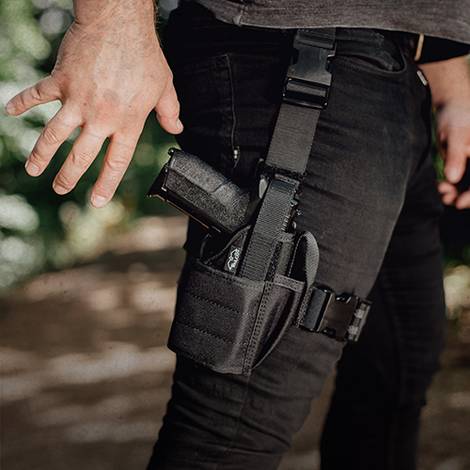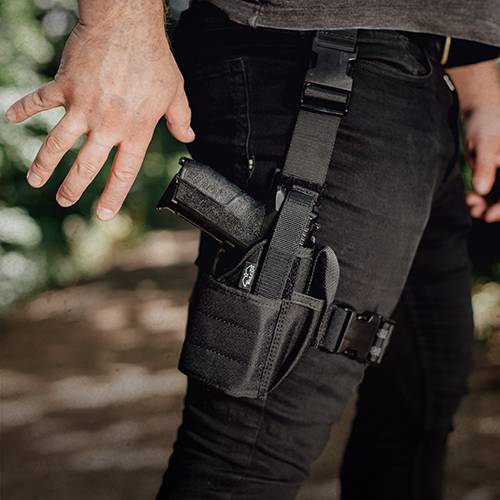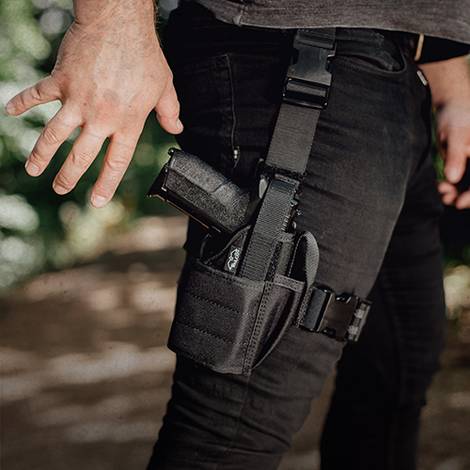 Strong and Beautiful, Just Like Holster.
HOLSTERS BY GUN MODEL
Create your unique custom holster design in our
CUSTOM SHOP
Become a part of the design of your own custom made holster from scratch with the help of our master craftsman.
More information