Fan Kahr Favorite Holsters
The Story of Kahr Holsters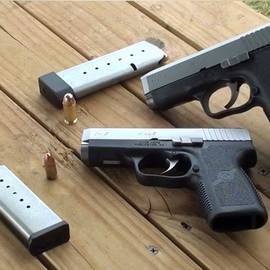 Although the Kahr Arms does not belong among the largest firearm manufacturers on the international market, however it is a quite successful company, with plenty of satisfied customers. Most of the Kahr pistols lovers are from the US. This American small arms manufacturing company was founded by a Korean businessman Kook Jin "Justin" Moon, who is currently a CEO of the Kahr Arms. Kahr is focused on manufacturing of compact and mid-size semi-automatic pistols which are usually chambered for popular cartridges, such as the 9mm Luger, .380 ACP, .40 S&W and .45 ACP.
The Kahr pistols have polymer or stainless steel frames, single-stack magazine, and double-action, only striker firing actions. The action of the Kahr Arms is a Browning locked-breech design featuring a striker-operated firing pin with a firing pin safety which is passive, what making it a true hammerless action. The trigger bar immediately begins to rotate a double-lobed cocking cam when the trigger is pulled. The cam as one begins to draw the striker to rear and compressing the spring behind it, while depressing and deactivating the firing pin block. At the end of the trigger's move, the lobe contacting the striker slips off the striker and releases that, other lobe has, by this point, thoroughly depressed the firing pin block and permitted striker to snap forward and strike the primer. The single piece takes the place of fragile and more complicated designs used in other models.
Justin Moon was awarded for this innovation one of the five patents he owns on the Kahr pistol design. The system is used on all the Kahr models, regardless of caliber, frame material or size.
Select your Kahr model