The Story of Colt Holsters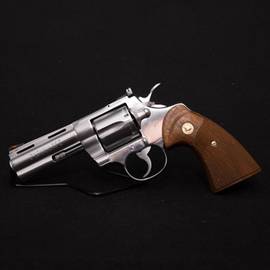 Colt's Manufacturing Company (CMC) represents one of the most famous American guns manufacturers, respected and well known worldwide. Sam Colt established the first Colt's factory in England in 1851. Few years later, he managed to expand also to American continent and factory was founded in Hartford, in Connecticut. In 1891, Colt came into a contract with John Browning, when long and profitable relationship started. They collaboration resulted in new designs of famous BAR automatic rifle, the automatics Model 1908 and the Model 1908 and most famously the Colt M1911. In the Post-war time, Colt introduced the Colt Commander, the Cobra revolver, the Colt Commemoratives and the Colt Python. In 1960, Colt introduced AR-15 semi-automatic rifle, followed by the automatic M16 rifle.
Sam Colt had a very progressive way of doing business, one of the famous old advertising slogans was for example "God created man, but Sam Colt made them equal".The most famous Colt's weapons include the Colt Walker, introduced in 1847, the Colt Python (1955), the Peacemaker and the Colt M1911 semi-automatic that is the longest-standing service sidearm used by military and law enforcement professionals in the world up to this day. Colt Company still produces and supplies weapons for the professionals in the military, law enforcement, as well as for the civilian shooters worldwide.
Select your Colt model