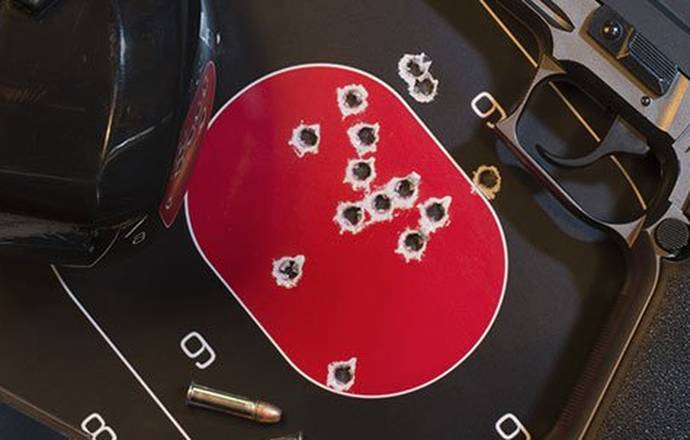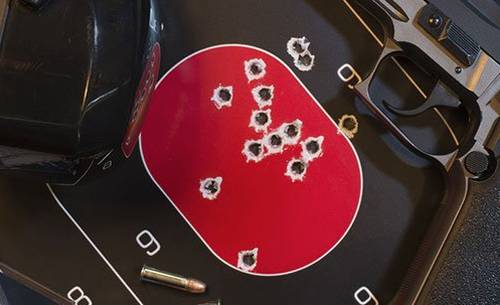 If you ever asked what is the most popular handgun for gun owners in America, or what is the most popular handgun in the world you could come up with many results. We put a good hard look on them and made a list of 6 handguns that responsible gun owners love. Handguns are the most widely produced type of firearm, in 2018 they amounted to a total of 70% of total firearms manufactured according to the ATF. That's a lot of handguns produced and a lot of gun owners that have different tastes. But according to sites such as GunBroker.com, GunGenius.com and many more the list has 6 repeating handguns. Let's break down why people love them, why they are unique and how you can get your hands on custom made holsters for them
Ruger LCP
The LCP, which stands for "lightweight compact pistol" and it has been a top seller since its introduction in 2008, thanks to its compact design and affordable price. Weighing just 9.4 oz (266.5 g) this is Ruger's first entry into the field of tiny, ultra-light defensive pistols.The LCP model was designed in direct response to customer requests for a compact firearm for use by police as a back-up, and as a defensive handgun for civilian concealed carry needs. The later category is the reason why Ruger LCP scores so high in the list. It's a fan favorite of any CCW permit holder. It packs the .380 ACP caliber that is widely famous in the self-defense category. Ruger also announced the Ruger LCP II on October 2016 and LCP II features updates all around, for example it's compatible with the original 6 round LCP magazine but not the extended 7 round magazine, however they will not lock the slide back as the original LCP lacked the feature.
Ruger LCP Holsters
While searching for your perfect fit have in mind that the LCP does wonders as a CC weapon. Check our our IWB holsters or concealed OWB holsters to maximize the efectiveness of the Ruger LCP.

CZ 75
The classic of the game, the CZ 75 and it's many variations such as the 75 B or the 75 Omega are a staple of the shooting world. It was first introduced in 1975, it is one of the original "wonder nines," and features a staggered-column magazine, all-steel construction, and a hammer forged barrel. There are a total of 18 variants of the CZ 75 and the smaller CZ 75 B. If that does not tell you how famous and loved the 75 is then we don't know what will. The total amount of CZ 75 pistols made was more than a million back in 2007, and the production continues from 1976 to this day so the number must be way beyond the first million. It's a favorite pistol of law enforcement officers, military personnel or the common shooter or a ccw permit holder. The CZ 75 is a fairly large pistol, but the market for concealed carry holsters even for larger firearms is wide and full of options.
CZ 75 Holsters

If you are looking to find a holster for your CZ 75 or it's many variants be sure to have thought of the primary use of the holster. Are you going to carry it daily as an officer, or concealed, or just to the range? The CZ 75 is a big chunk of metal, but a wise gun owner will find the perfect holsters.
Sig Sauer P320
The P320, called the M17 in Army parlance, was chosen in 2017 to be the new standard issue U.S. Army pistol. The original Sig Sauer was a Swiss-German partnership, but now it is a privately-held SIG Sauer Inc. of New Hampshire, so the American market can get their fair share of SIGs. Sig Sauer has a lot of models that have become famous in the shooting world, models such as the P226, P228 or the SP2022 that is a favorite LE choice of weapon. The P320 comes in many shapes and sizes, full size, compact size and carry size, which means that shooters can choose the right variant for their needs. There was some negative fuzz around the P320, accidental discharges when dropped at a certain angle - but the company issued a free upgraded part and made the problem go away. So if you were hesitant to go for the Sig P320 you can now be sure that it's safe.
Sig Sauer P320 Holsters

The 3 possible size variations of your Sig Sauer P320 mean that you can go for any type of holster. IWB, OWB, shoulder holsters, duty holsters etc. So, go on a give some proper care for your striker fired piece of Sig craftsmanship with a premium holster.
Smith & Wesson M&P Shield
The S&W Shield is a more compact, lightweight version of the M&P line designed for personal protection. This can be well seen in the shooting world as people love their Shield variants, especially the M&P Shield 9. The Shield has roughly the same silhouette as the M&P Compact but is considerably thinner at less than 1-inch in width. The Shield is the first M&P to incorporate an improved trigger with positive reset. The M&P Shield is largely used in self defense, it offers the most effective calibers, 9mm, .40 S&W and .45 ACP. The stopping power of all three proves superior and will protect its owner without doubt. Smith & Wesson also introduced a 2.0 version in 2017. The changes included a full-length steel chassis, a rough textured grip and improved trigger system that has been previously used in their Pro series. You can choose more variants of the famous M&P Shield designs to your liking and accompany them with some custom holsters.
Smith & Wesson M&P Shield Holsters

No matter the caliber variation you have, the holsters for the Shield will do their job of keeping your gun safe so you can keep yourself safe. Browse through different variations of carry styles and designs and find your perfect fit.
1911
You could guess that the legendary 1911 is a staple of the shooting world and also a staple in the collections of many shooters all around the world. The design itself does not need to be introduced or explained. You know the deal, it's a 100+ year old machine that shown its worth during hard times. It found its way into the hearts and holsters of all gun owners thanks to variations of barrel lengths. Concealed carry? Grab an officer size. Duty or LE? Grab a Government. If you want to do target shooting or competition shooting grab a 6" barrel version. Just don't forget that the 1911 has as many haters as lovers and we are civilized people.
1911 Holsters

If you are looking for a holster for your 1911 you have probably the biggest market in front of you. Thousands of designs, materials and carry styles lie ahead so just go and find a custom piece of leather for your custom piece of tradition.
Glock 17
Last but not least with a lot of love and hate - the Austrian legend Glock 17. Despite initial resistance from the marketm plus the fears of its use, the pistol of Glock found their way to military life and civilian life of many people. 48 countries around the world that are supplied by Glock just can't be wrong. Plus, the legendary Glock 17 has found its way to people also thanks to the ability to mod the firearm to a person's liking. The aftermarket is thriving, Glockheads are happy and everyone around can feel safer as responsible armed citizens are carrying their Glocks around.
Glock 17 Holsters

As with the 1911, Glock 17 holsters mean a large market and selection of holsters. Feel free to browse through numerous designs, materials and carry styles while thinking of another Glock model that you'll buy.
Do you fancy some more light reading? Then carry on with these articles