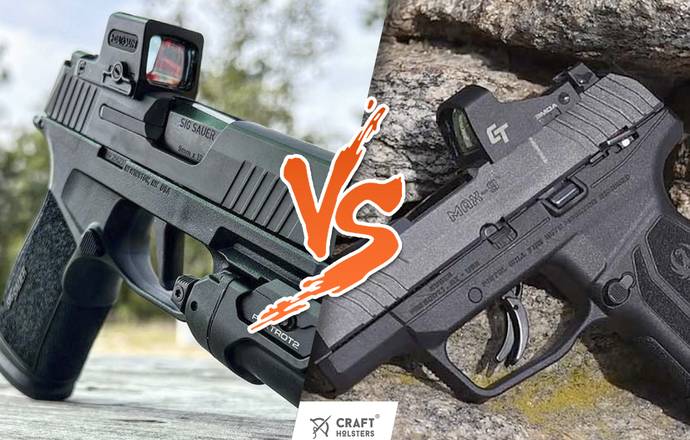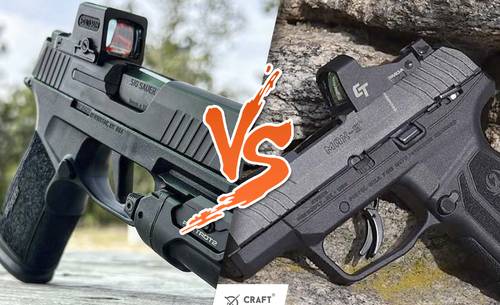 Source: gunsweek.com / gunmagwarehouse.com
Only a fool would deny that both the Ruger Max-9 as well as SIG Sauer P365-XMacro are some of the best concealed carry pistols ever made. After all, they delivery everything a solid CCW gun should.
Both pistols are super compact, easy-to-conceal, reliable, ergonomic, and they won't cost you all that much. On top of that, these guns are also optics-ready, which means you can attach a red dot sight to their slide without much effort.
So, there's just one question that needs to be answered - Which one is the better optics-ready pistol when it comes to concealed carry?
About SIG Sauer P365-XMacro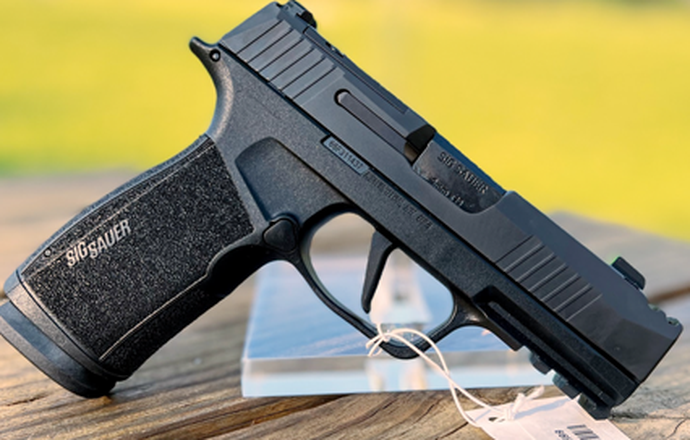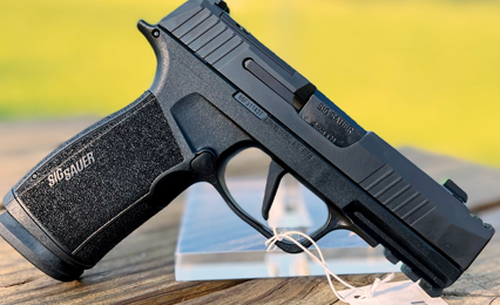 Source: dukessportshop.com
Introduced only in August 2022, the XMacro is the latest addition to now quite a broad family of SIG P365 pistols. While there's many similarities it bears to the original P365 pistol (such as its compactness and ergonomic design), there's also a number of crucial features setting the two apart.
The SIG Sauer P365 X Macro is an optics-ready handgun, which means you can equip it with all sorts of red dot, RMR, or reflex sights. Also, the pistol offers something no other P365 pistol does - it boasts an accessory rail for easy attachment of tactical lights and lasers. And as if that wasn't enough, the pistol boasts an incredible base capacity of 17+1 rounds. This only shows that the boys at SIG Sauer really never settle.
About Ruger Max-9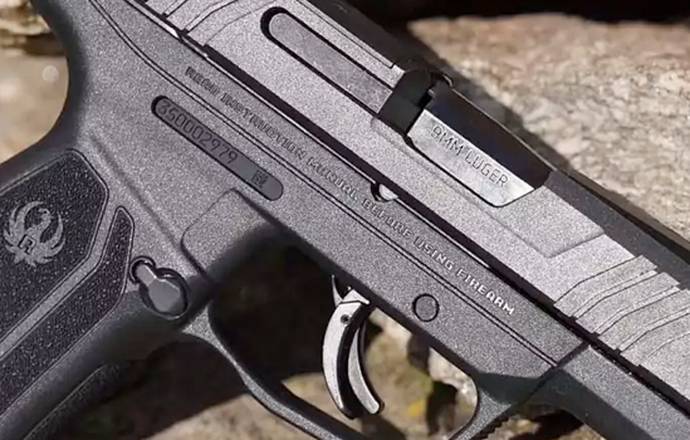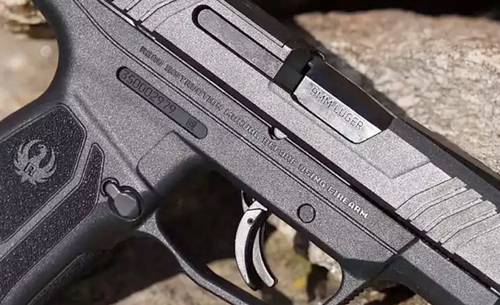 Source: armadnymagazin.sk
Shortly after its introduction back in March 2021, the Ruger Max-9 became an instant success. One reason for that was that it combined many great features of (to that day) two most popular Ruger pistols - the LCP II and Security-9. The pistol is just a tad larger than the LCP II, but it's as tactical as the Security 9.
Just like the SIG, the Ruger Max-9 is optics-ready and even though it doesn't sport an accessory rail, it can still be equipped with all sorts of tactical lasers which you can easily attach to the pistol's trigger guard. Also, for a pistol this tiny, it boasts magazine capacity of 12+1 rounds. And the fact that the pistol is widely advocated by Colion Noir himself only proves that Ruger really can not only manufacture, but also market their products.
Optics-ready battle: Is P365-XMacro better than Ruger Max-9?
Alright, before passing any judgement, let's take a closer look at some of the most important features these two carry wonders have to offer. And as it's an optics-ready battle, let's break it down into a number of rounds.
ROUND 1 - SIZE and weight comparison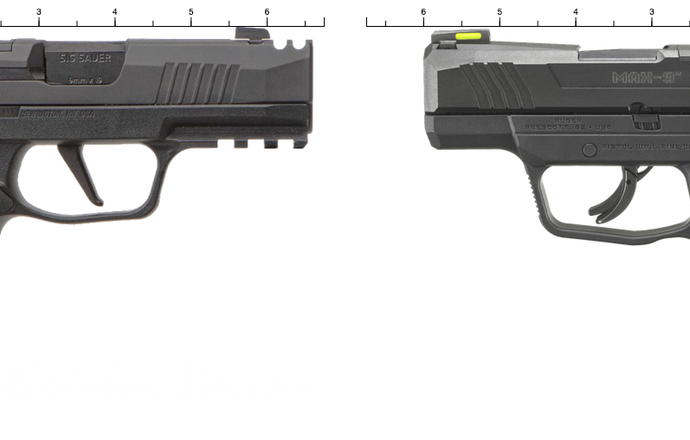 Source: handgunhero.com
Size and weight are probably the most important specs to consider when choosing a new carry gun. And, luckily, the rule "the bigger, the better" doesn't apply at all :)
While the barrel length of the two is pretty much identical (alright, the Max-9 comes with a 0.1'' longer barrel), the XMacro is some 0.6 inches longer, 0.1'' wider, and 0.3'' higher than the Max-9.
At the weight of 18.4 oz. (unloaded), the Max-9 is lighter than the SIG by over 3 ounces, which is quite a lot. Personally, I don't consider weight as such an important factor, but I'm quite positive that people with smaller hands or female shooters would appreciate the super lightweight design of the Ruger Max 9.
As we mainly conceal carry in order to hide our guns from the unwanted eyes, it's kinda clear who takes the first round.
So, the first round goes to … Ruger Max-9.
Hold on, don't forget to get a custom holster for your pistol!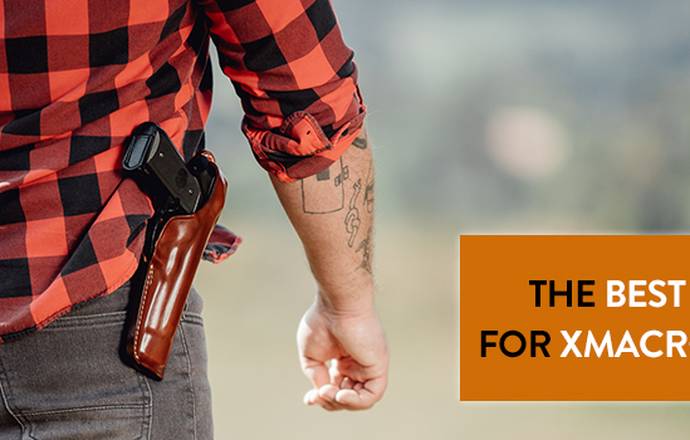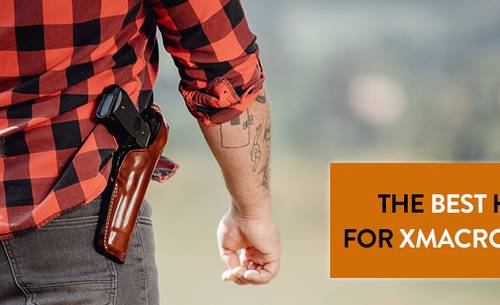 Based on the size and weight of these pistols, it's clear that either of them is a great concealed carry choice. However, in order to get the most out of their CCW potential, you need to pair them up with a well-fitting concealed carry holster.
If you're favorite is the SIG, check out some of the best custom SIG P365-XMacro holsters. However, if you fancy the Ruger, you'll need a holster that's fitted to the exact specs of your Ruger Max-9.
Round 2 - Magazine capacity
When I said size and weight matter most when it comes to concealed carry, well, I might have been lying. The reason is that magazine capacity is just as important (if not even more in life-threatening situations).
First of all, both pistols are chambered for the 9x19mm Parabellum, which is a caliber found in most carry guns. This cartridge is also relatively affordable (I won't say it's cheap, cause what's cheap in 2022, right?), yet powerful efficient enough when it comes to self and home-defense. Also, both pistols feature a double-stack magazine. And no matter which one you decide to carry, don't forget to get yourself a custom P365-XMacro magazine pouch or a set of Ruger Max-9 mag holders.
Magazine capacity is one of the reasons why the new SIG bears its name. It simply comes with a macro magazine that can be loaded with 17+1 rounds of ammo. And such capacity is groundbreaking and previously unheard of when it comes to pistols this compact. The only drawback is that such capacity isn't allowed for concealed carry in some states. However, the rumour has it SIG Sauer is already working on a state-complaint P365 X Macro magazine.
In comparison, the Ruger Max-9 offers 12+1 rounds or 10+1 rounds magazines, which makes it a state-compliant pistol pretty much everywhere. This kinda means it falls down to whether you prefer flexibility or efficiency.
When it comes to me, this round goes to ... P365-XMacro.
Round 3 - Ergonomics
Now rating a pistol's ergonomics will always be kinda subjective as it mostly falls down to personal preference and to how big your hands actually are.
The bigger magazine the P365-XMacro comes with means the pistol is the better choice for the large-handed folk. Simply put, the bigger the grip area is, the easier it is to wrap your palm and fingers around it. A firm grip results in higher accuracy and it also helps fight recoil better. Of course, the drawback of a larger grip is that the pistol leaves more imprint, especially when it comes to side carry. There's also multiple backstraps to choose from, but for me the large one felt the most comfortable.
The Ruger Max-9 is a much better option for people with small to medium hands. While the 12+1 rounds magazine lets you get your pinky on the grip, the 10+1 rounds mag is a bit of a struggle. If you have bigger hands, you can still fold your pinky under the magazine. However, this kind of grip helps to fight recoil only very little, which isn't ideal especially when it comes to novice shooters. Anyways, the Ruger Max-9 is an ideal handgun when it comes to female shooters, whose hands are generally smaller.
Based on the pistols' ergonomics, I'd say this round is more or less ... a TIE.
Round 4 - Accuracy & Range Performance
As both pistols are optics-ready, it means you can enhance their accuracy and target acquisition by attaching a red dot sight to the pistols' slides. However, as the aftermarket offers too many options, we compiled a list of the best SIG P365-XMacro red dot sights as well as the top red dots for Ruger Max-9.
While there's plenty of optics devices compatible with either handgun out there, the same can't be said about tactical lights and lasers. Why? Well, the answer is fairly simple. The SIG P365-XMacro comes with something the Max-9 doesn't - an accessory rail. Sure thing, you can still mount a Ruger Max 9 laser sight to the pistol's trigger guard, but you have many more options to choose from as far as P365 X Macro lights and lasers go.
In order to decide this CCW battle, it's best to test both pistols at the range. And based on the hundreds of rounds fired through both pistols, it seems like the SIG is the winner. After all, the P365 X Macro is internally compensated, which means it helps fight muzzle flip much better than the Max-9. Also, just like I pointed out above, I like SIG's ergonomics a tad better as the bigger grip simply helps handle recoil more than the more compact grip the Max 9 comes with.
So, judging by the aftermarket and range performance, the final point goes to ... P365-XMacro.
Main specs of Ruger Max-9 and P365-XMacro
Based on the size, capacity, ergonomics, and range performance, it seems like the SIG is the winner of our battle. However, to rule the final verdict, it's best to review the main specs of both pistols. There might be some factors that might turn the tables in Ruger's favor.
| | | |
| --- | --- | --- |
|     | P365-XMacro | MAX-9 |
| Caliber | 9mm Luger | 9mm Luger |
| Width | 1.1 inch | 1 inch |
| Overal length | 6.6 inches | 6 inches |
| Height | 5.2 inches | 4.95 inches |
| Weight (unloaded) | 21.5 oz. | 18.4 oz. |
| Barrel Length | 3.1 inches | 3.2 inches |
| Magazine | Double stack | Double stack |
| Mag Capacity | 17+1 (flush) | 10+1 (flush) / 12+1 (ext.) |
| Trigger | Striker SA | Striker SA |
| Slide Material | Stainless Steel | Stainless Steel |
| Release Date | August 2022 | March 2021 |
| Optics-ready | yes | yes |
| MSRP | ca. $799 | ca. $499 |
So, have you changed your mind? Well, to be honest, if I was on a strict budget, I probably would as the Max-9 is almost half the price of the XMacro. And I could use the saved money to invest into one of the following aftermarket upgrades.
Best accessories for Ruger Max 9
As the Max-9 was designed to meet the demand for an optics-ready pistol for concealed carry, there's two no-brainer Ruger Max 9 aftermarket accesories you should get without any hesitation.
Best accessories for SIG P365-XMacro
The main reason why SIG Sauer introduced the latest P365 model was to answer the call of "regular" gun owners who were lookin for a tactical carry pistol that they could conceal carry on a daily basis. To achieve that, you'll not only need a reliable holster, but also a solid optical attachment.
CONCLUSION - Which optics-ready pistol is better?
So, it's come to the final verdict. Is the P365 X Macro better than the Ruger Max-9 or is it the other way round?
Well, personally, I like the SIG better, mainly because it fits my hands more and it also offers higher base capacity. Also, there's slightly more P365 X Macro aftermarket accessories to choose from, a factor to consider if you like your guns pimped out to the max.
However, the Ruger Max 9 also has lots to offer and it's much cheaper than the SIG. On top of that, it's 10+1 and 12+1 rounds magazines are state compliant pretty much everywhere.
No matter which one you end up getting, though, you'll all need the same thing - a well made SIG P365-XMacro holster or a custom holster for Ruger Max 9. And the ones in our store are more than fine!
Do you fancy some more light reading? Then carry on with these articles:
5 Best Ruger Max 9 Holsters [For Various Purposes]
Top 5 SIG P365-XMacro Holsters for Concealed Carry
The [Ultimate] Guide To The Best 9mm Holsters