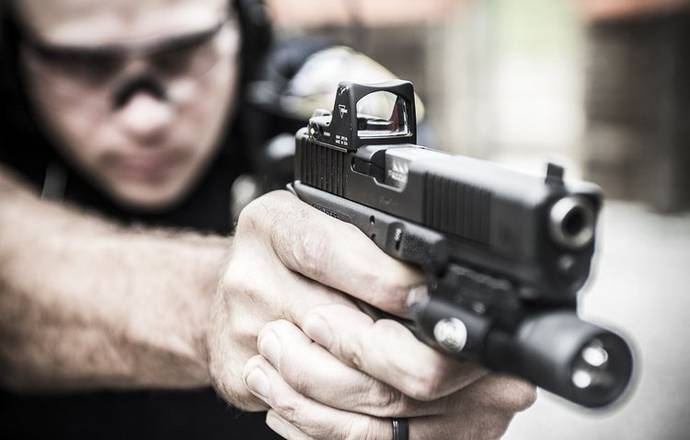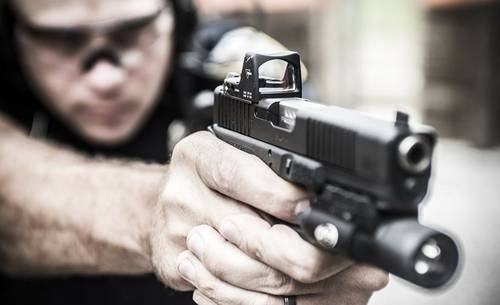 Source: www.shootingandsafety.com
INTRODUCTION
"The only thing worse than being blind is having sight but no vision" - Helen Keller
I've spent ages playing first person shooter PC games in the past (and, to be honest, I still put in a significant number of hours, especially when I'm too lazy to do all the household chores) and I've always fancied attaching sights to my guns. However, honestly, I was never too sure what all the benefits of those small neat looking attachments called red dot sights were.
This motivated me to delve deeper into this. Then I got my hands on my first red dot sight and now I can tell you a bit about the purpose of red dot sights. You'll also learn about their pros and cons. And, mainly, you'll get tips for the best pistol red dot sights. So, without further ado, let's get started.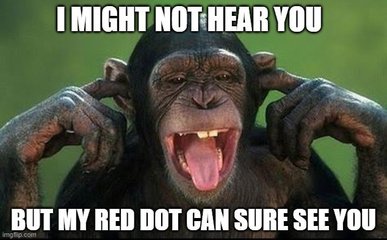 TOP 4 PISTOL RED DOT SIGHT SOLUTIONS
Before you get your pistol red dot sight, there are some factors you must consider. Keep these in mind so that you can buy the best one. I'd say the most important factors you shoul consider are:
Durability of material
Quality of the lens
Resistance to harsh weather conditions
Compatibility and mount style
Windage and elevation adjustability (almost all red dot sights feature this)
Battery life
Number of power settings
Red dot size or MOA What's
MOA, right? Well, in layman's terms, the more MOA a particular red dot sight offers, the easier it is to acquire a target, as the dot is bigger. On the other hand, the smaller the dot, or the lower the MOA is, the more precise your aim is. With pistol red dot sights, the most typical dot size is somewhere between 3 to 4 MOA, by which the balance between precision and target acquisition is achieved, especially at larger distances. MOA number is usually included in the product name and I'll also mention it with each and every red dot sight on our list.
Alright guys! So, now that you're familiar with the purpose of red dots, factors to keep in mind, and some major red dot sights producers, let's set our sight on the top pistol red dot sight option by each of them.
#1 - TRIJICON RED DOT SIGHT
TRIJICON RMR TYPE 2 6.5 MOA ADJUSTABLE LED RED DOT SIGHT
This pistol red dot sight is an ultimate tactical optics solution. The RMR abbreviation in the product name stands for "ruggedized miniature reflex", which means its strongly built and capable of withstanding even the roughest handling (although I hope you treat your gun with as much love as possible :)). Now how does it perform? The answer is simple - according to Trijicon standards, which means excellently. It features an automatic brightness mode and lets you select between eight different brightness settings. These include also 2 different night vision modes and 1 super bright mode.
One drawback could be that the price tag on this one is much higher than the TruGlo red dot sight mentioned before, but I think it's a reasonable price for such a high-end product. BTW, did I mention that it's waterproof up to 66 feet for nearly an hour? So, if you want real quality, don't be a Scrooge McDuck and get your Trijicon pistol red dot sight now.
Features & Benefits
Material - Military-grade aluminum alloy
Dot size - 6.5 MOA
Batteries used - 1x CR2032 Battery
Installation - Any gun with a milled gun slide
Special features - night vision, waterproofness
Pros
Extremely durable and waterproof
Supports night vision
Cons
Smaller viewing window
Price tag
Prices accurate at time of writing
#2 - Leupold red dot sight
LEUPOLD DELTAPOINT PRO REFLEX SIGHT
This pistol red dot sight by Leupold is slightly heavier than the first two, but it's a favorite choice especially if you engage in competition shooting, as the glass it features is extremely clear and offers a large view. How come? It features a DiamondCoat aspheric lens, which increases the field of view by more than 50% and it's also scratch resistant. It's equipped with a motion-sensing auto-on function, so you'll be ready to place your sights on your target as soon as (or even sooner!) draw your gun.
A great feature of this pistol red dot sight is the battery loading from top, so you can easily replace the battery without having to remove it. Compared to the one by Trijicon, it's not night vision compatible, but as long as you won't be lurking out in the dark much, you should be just fine and this Leupold red dot sight is one of the best options for you.
Features & Benefits
Material - Rugged aluminum
Dot size - 2.5 MOA
Batteries used - 1x CR2032
Battery Installation - Picatinny rail or Glock MOS system
Special features - Motion-sensing auto-on function
Pros
Crystal clear lens + enhanced field of view
Top loaded batteries
Cons
Battery life
Not night vision compatible
Prices accurate at time of writing
#3 - Vortex Red dot sight
VORTEX OPTICS VIPER RED DOT SIGHT - 6 MOA DOT
This would be one of my favorites if I was searching for a new red dot sight for my pistols. Why? Well, it's claimed to be (and I believe it is) one of the lowest profiled red dots out there. Thanks to this, it is a perfect fit for handguns with cut-out slides and it also works well with any suppressor-height iron sights. Viper features extremely durable anodized finish and it's also waterproof and shock resistant, which means you don't have to waste time checking out the weather forecast before using it.
Now talking about it's performance, it's one of the best pistol red dot sights in this price range (you can't expect it to outperform the most expensive sights, but, hey, someone's got to pay the bills). So, guys, if you want to avoid spending ages going through the vortex of pistol red dot sights out there, go for Viper by Vortex.
Features & Benefits
Material - Hard anodized finish
Dot size - 6 MOA
Batteries used - 1x CR2032 Lithium Battery
Installation - Weaver/Picatinny mount
Special features - Extra low profile
Pros
Extremely low-profile and lightweight
Durable construction and lens
Cons
Outperformed by the more expensive options
Less accurate at long distances
Prices accurate at time of writing
TRUGLO TRU-TEC MICRO RED DOT SIGHT OPEN REFLEX OPTIC
This pistol sight isn't just small, it's also ultra lightweight, so even if you have feeble hands (just like I do), it won't affect the steadiness of your grip. Thanks to the material it's made of, this TruGlo pistol red dot sight is also extremely durable and it will withstand even harsh weather conditions.
It's probably one of the best options out there if your budget isn't that extensive and it is up for grabs on Amazon. Moreover, it also comes in a green dot version, which in short means not only a different dot color, but it's much brighter, thus allowing you to save a lot of battery life by setting it to a lower power level, yet providing comparable optics enhancement to its red counterpart set to a higher power level. If you are looking for true glow, go for TruGlo.
Features & Benefits
Material - CNC-machined aircraft-grade aluminum
Dot size - 3 MOA
Batteries used - 1x CR2032 Battery
Installation - Picatinny mount
Special features - water, shock, fog resistant
Pros
Ultra lightweight and compact
Great quality for a budget option
Cons
Outperformed by some more expensive sights
Only 3 MOA
Prices accurate at time of writing
STAY CHARGED, STAY BRIGHT - BATTERIES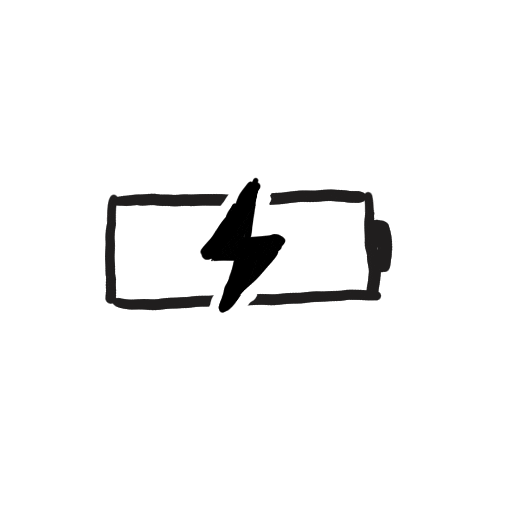 As red dots are a piece of electronics, they need to be powered up to deliver. For any of the red dot sights on our list, get an extra CR2032 Lithium Battery. Make sure you get running even when running low on battery.
CAN'T DECIDE? GET OUR FAVORITE!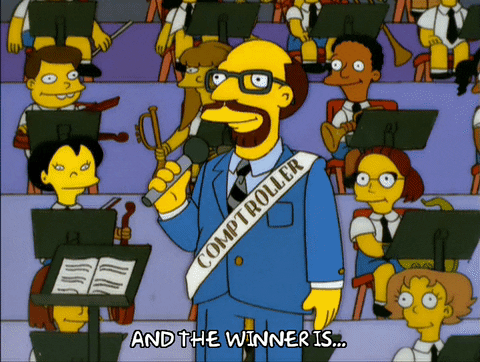 Overall, I'd say the benefits of red dot sights hugely outweigh the negatives. So don't hesitate and choose one on our list if you want to get the maximum performance out of your gun. If you can't decide which one, then go with our top choice, #1 on our list - Trijicon RMR Type 2 6.5 MOA Adjustable LED Red Dot Sight. Although it's a bit more expensive than the other ones, its performance will stand up to all your expectations. And it will help you see the light at the end of the tunnel.
DO YOU NEED A RED DOT? - BENEFITS, DRAWBACKS
You might be asking yourself, if you really need a red dot sight for your pistol. Even though I don't know you guys, I'd say you do, especially if you are looking for the following aspects that are considered to be benefits of red dot sights:
Fast target acquisition
Long range shooting
Low-light environment shooting
Increasing your awareness
Improving your aim despite poorer eyesight
Better performance of your handgun in tactical situation
Putting a red dot sight on your pistol doesn't mean you are putting on rose-colored glasses, though, so obviously there are also some issues that come hand in hand with the benefits:
Electronics reliability (check out the remaining battery life every now and then)
It takes some practice getting used to red dots
They can get quite expensive
Weather could be an issue (especially extreme conditions)
BONUS READING: THE BRANDS TO HAVE IN SIGHT
Even if you are fairly new to the gun world, I'm sure you've already heard at least of a couple of the following brands - TruGlo, Trijicon, Leupold, or Vortex. All of these are giants of the gun optics market and they all have their own division devoted to development and manufacture of red dot sights, and not just for handguns, but also for other firearms, such as AR15s or even crossbows. So, let's first briefly aim at who these guys are and then I'll also show you the best red dot sight option for you by each of these brands.
TruGlo is a company based in Richardson, Texas, and they are among the leaders on the gun optics market. In their selection, you can find products such as red-dots, tactical scopes, hunting scopes, lasers and many others. What sets them apart from the competition is the fact that they don't only focus on accessories for handguns and rifles, but they also produce various applications for bows and crossbows among their offer.
Trijicon, a company based in Wixom, Michigan, has its own line of reflexive/red dot sights optics solutions that are extremely advanced. Many of them offer dual illumination and you can also find amber and green dots among their offer. Trijicon cooperates with the U.S. Marine Corps as well as partnership with government, state, and local law enforcement agencies. Their products are specifically designed for the following areas: hunting, target shooting, personal protection, law enforcement, and military.
Leupold is another famous American manufacturer of red dot sights and other sights. They have been known for creating high quality products and specialising in optics for handguns but other firearms as well. Most of their sights are from the high-end category with a higher price tag, but, trust me, the extra buck is worth it. Their sights and scopes are waterproof, fogproof, and built for a lifetime of performance, guaranteed.
The last company on the list, Vortex Optics, is a Barneveld, Wisconsin based company that specializes in various optical attachments ideal not just for Law enforcement, but also for recreational activities such as hunting, bird and wildlife watching, or sports. Red dot sights are not the only area Vortex focuses on - you can also find a wide range of binoculars and many riflescopes in their selection. What I personally like is their neatly designed, easy to navigate web, where you can quickly find all that you need to improve your aiming.
7 TIPS TO IMPROVE YOUR ACCURACY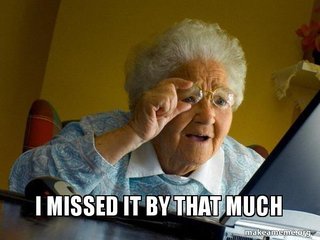 Have you ever wondered how to improve your aim and accuracy? I suppose you don't really struggle with this in general, but it might get a bit trickier when you have a red dot on your handgun. Each firearm has a specific weight and so does each red dot. This is the weight in your hand. Now add the weight that is needed to fire your handgun and you have a equation where these are compared. Let's say that your firearm and red dot combined weigh 10 pounds and the trigger finger force is 12 pounds for the first shot and 5 pounds for subsequent shots. This means the force is more than the weight and we are getting to the conclusion - the gun will move. if the gun moves during the firing sequence, the shot will impact somewhere other than where it was originally aimed. This is a pretty simple concept. But how do you solve the problem? The answer is easy. Press the trigger and don't pull it. This will end up in not moving your gun and this improving the aim. The best practice to learn it is dry fire practice. While practicing, go through these steps:
Step 1: Remove all ammunition from your gun.
Step 2: Move the ammunition away from your practice area.
Step 3: Choose a safe target and backstop.
Step 4: Focus on your front sight!
Step 5: Mind where the red dot has landed.
Step 6: Slowly press the trigger.
Step 7: Follow through!
Step 8: Reset if necessary depending on your gun type.
CONGRATS, BULLSEYE!