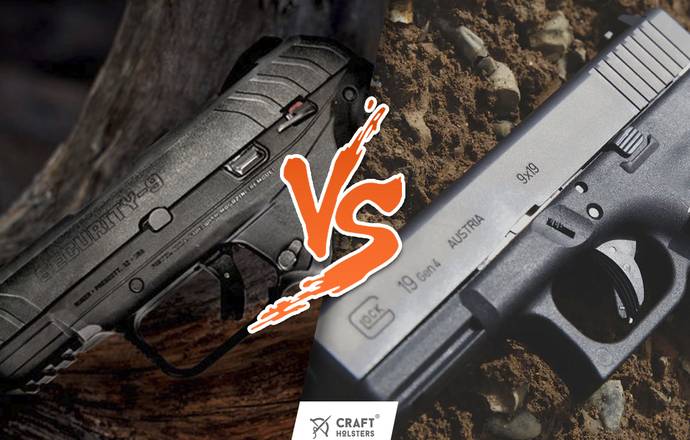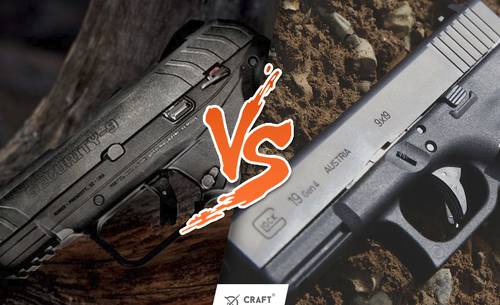 The Ruger Security 9 is a recoil operated semi-automatic pistol with a single-action (SA) trigger made by Sturm, Ruger & Co., Inc.. It is quite compact with its 4" long barrel. The Security 9 is a lightweight hammer-fired pistol designed to be an inexpensive option for self-defense and concealed carry. This pistol relies on the use of the famous 9mm Luger cartridge and its magazine can hold up to 15+1 rounds of ammo, which is quite enough for a self-defense pistol.
The market is full of well made handguns that are similar sized to the Ruger Security 9 - 4" and were made for the same purposes. So there's no surprise that the Ruger Security 9 has its own competitors. One of the biggest is definitely the well known Glock 19.
To decide which one of these pistols is better, let's take a deeper look at their main differences and similarities at first.
introducing ruger security-9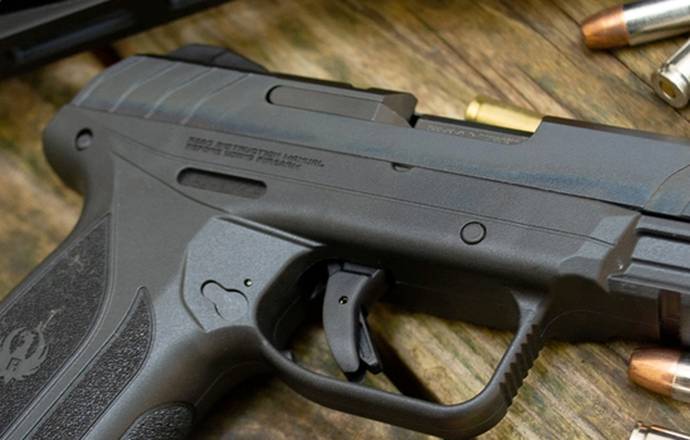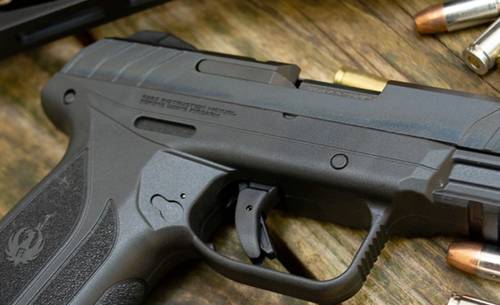 Source: www.ammoland.com
The Ruger Security 9 is a mid-sized pistol with an overall length of 7.24 inches and weight of 23.7-oz when unloaded. This pistol is 5" high and 1.1" wide and it comes with a 4'' long barrel. Due to its dimensions, the Ruger Security 9 can be carried outside the waistband, but can also be well hidden in a custom Ruger Security 9 IWB holster. When talking about the overall magazine capacity of this pistol, it can assume 15+1 rounds of 9mm Luger ammo. And while it's true the pistol isn't perfect (check out our list of the most troublesome Ruger Security-9 problems), it's still a handgun worth getting and I'll soon tell you why.
Introducing Glock 19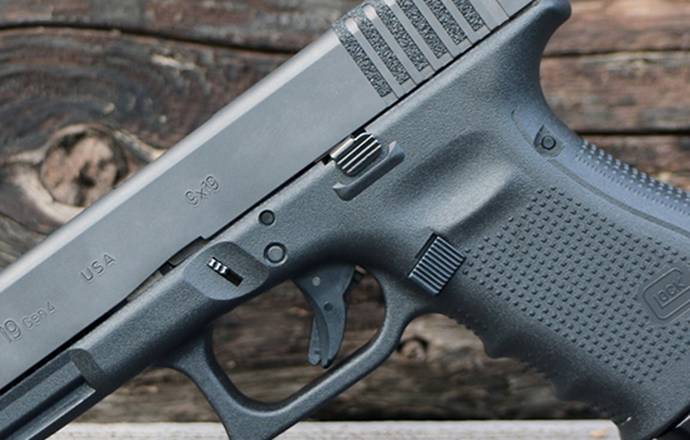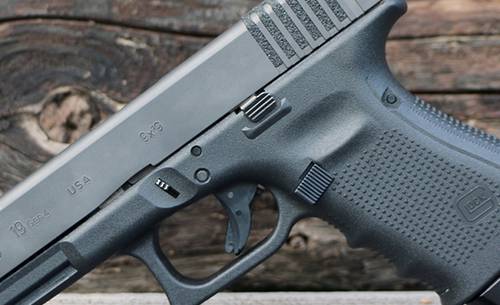 Source: www.jfgunworks.com
This compact pistol has a 4.01 inch long barrel, which means it can be easily hidden if using a well-fitting Glock 19 holster, providing a good concealment option for everyday carry. The Glock 19 is equipped with a double stack 15-round magazine, and it relies on the use of the famous 9 mm cartridge. Due to its dimensions it is ideal for use as a backup weapon or for concealed carry purposes. If you wish to know more about all of its features, read our Glock 19 review.
RUGER SECURITY 9 VS GLOCK 19 - most important SPECS AND FEATURES
Both of these pistols, the Ruger Security 9 the same as the Glock 19, represent a good choice for your everyday self-defense. Although they were not developed for concealed carry purposes, due to their quite compact size you can still hide them well within the right type of holster. To find out which one of these pistols is a better EDC choice for you, let's now focus on their similarities and differences.
round 1 - SIZE COMPARISON
Source: www.handgunhero.com
The size definitely matters, especially when you're looking for a EDC gun or CCW gun. The smaller the gun is, the more compact it is, the better result you get when concealed carrying it. On the other hand the bigger the gun is, the more comfortable shooting it brings. So size is a factor that really counts.   When talking about sizes, the Ruger Security 9 is overall 7.24" long. It is 1.1" wide and features a 4" long barrel. The Glock 19 is 7.36" long and 1.26" wide. And it is equipped with a 4.01" long barrel. So as you can see, the Ruger Security 9 is just a little bit more compact when compared to the Glock 19.
The difference between the dimensions of these two pistols is not so significant, so with regards to the size and keeping the concealment in mind, both the Security 9 and G 19 are compact enough to be suitable for concealed carry though. Although the firepower is a little lower when compared to the full-sized handguns.
This means that the first round ends in … a TIE.
Hold on ... Don't forget to get the right Security-9 or Glock 19 holster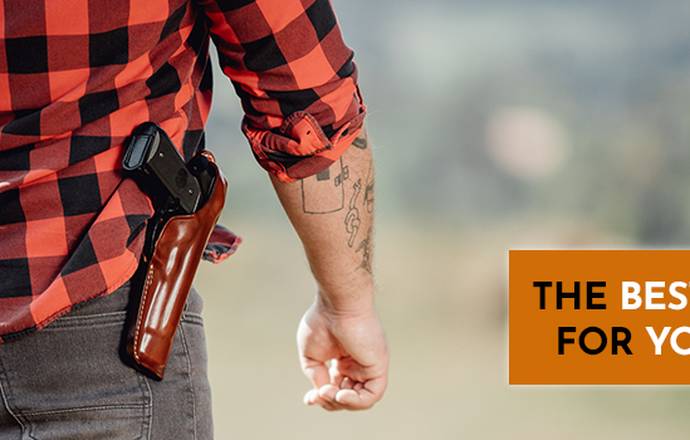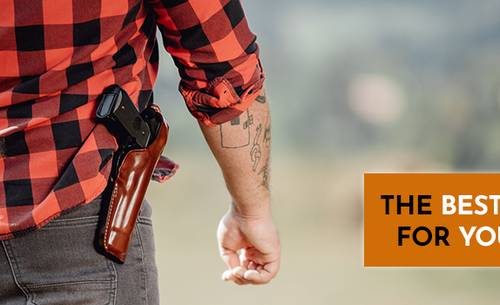 Before you decide which handgun is better, you should already start thinking about getting yourself a well-made G19 or Security 9 holster.
If you hit the button below, you'll be able to explore an entire world of the best Ruger Security-9 holsters.

And here's another button for you to hit if you're ready to find out what the best Glock 19 holsters are. Enjoy! :)

Round 2 - MAGAZINE AND CAPACITY
The magazines that come with the Ruger Security 9 are steel and fit 15+1 rounds in an efficient double-stack. The ammo used for this pistol is a very famous 9mm Luger. The ergonomics of this gun is very nice for a value-priced pistol. The grip stippling and rounded corners are just right and you can easily reach all the controls. The slide is effortless to rack, and the felt recoil and muzzle rise is very manageable.   When it comes to the Glock 19 pistol, its magazines and capacity are practically the same. This pistol can store 15+1 rounds of the same 9mm Luger ammo as the Security 9. Both pistols come initially with 15 round magazines, but are available in 10 rounds as well (in more restricted countries).
The magazine capacity of both these pistols can be easily increased with the aftermarket mag extensions. The Ruger Security 9 extended magazine can hold up to a maximum of 32 rounds, which is quite amazing. While the Glock 19 can go even further with its extended magazine capacity of 33 rounds. For both pistols, the extended magazines cost from approx $20 to $50.
Based on the same base mag capacity, the second round also ends in… a TIE.
Round 3 - ACCURACY AND RANGE PERFORMANCE
The Ruger Security 9 brings a wonderful shooting experience that you wouldn't expect from a polymer gun of its size. It is a very accurate and reliable pistol, which is quite amazing for such an affordable pistol. Just like the Glock 19, the Ruger Security 9 has a U-notch rear sight that can make it a bit difficult for some folks to pick up the front sight on the U-notch. The Security 9 sights might not be terribly clear for these folks, although the three-dot sights should suffice.
The Glock 19 brings a nice shooting experience, which is quite unusual for pistols this small. Even though most shooters frequently have to put up with quite a lot of hand slapping recoil when using the compact gun such as Glock 19, with its lovely design and comfortable grips, you probably won't have this issue. When shooting at the range, the Glock 19 is neither too big nor too small for precision manipulations and keeping rounds on target. On the other hand, it's true that the Glock 19 has small variations in accuracy, especially at longer distances (25 – 100 yards).
So in terms of accuracy, the Security-9 is just about as spot-on as the Glock 19 but is not as uncomfortable beneath the trigger guard. That is something for which the Glock 19 is rather notorious. You can feel slightly more recoil with the Security 9 than you would on the G 19. It is probably occurring due to the spring coil's light weight, but all in all, this is a minor qualm that is easy to negate. And in case you're interested in finding more about some other potential Ruger Security-9 problems, you can do so here.
Now, a slight advantage in this battle goes to … the Ruger Security 9.
round 4 - CALIBER AND FIRING MECHANISM
The Ruger Security 9 relies on the use of the 9 mm Luger alias 9 mm Parabellum. This cartridge was first adopted by the German Navy in 1904 and then by the German Army in 1908. This cartridge has since become the most popular and widely-used handgun cartridge in the world. Performance wise, the 9 mm cartridge has somewhat more power than the .38 Special but falls well short of the .357 Magnum. There is nothing to compare when speaking about the caliber as the Glock 19 relies on the use of the same 9mm cartridge.
Although these pistols use the same type of cartridge, they are totally different when it comes to their firing mechanism. The Ruger Security 9 is a hammer-fired pistol. A hammer-fired pistol has a trigger that releases or both cocks and releases a hammer to strike a firing pin. That firing pin impacts the primer of the chambered round, causing the pistol to fire. Basically, the firing pin inside the slide of the pistol does not move until the hammer, under spring pressure, impacts it and causes it to, in turn, impact a cartridge's primer.
The Glock 19 is the absolute opposite, as it is striker-fired, featuring a single-action (SA) trigger. Which means that the trigger does not cock the gun, but only releases the striker when pulled. Cocking of the striker is performed by the retracting slide. The trigger is the only operating element. All three internal pistol safeties are deactivated when the unique single-action trigger is pulled, and automatically activated when it is released. This kind of firing mechanism has a lower firepower than hammer-fired pistols. Although it doesn't require the gun to be composed from that many parts and that results in a lower risk of any hardware malfunctions.
Based on the firepower, the last rounds goes to … the Ruger Security 9.
Head-to-head specs comparison
Now, let's take a look at the main specs of these two lovely pistols to find out more about what they can bring to the table.
| | | |
| --- | --- | --- |
|     | GLOCK 19 | RUGER SECURITY-9 |
| Caliber | 9 mm Luger | 9mm Luger |
| Width | 1.26 inch | 1.1 inch |
| Overal length | 7.36 inch | 7.24 inch |
| Height | 4.99 inch | 5 inch |
| Weight (loaded) | 23.65 oz. | 23.7 oz. |
| Barrel Length | 4.01 inch | 4 inch |
| Magazine | Double stack | Double stack |
| Capacity | 15 + 1 (flush) | 15 + 1 (flush) |
| Trigger | Striker-fired | Hammer-fired |
| Frame | Polymer | Glass-filled nylon |
| Slide | nDLC finish polymer | Hardened alloy steel |
| MSRP | ca. $560 | ca. $379 |
As you can see, the Ruger Security 9 and the Glock 19 are almost identical in most parameters. However, the hammer-fired Security 9 offers much better firepower than striker-fired G 19. And the main difference can be found within the price, as the Ruger Security 9 - 4" is almost half the price of G19 and that's a big deal.
Best aftermarket upgrades
Although the accuracy of the Ruger Security 9 is pretty good, it can be even better when upgraded by adding a tactical light or laser to it. A good example is the DefendTek Tactical Flashlight with 300 Lumens. It is compact, lightweight and features a quick-release mount feature and tactical bezel. Featuring two versatile settings (steady and strobe) each mounted light easily switches between pinpointing or disorienting your focused target. This tactical light is stronger and more durable than standard rail-mounted lights and it is dust and water resistant, which is great for those who love to enjoy outdoor adventures. The cost of this tactical light is $39 (accurate at the time of writing). And just in case you don't find this light appealing enough, feel free to check out our list of the best Security-9 lights currently available.
The Streamlight TLR-6 tactical light is a great option on how to upgrade your Glock 19. It is an ultra lightweight and compact light that features an ambidextrous on and off button. Its attachment is very simple, which is another advantage of this light. With its output of 100 lumens, it is enough light for easy night time target identification. Streamlight TLR-6 tactical light is also equipped with a red laser. This tactical light costs $95 (accurate at the time of writing).
How to carry these pistols?
Both pistols were designed for self-defence and are also suitable for concealed carry. The Security 9 and the G19 are almost identical within the dimensions, so they are at the same stage when it comes to this concealment battle.
The important thing when considering to wear either the Ruger Security 9 or the Glock 19 as everyday carry guns is to pair them with a well-fitting holster. There is a big offer of the Ruger Security 9 holsters as well as of the Glock 19 holsters whether you like the CCW better or not.
CONCLUSION - WHO WINS THIS BATTLE?
So who's the winner of this ultimate pistol battle? Although both these pistols are very similar in design and both were made with the same purpose, still there are a few differences that count. Such as firepower or accuracy, that are the main turning points in this battle. The Ruger Security 9 seems to be more accurate and definitely has a lot more firepower than the Glock 19.
And that's the reason why the winner of this battle is our Ruger Security 9 - 4". However, it's up to you and your preferences and it is easy to say that either one of these guns would be great to take home. 
DON'T LEAVE YET - YOU MAY FIND THESE ARTICLES READWORTHY
MOST POPULAR GLOCK 43X REVIEWS - ALL YOU NEED TO KNOW