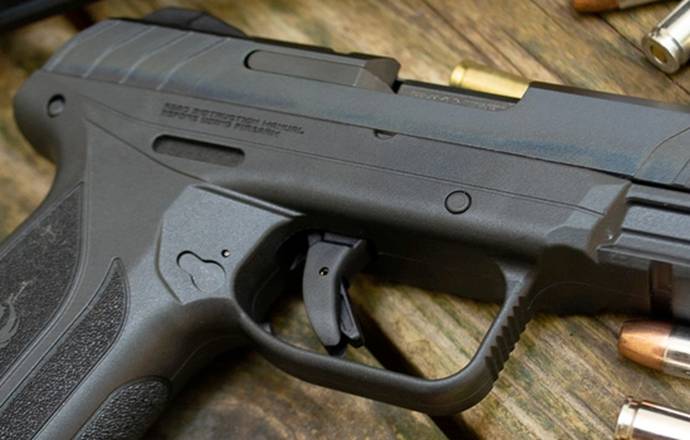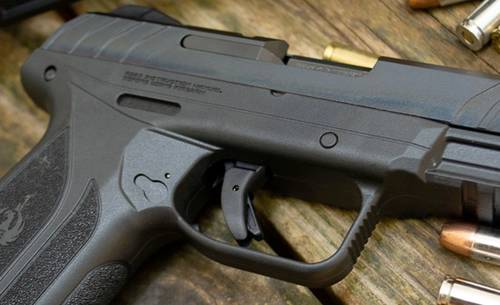 Source: www.ammoland.com
The Ruger Security 9 (the 4 inch version) is a recoil operated semi-automatic pistol made by Sturm, Ruger & Co., Inc.. It's quite a compact and lightweight hammer-fired pistol designed to be an inexpensive option for self-defense and concealed carry. This pistol with a single-action (SA) trigger relies on the use of the famous 9mm Luger cartridge. Its magazine can hold up to 15+1 rounds of ammo, which is quite enough for a self-defense pistol. As the Security-9 is a mid-sized handgun, it means it's equally suitable for both open as well as concealed carry.
Each machine has its own problems and the same is with guns. None of them is perfect and so it's obvious that some problems may come across your way when using the Ruger Security 9 as well. You don't need to worry as it is no rule to experience those issues, but it's good to know about them. If you're interested in finding out more information about some of the most worst Ruger Security 9 problems, keep on reading.
Issue no.1 - RUGER SECURITY 9 SLIDE RELEASE PROBLEMS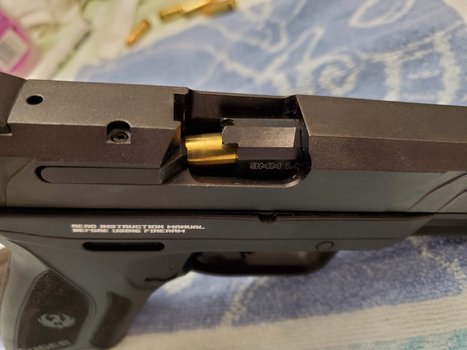 Source: www.rugerforum.net
One of the most occurring problems with the Ruger Security 9 are related to its slide. So what exactly can go wrong? When the slide is locked to the back and you insert a full magazine the slide lock will not disengage when pulling back on the slide and releasing. You have to depress the slide release and pull back on the slide to get it to release. Or when trying to manually depress the slide release, it is almost impossible to get it to release. In that case when you have to manually depress the slide release, the round would not fully seat into the chamber.
And you have to actually push the slide forward to get the round to fully chamber. In this case it seems like the slide release is sticking for some reason. What causes this issue? Easily fixed reasons are lubricant/preservative or some other debris fouling its movement. Other possibilities are a poorly fitted slide release that is binding or a broken or weak spring. Find out more about this issue in this thread at Ruger's Forum.
issue no.2 - finding the best ruger security-9 holster
The problems related to the Ruger Security 9 pistol are very commonly seen on many other guns and some of them can be easily fixed. The rest can be fixed by replacing the problematic parts, which is the thing the Ruger company is willing to do for you. Even though it's possible that you will experience some of these problems, the Ruger Security 9 is still a very solid and reliable gun with a lot to offer.
And even if your own Ruger is perfect and doesn't give you any trouble at all, there's definitely one problem you'll run into - finding a great Ruger Security-9 holster. Of course, finding just a holster is never a problem, but finding a well-fitting one might prove extremely difficult.
Fortunately, we got your back with our offer of custom made Ruger Security 9 holsters no matter what your preferred carry style, material and design might be. And what's more, all of our Ruger Security 9 - 4" holsters are molded on the exact replica of your gun to assure a perfect fit.
issue no.3 - RUGER SECURITY 9 FEEDING ISSUE
Source: www.rugerforum.net
The Ruger Security 9 feeding issue is also well-known for owners of this pistol. For example when you try to remove the rounds from the magazine, they don't come out easily at all. You have to push hard on the round to get it out of the magazine and that can be quite annoying. Failures to feed are almost always caused by magazines, feed ramps, and bad recoil springs. You can also find the recoil springs not being smooth as you load the mag, which can cause feeding issues.
Sometimes it helps to take your Ruger Security 9 apart and give it a real good cleaning and also clean the feed ramp. Once you have that completed, polish the feed ramp. It might help to decrease the possibility of having miss feeds. Otherwise you should contact Ruger to give you a helping hand.
issue no.4 - RUGER SECURITY 9 EXTRACTOR PROBLEMS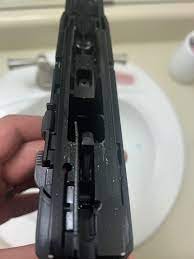 Source: www.rugerforum.net
The extractor is another part of the Ruger Security 9 pistol that can cause some malfunctions. In some cases when you fire a round, the slide retracts beyond the round in the magazine, and strips and pushes the new round directly into the rear of the fired case, which is always in the chamber.
I suppose the problem may be that the fired case expands into the grooves, which causes the same to stick beyond the extractor's ability to pull it out consistently. As a result you can experience a failure to extract pretty much at least once per magazine. The best thing to do is to contact the Ruger's customer service and ask for the replacement of the extractor.
CONCLUSION - is ruger security-9 worth it despite these problems?
There is no surprise that each gun, the Ruger Security 9 included, can fail. Although not all of them are mechanical issues of the gun. Sometimes it can be caused by the ammunition or even by the shooter. So before you condemn your Ruger, try to find the root of the problem (if you experience one).
When it comes to overall valuation of the Ruger Security 9, this pistol seems to be reliable and accurate. Although it's not perfect and some problems can be found when using it, still the pros of this pistol outweigh its issues. This is especially true if you upgrade your pistol with one of these Ruger Security 9 lights and lasers or any of these great Security-9 holsters.
So in my opinion, the Ruger Security 9 is well worth it and you should at least give it a try. When you think about all of the great features coming with this low budget pistol it is almost unbelievable. But I'm not trying to affect you in any way as the decision is totally on your shoulders.
The internet is full of the information that can help you to decide whether you add the Ruger Security 9 to your gun collection or not. But remember if you do so, don't forget to pair it with a well-fitting Ruger Security 9 holster.
DON'T LEAVE YET - YOU MAY FIND THESE ARTICLES READWORTHY
TOP 5 GLOCK 43X LIGTHS / LASERS
GLOCK 43 VS GLOCK 43X - WHICH VERSION IS BETTER?