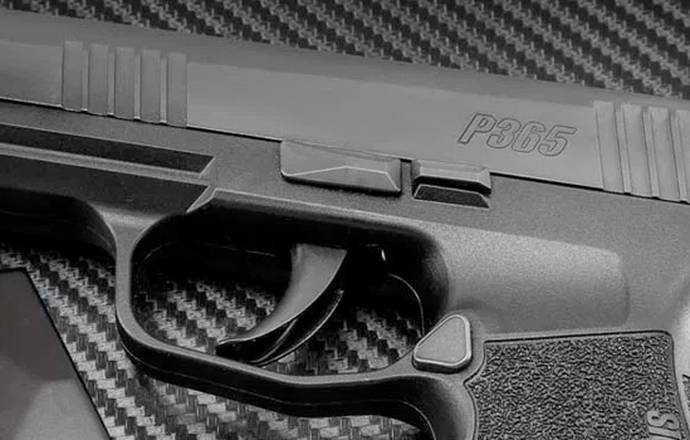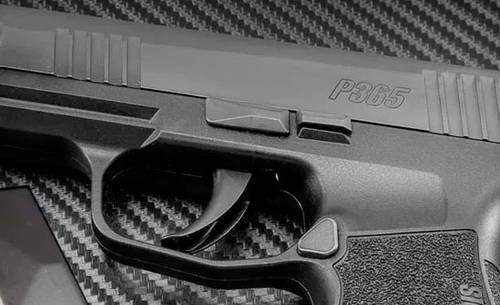 source: thrumylens.org
Before you decide to buy something as important as a new concealed carry gun, it's very important to get yourself informed on your best options. And no matter which "best CCW guns" list you come across, I'm sure one of the options will be the SIG Sauer P365. However, just because it appears on such lists, it doesn't automatically mean you should immediately buy it. Or does it?
What does the internet say - the Must-read SIG P365 reviews
To find out whether the SIG P365 really is worth buying and if it deserves its tag of the best sub-compact carry gun, let's have a look at our list of top 5 unbiased SIG P365 reviews. I'll always offer a quick summary and provide you with a link to the full review. As nothing is perfect, you will not only find out what the best features of this excellent carry pistol are, but you'll also be informed of the worst SIG P365 problems. And some of them might even include an advice on the best SIG P365 holsters. Without further ado, let's have a look if the P365 is really worth a try.
#1 - Shooting Review: The Sig Sauer P365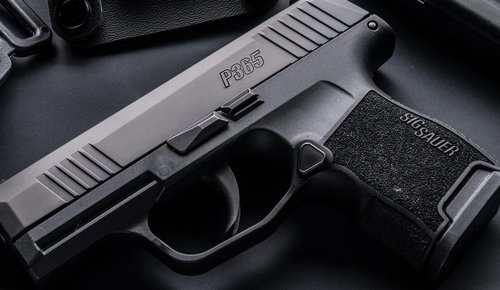 source: eaglegunrangetx.com
The first review that I'd advise you to give a proper read through was written by Andy Rutledge and posted on Eagle Gun Range's blog. Andy is a seasoned competitive shooter, so you can be sure he knows his way around guns quite well. In his own words "Sig has seemingly done the impossible [...] squeezing 11 rounds into a super-tiny striker-fired pistol that is both comfortable and accurate. It's the kind of thing that most concealed carriers always wish for. I have to believe that this P365 will eventually become a concealed-carry staple for lots of folks."
However, the author is well aware of the fact that nothing, not even the P365, is entirely perfect. That's why he'll also take you through a couple of issues and the biggest cons of the pistol. Overall, though, he thinks this pistol got much more to offer than many of its main competitors. And despite the fact Andy has always been a Glock guy, he says all the benefits the SIG P365 offers have got him thinking hard about his next everyday carry gun. If you want to know why, read his review here.

#2 - Sig Sauer P365 [Review+Video]: Why So Popular?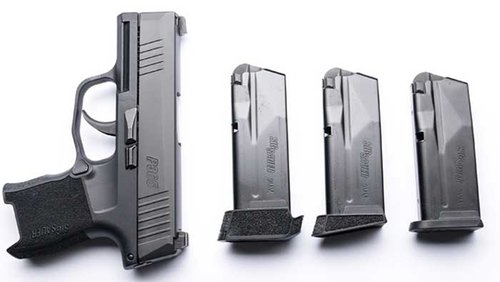 source: pewpewtactical.com
Another SIG P365 review worth reading comes from Pew Pew Tactical's workshop, and if you're not completely new to firearms, I'm sure you know these guys always deliver a thorough and unbiased opinion. The review takes a look at all the important aspects of the SIG P365, giving insights on the pistol's size, capacity, accuracy, ergonomics, range performance, and many more. You'll also find out why you should get the SIG instead of its main competitors such as the Glock 43, S&W M&P Shield M2.0 and some more.
As these guys always try to remain honest, they'll also tell you about the things they don't like much about the P365. Talking upgrades and accessories, they initially gave the pistol "an abysmal [score of] 2/5 because the only things you could get were holsters". However, if you want to find out what made these guys change their minds about the P365 and eventually give it two more points as far as aftermarket options go, head over to the full review.

#3 - Read This BEFORE You Buy the SIG P365 [REVIEW]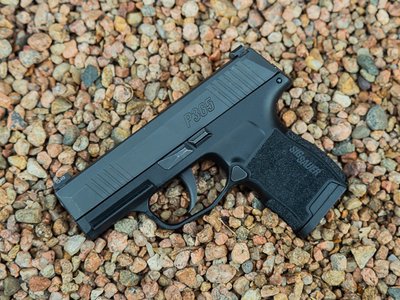 source: concealedcarry.com
Almost everything you really should know about the P365 before you decide to buy it is well-covered in a review by Riley Bowman, which you can have a look at here. Riley is an accomplished firearm shooter and instructor, who's definitely shot enough guns already to give our SIG a proper inspection. And indeed he does. The author covers all the important aspects of the gun and highlights its most positive features and he explains why those looking for a new carry gun should definitely give the SIG a try.
However, as the author wants to make sure you know what you'll really get if you eventually buy the gun, he also talks about some minor reliability issues and malfunctions. It's the pistol's grip, front sight, and mag release which Riley doesn't fancy much, but he admits he's really just nitpicking and the gun is definitely worth buying. One of the reasons for this is the pistol's incredible capacity, because "what's not to love about 10+1 rounds (standard) and 12+1 rounds (extended) in a micro-compact size and form?!". If you're deciding on a new carry gun and the SIG is one of your favorites, definitely give Riley's review a look.

#4 - Sig Sauer P365 Gun Review | 100,000 Round Torture Test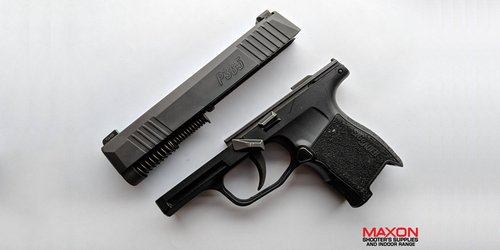 source: maxonshooters.com
Now if you really want to find out how reliable the P365 is and how much beating it can take, you definitely need to read this review by Ruth Idzik. In her review, she writes about the outcome of the 100,000 rounds torture test Maxon Shooters have run the pistol through. The SIG P365 Maxon Shooters rented back in 2018 lasted 136 days, which wouldn't be anything special, right? But they claim they had over 50,000 rounds fired through it during the first 4 1/2 months and cleaned it maybe four times. That's very impressive. What stopped them from putting more rounds into the SIG was a failure in the recoil spring guide assembly. However, they claim that "it was a quick fix from Sig though with the new recoil spring guide assembly being delivered the next day".
In the last 11 months prior to publishing their review, these guys had put another 50 thousand rounds into the SIG before the second problem occurred, this time it was the trigger bar spring that failed. But Maxon Shooters are aware of the fact there aren't many other sub-compact pistols that would take this much beating. They even say that "after firing at least 100,000 rounds through this pistol it's failure rate is actually surprisingly low." If you're planning to use the pistol as much as possible and you want to see how much action you can expect of it, I really advise you to give this review a look.

#5 - Sig P365 Review [2021 + VIDEO]: Best CCW?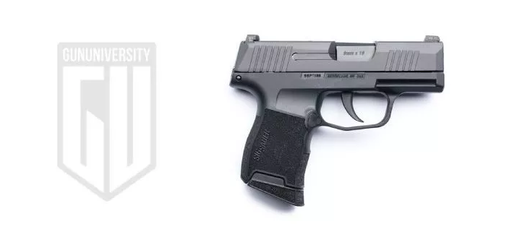 source: gununiversity.com
The last but definitely not the least important on our list is this extremely concise and insightful P365 review by Ryan Cleckner. The author is a well-known former Army Ranger sniper and instructor, who is also a founder of Gun University, one of the best places to learn something about firearms. This review will take you through the background, main features as well as the biggest pros and cons, but it will also give the SIG its own report card. But that would make it just a standard review, wouldn't it?
This review is, however, much more than that. It also offers a handful of tips on how to upgrade your SIG, most notably a list of the best SIG P365 lights and lasers currently available. The author will also provide you with the best places to get this amazing micro-compact pistol. Ryan, just like Andy (the author of the first on our list), has always been a Glock guy and he had relied on the famous Glock 43 model before he tried the P365. And one of the reasons why he eventually switched to the P365 for CCW was that he "could not shoot it [the Glock] as accurately nor as fast [as his SIG]." If you want to find out more about why someone would prefer a SIG P365 to the famous Glock 43, read the rest of the last review here.

BONUS REVIEW - Sig P365 Review [Hands-On with Video]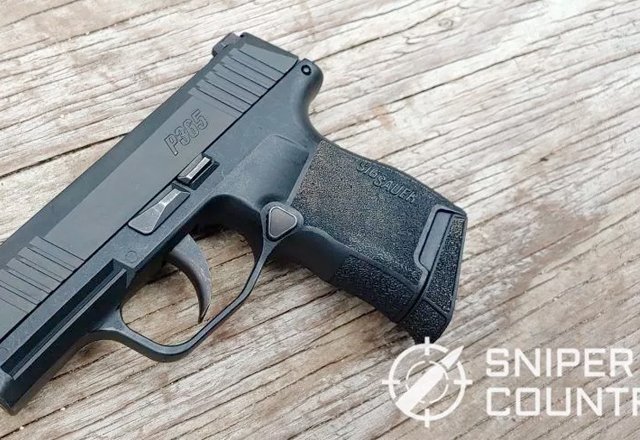 Source: www.snipercountry.com
For all the bookworms and SIG P365 aficionados, here's a bonus hands-on P365 review, which was put together by guys from Sniper Country. This review contains everything a great write up on SIG's flagship handgun should - ergonomics, range experience, break down of the pistol's main features + a VIDEO REVIEW.
But it's not just an ordinary review. To deliver the most honest and thorough analysis of this concealed carry behemoth, the guys from Sniper Country paired up with Travis Pyke, a former US Marine. To sum it up, this review just can't get any more expert. So, hit that link button below and tune into some fine reading + great video.

Conclusion - Should I get my own SIG P365?
Based on the independent and highly unbiased P365 reviews listed above, it seems like this pistol really is an excellent concealed carry gun. Of course, the pistol has got its issues and it's not exactly perfect, but on the field of micro and sub-compact pistols, you'd hardly find anything better. I could go on and on about why you the SIG Sauer P365 is worth buying, but it's best if you find out for yourself. And I hope you really do. And want to get the most out of this spectacular concealed carry pistol, make sure you get a well-made SIG P365 holster for it.
Do you fancy some more light reading? Then carry on with these articles