Cross Draw Holsters
Cross draw carry method reflects a carrying method of the handgun on the weak side of the shooter's body (the non-gun hand side). Within this method, the gun carrier standardly reaches the handgun across the front part of the shooter's body with the dominant hand, hence the cross draw style. Cross draw style of gun carrying is available within a different holsters' design configurations including the holsters carried on belt from the inside or outside position that are standardly called cross draw holsters. In general, cross-draw holsters designed for the belt usage is the most used version of the craw draw holsters. One of the benefits of the cross draw style of gun carry is the comfortability, accessibility and easy and natural way of drawing the handgun.
Cross-draw holsters might be an ideal option especially for the shooters, who spend most of the day in a seat/chair (professional drivers, disabled persons in a wheelchair etc.) and they need to have fast and easy access to the gun from the sitting position. Or for those, who are having medical or surgery reasons or they simply prefer to draw the gun from the weak side with the dominant hand. Other benefit of this carry method is the possibility of easier coverage of the gun, as cross draw holsters are standardly slim profile holsters that reduce the guns' print. The drawback of the cross draw carry style is a slower draw possibility. Some shooters consider the draw from this carry position to be slow because the shooter needs to remove the cover garment and then reach the gun across the whole front part of the body or when the threat attacks the shooter from the back, reaction time takes longer. Others suggest that the cross draw style might be dangerous due to the disarming possibility of the attacker as the grip end of the gun is facing the threat (from the behind). The cross draw holsters are carried close to the abdominal artery, so the practice of the gun's manipulation would help to avoid any unwanted injuries reasoned by discharges and the good safety practice, is the matter of course.
Last but not least this carry method is not allowed for the use in some shooting ranges due to the position of the gun's muzzle pointing towards the other shooters around. Cross draw holsters are offered in traditional materials including leather or nylon and newer types such as injection molded polymer and Kydex. They are available in various designs and carry styles that differ in cant, the way the holster is attached to the belt (belt slots, loops, tunnels, clips, hooks) and they might feature a thumb break, closed/open muzzle design and other additional security features or levers. Sum it all, cross draw holsters represents a traditional carry style method that remains popular over the ages of use, thanks to the comfortability, accessibility and fast draw of the handgun and might be a perfect option also for the shooters with special needs.
ULTIMATE CROSS-DRAW HOLSTERS GUIDE
Cross-draw holsters have long been a topic of interest among firearm enthusiasts and professionals alike. These specialized holsters offer a unique approach to carrying a sidearm, providing quick and efficient access to the firearm from a distinct position. Designed to be worn on the non-dominant side of the body with the gun's grip oriented towards the opposite hand, cross-draw holsters have gained popularity due to their versatility and ease of use in various situations. Let's now delve into the features, benefits, and considerations of cross-draw holsters, shedding light on why they have become a favored choice for those seeking a reliable and practical firearm accessory. For a quick overview of cross draw holsters, check out our bit on the History of Cross-draw Holsters, which also covers all of the pros and cons of cross draw holsters.
Before we start, though, don't forget to check out the rest of the gun holsters available at Craft Holsters, just in case cross draw carry isn't your most favorite wearing style. And if you're already decided you need a cross-draw holster, take a quick look at our entire selection of leather cross-draw holsters for revolvers and semi-auto pistols. If you prefer softer material, then check out our nylon cross-draw holsters for concealed carry.
WHAT IS A CROSS-DRAW HOLSTER AND HOW DOES A CROSS-DRAW HOLSTER WORK?
If you wonder what does cross draw holster mean, then you should know it's a kind of handgun holster carried on your gun belt, always attached opposite to your dominant side (the hand you draw with). If you're asking how to wear a cross-draw holster, then it's best if you attach it to the 9 or 10 o'clock belt position, so that you can have easy access to your firearms and quickly draw your firearm across your body with your shooting hand.
WHAT IS THE DIFFERENCE BETWEEN CROSS-DRAW VS REGULAR HOLSTER?
While regular OWB holsters are attached to one's dominant side (usually the 3 or 4 o'clock belt position), cross-draw gun holsters are fastened to one's weak side (usually the 9 or 10 o'clock belt position). The way cross draw holsters are carried on the belt results in a number of cross draw holsters pros and cons.
While access to the firearm isn't as immediate with cross draw holsters as in the case of strong side OWB holsters, one of the biggest pros of cross draw holsters is that drawing from a cross draw holster doesn't cause any shoulder pain as your shooting arm doesn't have to undergo the upward motion upon draw.
The fact that it takes a bit longer to draw from a cross-draw holster than from a regular belt holster is why cross drawing is bad according to some shooters. However, drawing from any type of gun holster is always a matter of practice and if you regularly use cross draw holsters, you'll get used to them quite quickly.
A great benefit of cross-draw holsters is that due to the way the firearm is positioned and drawn, cross-draw holsters are the best type of car holsters, especially if you're a right-handed shooter (no one can see you carry a piece as their vision is blocked by the car door). At the same time, cross-draw holsters are widely used by those who spend a lot of time in a sedentary position. Last but not least, as cross-draws are a great match for bigger handguns, they're commonly used for hunting.
MAIN FEATURES OF CROSS DRAW HOLSTERS
A viable option for both open and concealed carry
Great choice for hunting, driving, or sedentary jobs
Perfect match for bigger guns such as 1911s or large-framed revolvers
Drawing like this alleviates shoulder pain upon draw
Various ways of attachment (belt loops, belt clips)
Made mostly of leather and nylon
Easily concealed under a jacket
Available for both right and left-handed shooters
WHAT ARE THE BEST CROSS DRAW HOLSTERS?
The best cross draw holsters are those leather cross-draw holsters that are custom molded to fit your firearm like a glove. These are also the most comfortable cross draw holsters. At the same time, the best holster for cross draw carry should boast high retention and deliver unmatched carry comfort.
Among the holsters for cross draw carry are the following:
Best cross-draw holster for 1911 - Cross Draw Holster
Best cross draw holster for Glock 19 - Open Top Cross Draw Holster - Raptor
Best western cross draw holster for single action revolvers - Western Cross Draw Holster
Best cross draw revolver holster - Cross Draw Holster for Revolvers
Best left-handed cross draw holsters - Left hand cross draw holsters
Best leather cross draw holster - Holster w 2 Cant Positions
Best nylon cross draw holster - Hybrid Cross Draw Holster
If you're not sure how to choose cross draw holsters, check out our Guide to Best Cross Draw Holsters.
FREQUENTLY ASKED QUESTIONS ABOUT CROSS DRAW HOLSTERS
WHAT MATERIALS ARE CROSS DRAW HOLSTERS MADE OF?
Crossdraw holsters can be made from virtually any holster material, but they're predominantly made of softer materials, which means leather and nylon. At Craft Holsters, you can choose from both cross-draw leather holsters as well as cross-draw nylon holsters.
DO YOU MAKE CROSS-DRAW HOLSTERS FOR GUNS WITH LIGHTS?
Most definitely. Craft Holsters offers light-bearing cross-draw holsters as well as light-bearing cross draw red dot holsters. All of our cross-draw holsters for guns with lights (and red dots) are always custom molded on the exact replica of your pistol and tactical attachment. As of now, we offer light cross-draw holsters for over 30 tactical lights and lasers, which means you can get Streamlight TLR-8 cross draw holsters, cross-draw SureFire X300U holsters, Olight PL-2 Valkyrie cross draw holsters, and many more.
DO YOU MAKE CROSS DRAW HOLSTERS FOR RED DOT GUNS?
You bet. Here at Craft, you can now choose from a number of different red dot holsters, but also various red dot holsters for guns with lights. And the best cross-draw red dot holster is now even available for the hottest red dot ready pistols such as the S&W Equalizer, Kimber R7 Mako, Springfield Hellcat RDP, or SIG Sauer P365-XMacro.
HOW TO BREAK-IN AN CROSS DRAW HOLSTER?
If you get one of the best leather cross draw holsters above, it's highly likely you won't need to do any cross draw holster break-in. However, in case your new holster feels a bit too tight or the leather strap too short, just follow our Leather
Cross Draw Holster Break-in Guide
. And if you don't have any break-in solution at hand, feel free to get our
Leather Holster Break-in Kit
.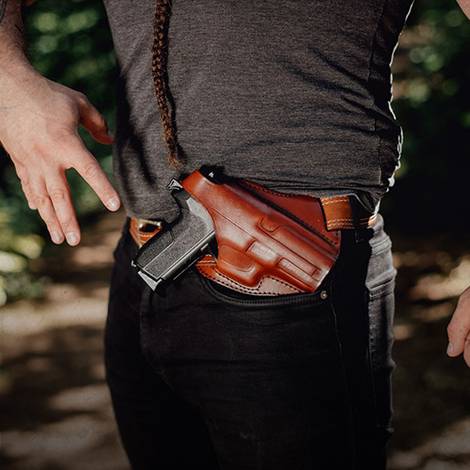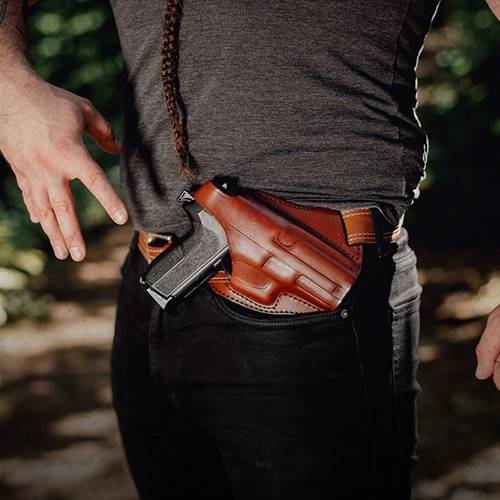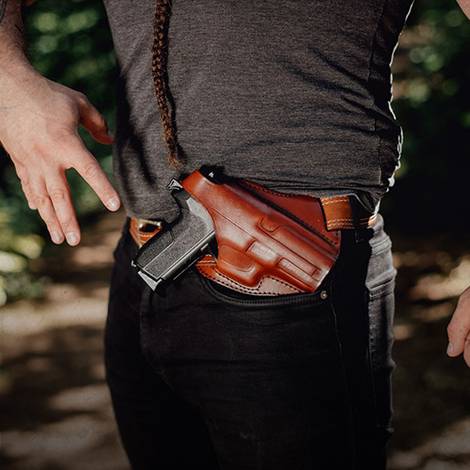 Best Gun Holster Accessories
Choose the right accessories below that will enhance your carry. Don't forget that a proper magazine pouch, a belt or a concealed carry bag are always good choices.
MAGAZINE
POUCHES
A custom magazine/speedloader pouch is your best choice if you want to carry enough spare ammo ... not that there was anything like "enough ammo", right?
See Magazine Pouches
GUN BELTS
A solid and stable gun belt is what you need to prevent your holster and the rest of your EDC from sagging. Get a custom made gun belt now so that you don't need to search for one later on.
See Gun Belts
care kits
Get yourself a Premium Holsters Care kit so that you can take proper care of your new holster. The kit contains everything you need to make sure your holster will last you a lifetime.
See Care Kits
Cross Draw Holsters Holsters Pros and Cons
Perfect choice for driving, hunting, and sedentary jobs

Cross draw holster prevent shoulder pains upon draw

Ideal match for full-size pistols and large-framed revolvers

Great stability on the belt
Less immediate access to the firearm as with strong-side holsters

Drawing takes some time to get used to

Poorly constructed cross draw holsters might create discomfort
Expand your Knowledge
All You Need To Know About Holsters & Holster Care
80+ Brands & 2000+ Gun Models
HOLSTERS BY GUN MODEL
Create your unique custom holster design in our
CUSTOM SHOP
Become a part of the design of your own custom made holster from scratch with the help of our master craftsman.
More information