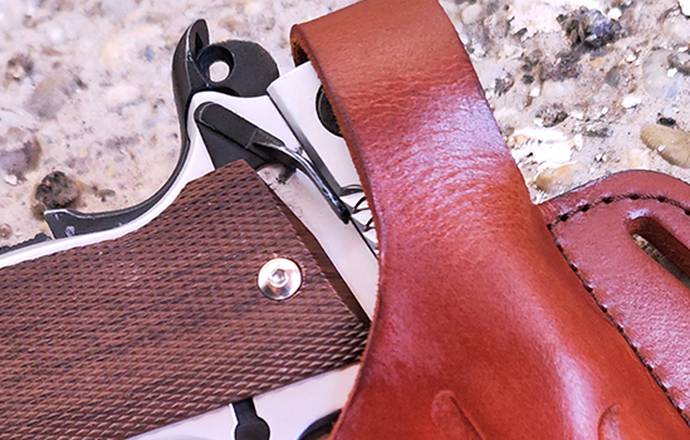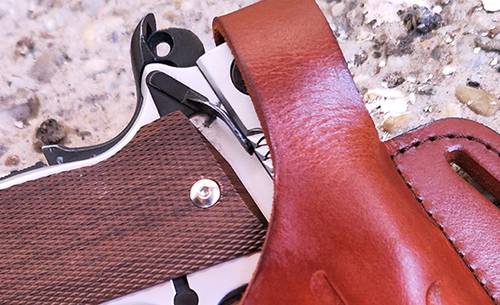 I'm quite positive all of you have already heard the famous cliche "Cocked and locked, and ready to rock". But does the cocked and locked carry stand for and is it actually a good way to carry your 1911 or any other hammer-fired pistol? And what is a cocked and locked holster?
Today, I'll do my best to answer these questions, but, most importantly, I'll show you the best leather holsters for cocked & locked carry. Also, I'll tell you how to pick the right holster for Condition 1 carry.
The 5 best cocked & locked leather holsters
Before I take you through the list of the best leather holsters for Condition 1 carry, let's take a brief look at what a cocked and locked holster actually is.
The difference between a standard holster (not designed for C&L carry) and a Condition 1 holster pretty much lies in the positioning of the safety or thumb-break strap. When latched, the retention strap on a standard holster is positioned under the hammer (not spurred) and above the beavertail of your pistol.
As stated above, the hammer on a gun carried in Condition 1 is to the rear (cocked), meaning it's significantly lower. This means the leather thumb break strap must be molded differently and in a way that allows you to latch it right above the spurred hammer.
Alright, now that the Condition 1 carry and C&L holsters are off the table, let's take a look at some of the best cocked & locked leather holsters.
Cocked and Locked meaning
One of the biggest problems of M1911 pistols is selecting the right carry condition, especially if you're new to the world of hammer-fired guns. If you've got some experience with 1911 pistols, though, I'm sure you know the best way to carry them is Cocked and locked. In other words, the best way to carry a 1911 is Condition One.
Condition 1 means your weapon is fully loaded, there's a round in the chamber, the hammer is back (cocked), and all the safeties are on. This way, your gun is ready for action (ready to rock), provided you don't forget to disengage the safeties upon draw. FYI, this carry condition only applies to semi-automatic pistols as revolvers don't really feature any safeties (or they are very rare).
Many would argue that it's unsafe to carry cocked & locked, but I beg to differ. As most of us carry for self-defense reasons, it doesn't make much sense to carry a gun that's not ready to fire, right? Also, I need to point out that Condition 1 carry can be used with more guns than just single-action pistols (such as the M1911 or Kimber Micro 9). A good example of double/single-action handguns that can be carried cocked & locked are the CZ75, Beretta 92FS or SIG P938. Unlike most DA/SA pistols, these come with a safety, which makes Condition 1 a viable carry choice.
How to choose the right cocked & locked holster?
While all of the holsters for 1911 cocked and locked carry on our list can be made in a way so that you can carry your gun Condition 1 style, be careful when choosing yours.  When selecting any of the listed (or other) Condition 1 holsters, make sure that you specifically select the cocked & locked version of your handgun from our gun list, otherwise you'll receive a holster the thumb break strap of which feels a bit too short.
Conclusion
When it comes to 1911s and other hammer-fired semi autos such as the Beretta 92FS or CZ-75, carrying cocked & locked makes a lot of sense. And it makes even more sense to get yourself a holster that's custom made for Condition 1 carry. Any of the holsters on our list should do the trick, but if you want to have more to pick from, hit that button below and check out the rest of your 1911 cocked and locked holster options.