Fan Bersa Favorite Holsters
The Story of Bersa Holsters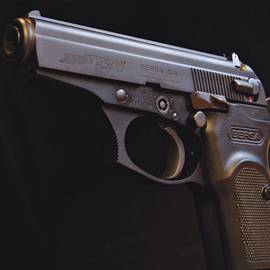 The Bersa is an Argentine gun manufacturer that was established in the mid-1950s. The first pistol that was produced by them was called "Luan" and it was a modified version of the Ballester handgun. It was produced only in few pieces, with no big commercial success; but it has become a rare and collectable model nowadays. Bersa introduced semi-automatic named "Modelo 60", followed later on by the "Model 62", both based on a different design, which were selling very well.
The first full-size combat pistol, Model 90, was developed in 1989. Big commercial success was a introduction of the new production line called "Thunder" in 1994. However, the Thunder Series includes in reality, two completely different styles of mechanisms and designs, inspired by the appearance of Walther pistols. The Thunder models chambered in less powerful calibers (22, .32, .380 ACP) were based on a blowback system, designed in a compact size. The Thunder line chambered in more powerful caliber, such as 9x9 Parabellum, is based on short-recoil and locked breech modified Browning design. The Thunder 22, 32 and 380 models are similar to the Walther PP and PPK. And Models Thunder 9 and 40 are based on Walther P88 design.
Bersa pistols are known worldwide for their reliability, quality and lifetime warranty provided on all products, which only demonstrates trust and commitment of the firm to the quality of its weapons.
Select your Bersa model