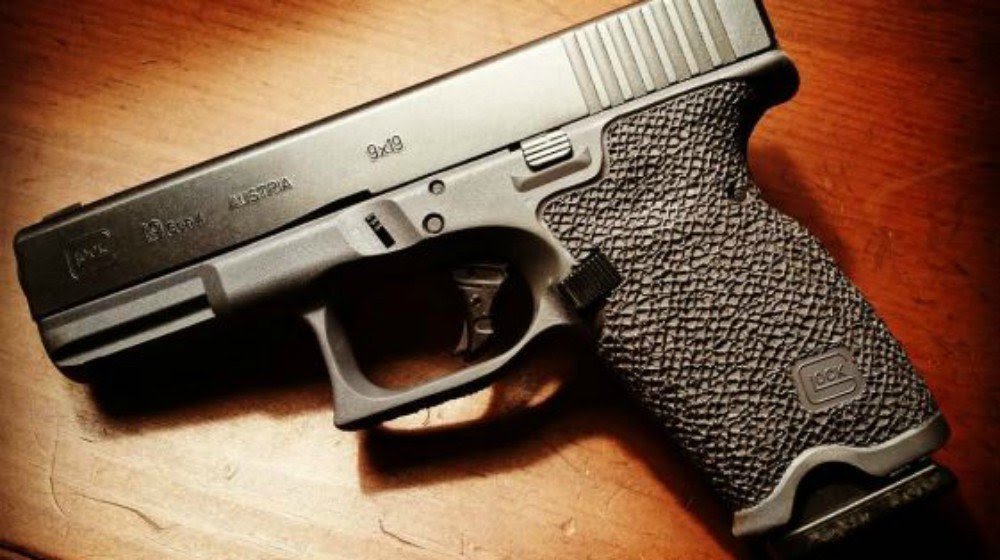 "We must come to grips with our biases, or they will surely keep a grip on us." - Edward Mooney Jr.
Do you want to improve the steadiness of your aim? Do you want to make sure your gun never falls out of your hands? Do you want to feel comfortable at range for hours on end? Then you've come to the right place. Today I'll show you our list of top 5 grips for your Glock. And I'll also show you some more handy little grip-related products. If you get any of these, you'll certainly feel the difference and your overall gun experience will definitely improve. BTW, don't forget that the safest way to improve your Glock game is to get yourself a custom made Glock holster.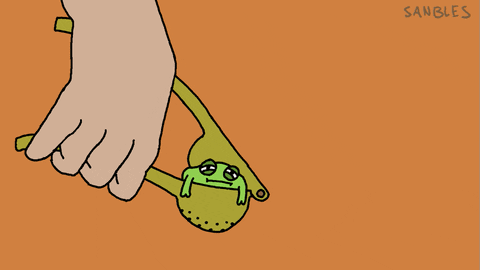 Keep in mind that most pistol grips are model-respective and you should check out compatibility before you get a pair of fresh grips. So, let's come to grips with the best Glock grips out there!
GRIP MATTERS - TOP 6 GRIPS FOR GLOCK PISTOLS [2020]
The first Glock grip on the list has to be by Talon Grips, probably the best known gun grips company. Just like most other of their products, this one is also a US patented single piece wrap around adhesive grip. It comes in both rubberized and granulated textures, both giving you plenty of benefits (BTW, to find out more about grip materials and textures, read the bonus reading part). To make it look fancy, Talon included a logo cutout for the Glock emblem on the left side of the handle.
Texture/Color - Rubber-black, Rubber-moss & Granulate-black
Thickness - 0.5mm
Compatibility - Glock 19, 23, 25, 32, 38
Manufacturer - Talon Grips
Price - $19.99 (at the time of writing)
This Glock grip is custom designed and manufactured for Glock only to give you the OEM (Original Equipment Manufacturer) quality fit and finish. Like to keep it simple and stylish? Do you want to make sure your gun never falls out of your talons? If yes, then get Talon Grips on Amazon now.
PROS
Ultra think
Trusted manufacturer
CONS
More expensive than other brands
Might peel off a bit over time
The second on our list is a grip made by Hogue, another well-known gun grips manufacturer. This grip has specially made finger grooves, so you'll get a better stability. It doesn't matter if you are a rightie or leftie, as it comes with ambidextrous palm swells. It's also resistant to gun oils and solvents, so you won't even have to take it down when cleaning your gun.
Texture/Color - Cobblestone black
Thickness - not stated
Compatibility - medium to full-size semi-auto pistols
Manufacturer - Hogue Inc.
Price - $12.25 (at the time of writing)
The unique cobblestone structure, non-slip surface and the ambidextrous palm swells make Hogue's grip superior to any simple tube sleeves. Moreover, if you get this one, you'll be able to use it not just for your Glock, but also for a range of other standard handguns. You should get yours on Amazon now. 
PROS
Ambidextrous palm swells
Resistant to gun oils and solvents
CONS
Not gun-specific (fit doesn't have to be 100%)
Rubber might start to wear off over time
Pachmayr is the first choice of shooters, gunsmiths, law enforcement professionals and firearm manufacturers for top quality handgun grips, recoil pads and firearm accessories. It's a line of products designed by Lyman, another famous gun accessories brand. The custom molding will give you the best fit possible.
Texture/Color - Black rubber
Thickness - not stated
Compatibility - Glock 19, 23, 25, 32, 38 + other gun manufacturers
Manufacturer - Lyman
Price - $9.99 (at the time of writing)
The distinctive ventilated side panels and finger grooves provide more instinctive gun orientation and a professional look. Tactical Grip Gloves are the only Slip-Ons that "fit like a glove." The grip glove can be installed and removed very easily, so don't hesitate to get yours even if you are new to custom grips. Get your own Pachmayr Tactical Grip Glove on Amazon now!
PROS
Simple installation
Great budget option
CONS
Beware sweaty hands!
Lacks sturdiness
The next one on our list was designed by Brooks Tactical Systems, a relatively young company in the field of handgun accessories. Their Agrips are revolutionary in new custom fit, wrap around, and non-slip design they come in. This grip is also non-abrasive and incredibly durable yet soft, so you won't have to get a new one anytime soon. I wouldn't call the grip completely custom, though, as you might need to cut holes in it for mag release buttons on some pistols.
Texture/color - Black
Thickness - less than 0.5mm
Compatibility - Glock 19, 23, 25, 32, 36, 38
Manufacturer - Brooks Tactical Systems
Price - n/a (at the time of writing)
The grip is easily installed, and can be repositioned and taken off repeatedly, without fear of damage or loss of adhesion. The grip is made of soft, non-abrasive material, resistant to flame and moisture, making it prime for use under extreme conditions. The grip can work under water – it won't come off because of the tight fit on the gun's frame. If you want a grip that's easy to put on and you can use it no matter the weather, get your Brooks Agrip on Amazon now.
PROS
Soft yet durable material
Ideal for extreme conditions
CONS
Not an ideal fit
You may need to cut holes for mag release
FoxX Holsters doesn't focus only on gun holsters, but also grips for many various handguns. This grip enhancement is meant mainly for Glocks. You can get one not just for the models named in the product name, but also for the 3rd and 4th generation of these makes. You'll get a very good fit thanks to the custom design and manufacture for a specific Glock.
Texture/color - Black rubber, Grey rubber
Thickness - less than 0.5mm
Compatibility - Glock 19, 23, 25, 32, 38
Manufacturer - FoxX Holsters
Price - starting at $14.99 (at the time of writing)
This grip has a rubber texture that gives you that solid grip on the firearm when you need it. You won't even feel you have it on, as you can barely measure its thickness. The grip is a peel and stick installation and can be accomplished in just a few minutes using only a hair dryer or heat gun. You don't have to worry about your hands as the material is non-abrasive. If you want a neat looking custom fit for your Glock, then get this one on Amazon now.
PROS
Your skin is safe
Extra close and custom fit
CONS
Rubber might deteriorate over time
Vulnerable to sweat
Guntape has introduced their line of GT5000 grip tapes so that they can "make anything grippy", which is their motto. This multi-purpose grip fits a wide range of weapons (I'm not talking only about pistols here). This grip tape provides excellent adhesion, so you'll get a rock solid command of your gun. If you carry some other EDC items, you can put this grip tape on those too.
Texture/color - Black rubber
Thickness - less than 0.5mm
Compatibility - Any Glock and many other guns
Manufacturer - Guntape
Price - $8.99 (at the time of writing)
Alright, you've come for a gun grip, but if you get this GT5000 grip tape, you'll leave with more. It's a universal grip tape that can be applied onto almost anything. The grip's texture is soft and gentle, so you don't have to worry about your skin getting bruised. Moreover, your car's seat or sofa will also stay untouched. Just grab yours now on Amazon and feel the difference.
PROS
Universal - guns, knives, phones, etc.
Very budget-friendly
CONS
Not pre-cut
Not a custom fit
CAN'T DECIDE? - GET OUR FAVORITE GLOCK GRIP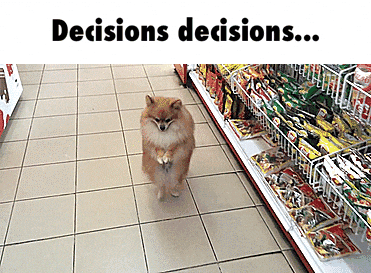 So now that you've got a basic grip of the top Glock grip options for 2020, it's time you grabbed yours. Difficult to decide? Then here I am to your rescue. I've had a chance to get my hands on all of these and, to be honest, I ended up using #1 on our list - TALON GRIPS FOR GLOCK. If you get yours on Amazon now, you'll get one of the best possible Glock grips out there, tested and proven by professionals.
PS - If you're looking to upgrade your Glock a bit more, don't forget to check out our blog on the best night sights for Glock pistols.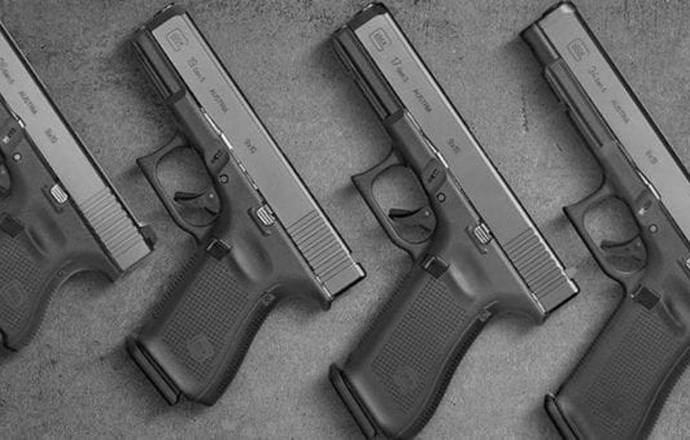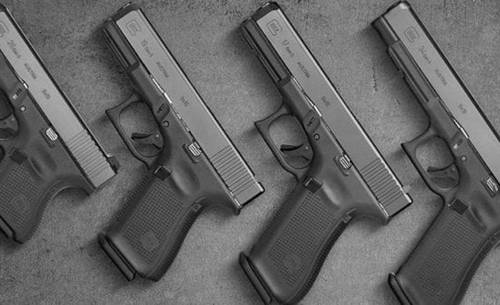 BONUS READING: LET'S COME TO GRIPS WITH HANDGUN GRIPS
If you're still hesitating which grip on our list to get for your Glock or any other pistol/rev, this section will sure help you make the right decision. Handgun grips can be made of different material and they also come in different types. Moreover, there are also several ways how to hold your pistol, so I'll also tell you a bit about this kind of grip.
THE MOST POPULAR GRIP TYPES
On this short list you'll find the 4 most typically used aftermarket grip types/textures - rough texture, finger groove grips, slip on grips, grip tapes. So let's do a quick overview of the most popular handgun grips for your Glock or any other gun.
Rough Texture Grips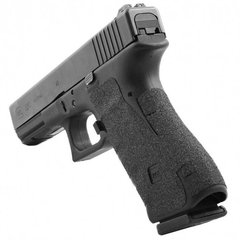 If you're often in need of your gun in harsh weather conditions, then this type is great for you. Rough texture grips or sometimes called gritty grips make your grip stable. You'll not only feel much more confident, but also quite comfortable, especially if you get those from our Top 6 list. The best grips of this type are non-abrasive to your skin. However, be careful if you're getting a grip that's not on our list. Some rough texture grips really are rough and aggressive. They create friction that can cause pain in your hands.
Finger Groove Grips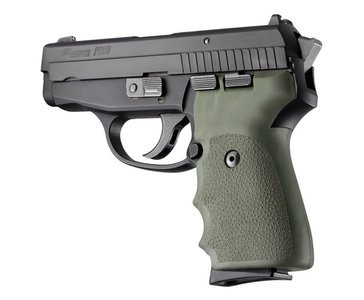 Just like the name suggests, this grip type is modified to fit the grasp of your fingers. It's a handy invention, but it comes with a couple of issues. Most importantly, I'm sure your fingers aren't twins. It's best to avoid these grips if your fingers can't touch. You'll find yourself readjusting your grip after every shot. This is also the reason why it hasn't made it into our list.
Slip On Grips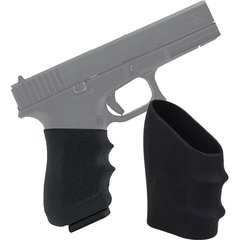 Again, as the name suggests, you need to slip these grips on your pistol or revolver. This is a great benefit, as you won't have to go through any installation process. No 3 on our list, Pachmayr Tactical Grip Glove is a great example of this group. Some manufacturers such as Hogue make their slip-on grip sleeves that can be positioned over the existing grip. These usually provide a better grip, however, at the cost of grip thickness. The biggest problem is that if something can be slipped on, it can also slip off, so you better get a good one, just like the Pachmayr on our list is.
Grip Tapes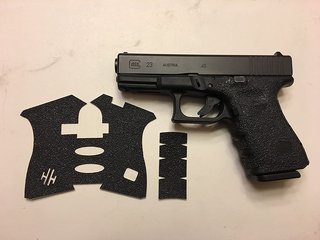 Last but not least, there are grip tapes. One of these has also made it into our list - GT5000 Grip Tape (3 strips). Grip tapes are an easy and fast solution for any handgun with a slippery factory grip. You'll benefit from a grip tape mainly if it's rainy or freezing outside. They are not only easily put on, but you can also take them off quite fast and pretty much anytime.
(NON)TRADITIONAL HANDGUN GRIPS MATERIALS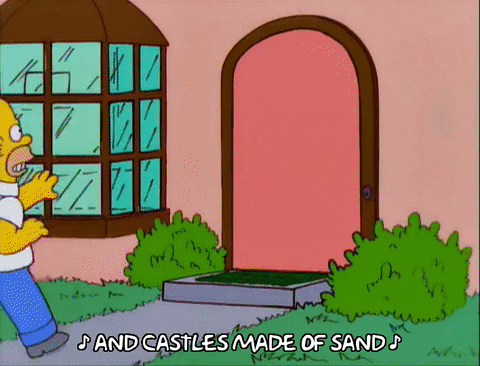 There are also numerous materials used in handgun grip production. Among the most popular materials are wood, plastic, rubber, aluminum and g10, but there are also luxurious materials such as ivory or horns of elk and moose. Choosing the right grip for your firearm is essential, no matter how often you plan to use your gun. Let's look at the most common material used for pistol grips.
RUBBER GRIPS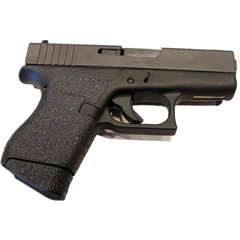 Let's start with probably the most basic material used especially in production of aftermarket grips - rubber.  grips might have been falling out of fashion lately. Although fresh rubber grips offer a great kind of initial grip, over time the surface tends to smoothen up too much and it becomes a bit slippery, which can make it almost impossible to hold onto your handgun.
WOOD GRIPS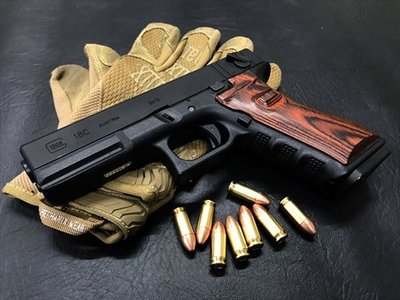 Wood grips definitely come with the classiest look, but they are also very useful and functional. Wood provides solid grip. There are all-wood grips and laminated wood grips coming in various color and pattern combinations out there. Recently, grips combining wood or laminated wood with soft rubber inserts to absorb recoil have been growing in popularity. If you are looking for a solid grip with a classy look, wood grips are your choice.
G10 GRIPS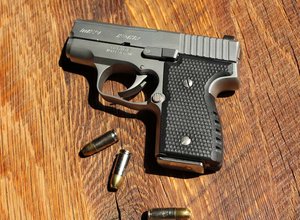 One reason why G10 grips have become the favorite among many handgun owners is its ability to be manufactured in many different colors and textures. Thus, the grip, especially when customized, can achieve a very artistic and aesthetic look. G10 is high-pressure fiberglass laminate that is created by stacking multiple layers of glass cloth, soaked in epoxy resin, and by compressing the resulting material under heat until the epoxy cures. Grips made of G10 are extremely durable.
ALUMINUM GRIPS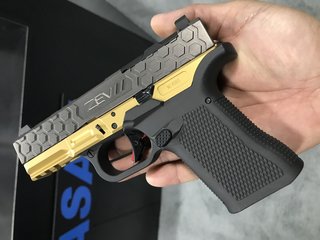 Aluminum is another type of material used for weapon grips. Although not a fan of many gun enthusiasts, for it tends to discolor the hands and clothing. On the other hand, it's probably the smoothest grip material, therefore the easiest to conceal under any garments. The aluminum allows for texture modification, so you can find an endless range of color options and high-resolution graphics for your gun grip.
HOW TO GRIP YOUR GLOCK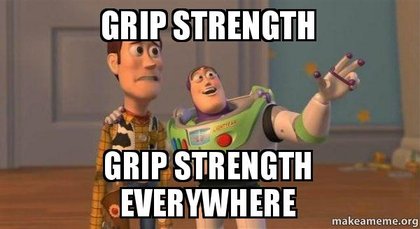 Some handgun grips utilize less common and more expensive materials, however, when it comes to grip, comfort, security, and carefulness is what matters most. That's why you can't rely only on the grip of your gun, but mainly on your grip of the gun.
You might be asking yourself: "Does it matter how I hold my gun?". Well, in range it might not matter that much, as you can focus without any problem and you don't have to watch out much. But if you're out there, you need to be confident about the way you hold your gun, as anything might happen. And the last thing you want is your pistol slipping out of your grasp. To avoid this, I'll show you which handgun grips are the best ones to learn.
TEACUP GRIP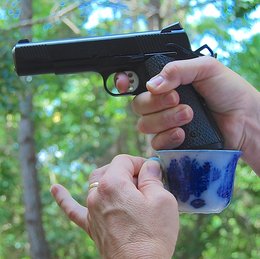 It's exactly what it sounds like - it's like holding a teacup. How to learn it? First, put your strong hand on the grip and the support hand below it. The shape should be as if you were cradling the grip with your strong hand. To be honest, you'll see a pistol held like this mainly in all those CSI shows on TV. It does look stylish, but the problem is that you only have one shooting hand, which means you'll get much more recoil, so mind your eyes and hold the gun firmly.
INDEX FINGER IN FRONT GRIP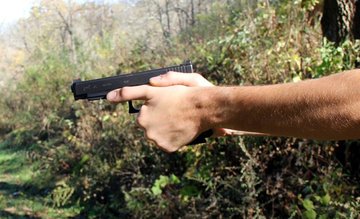 A popular grip mainly at range. You can also see it in all those promo pictures of various shooting schools. If you want to hold your gun this way, then take these steps. First hold your gun in your strong hand. Then wrap it with your support hand, the index finger placed on the trigger guard. It's a safe type of grip, providing a lot of stability. On the other hand, the missing finger supporting your dominant hand is quite noticeable, as you get more recoil like this.
STACKING THUMBS GRIP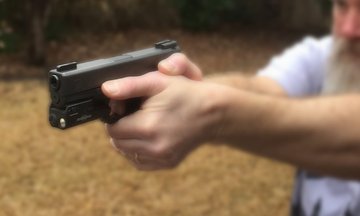 This one is considered the best by many, so I advise you to master it. It's kinda similar to the previous one. Your strong hand is on the gun and the other one supports it, a finger placed on the trigger again. The difference is that the area between your dominant hand thumb and index finger forms a V-shape. The V you form should slide up the gun's back as high as possible. If you grip your hand like this, you'll have much more control over recoil.
The index finger is the only one that isn't gripped tightly by the support hand. It's rested on the slide. You'll also need to place the thumb of your support hand with the rest of the palm onto the open surface of the grip. You'll end up having both thumbs on the same side, with the strong hand thumb on top of the support one. If your thumbs are stacked like this, recoil won't be a thing.