"You don't get anything clean without getting something else dirty." - Cecil Baxter
"Keep your hands clean." That's what we are told a lot these days (and I hope you abide it). However, my message to you is: "Keep your gun clean". Why? Because if you take good care of your gun, it'll take even better care of you. The question "How?" is a bit more difficult to answer, if you don't have much experience.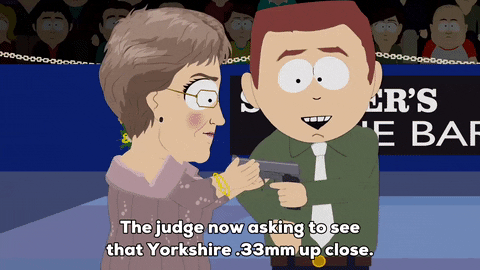 And that's exactly why I'm writing this, to help you find the best gun cleaning solution without spending ages browsing the internet. Cleaning is the key here if you want to keep carrying and using your gun satisfactorily for as long as possible. And as it's the time of spring cleaning, let's have a closer look at the top 6 gun cleaning kits out there.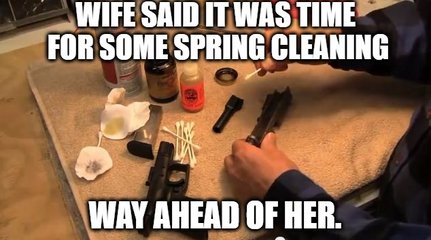 THE TOP 6 GUN CLEANING KITS
The first gun cleaning on our list was introduced by Allen Company.  If you order it, you'll get a relatively compact tool box. This size of this kit isn't anything too special, but once you open it, you will find a remarkable number of 65 different gun cleaning tools - bronze brushes, brass jags, cotton swabs, brass slotted tips, brass adapters, muzzle guards, cleaning rods, cleaning brushes, cotton patches and a pick.
It might be a bit more expensive than the cheap plastic cleaning tools out there, but the bronze and brass material this tool box contains is definitely worth it. The bottom of the box is empty, designed as extra room for your other cleaning tools, such as oils. However, it would be nice if they packed in some cleaning oils and lubes too. All in all, if you are a user of many types of guns and on the lookout for an easily portable cleaning kit with many different tools, this cleaning kit by Allen's is your #1 choice, so get yours on Amazon now.
PROS
65 different gun cleaning tools
Brushes labeled with caliber number
CONS
No solvents or oils
Less compact than others
This cleaning kit was designed by Glory Outdoor, which is a company specializing in professional military, camping, and outdoor travel products. If you buy this kit, you'll get one of the sharpest looking gun cleaning kits out there. Its appearance might be one of the reasons why it has become one of the best selling cleaning kits not just on Amazon.
The cleaning tools come in a lightweight durable plastic suitcase, each component having its own compartment. You'll find inside tools such as rods, wires, brushes, spear pointed jags, utility brushes, muzzle guards, brass adapters and many cleaning patches. You'll also get 2 empty bottles that you can use for cleaning oils. If you are looking for a weapon cleaning kit that is space-efficient and allows you to take care of almost any gun, then get this one by Gloryfire before they're sold out.
PROS
For most pistols, shotguns, and rifles
Very compact in size
CONS
No cleaning oils and lubes included
Not all tools are labeled with a caliber number
This cleaning kit by Real Avid is definitely one of the most compact and ready-to-use gun maintenance kits out there. It contains everything you need to take care of your firearm. Moreover, it comes in a very appealing and practical zippered case. What's more, the case is waterproof, so you can take it with you virtually anywhere. It's that small that you can even carry it around in your jacket pocket!
Upon unzipping the case you'll find a range of bore patch jugs, bore brushes, slotted bore patch tips, a T-handle, as well as numerous cleaning patches. Moreover, it also includes a 2 piece T-handled anodized rod that can be assembled up to 9 inches, which means it can be used for barrels of any length. If you love your handgun, you absolutely need to get this kit. You can take it with you anywhere, without anyone noticing. If you've come for a compact handgun cleaning kit, get this one on Amazon.
PROS
Extremely compact
Waterproof zippered case
CONS
Only for handguns
Doesn't include any solvents
This Tactical Cleaning Kit Clam was designed by M-Pro 7, another well-known company focusing on gun cleaning products. Unlike most other kits, this one even comes with gun cleaning chemicals - M-Pro 7's very own 4 oz. gun cleaner, a 2 oz. gun oil, as well as 2 oz. copper remover. This is one of the biggest pros of this cleaning kit by M-Pro 7.
The tools you'll find inside will help you clean any standard handgun, some shotguns, and even an M-16! Don't worry if you're new to gun cleaning - M-Pro 7 has packed in their own weapons maintenance guide. It might not include as many tools as some other cleaning kits out there, but if you are looking for a kit that's easy to carry and you don't have time to look for the basic cleaning chemicals, check out the M-Pro 7 Tactical Cleaning Kit Clam now on Amazon.
PROS
Includes cleaning chemicals
Comes with a gun maintenance guide
CONS
Doesn't offer as many tools as some other kits
Quite expensive
This professional cleaning kit is delivered to you by Otis Technologyis meant for the maintenance of any handgun, rifle, shotgun and even muzzleloaders. Altogether you'll get over 60 different components in the package. Otis also thinks about gun accessories such as lights and sights. That's why they also include tools for lens maintenance such as lens tissues, a lens brush, spray, and cloth to deliver all you need for optics care.
This kit by Otis even includes 2 bottles of Otis Bio-CLP, which is an all-in-one cleaner, lubricant and protectant that doesn't leave a harsh odor. Everything is packed in a smooth nylon bag with a carry handle. Although this kit is a bit pricey, it's a complete tactical weapon cleaning kit that abides the Otis moto "Trusted by the Elite, for the Elite". If you don't mind spending a bit on your gun's comfort, then get this kit now on Amazon.
PROS
Tools for lens maintenance
Otis cleaning solvents included
CONS
Now what kind of list would this be without something from HOPPE'S, the most known brand in the field of gun cleaning. You can get this neat little gun cleaning kit for almost nothing. What you'll find inside depends on the caliber version you select, although most of the contents are the same. For example, the .38/.357/9mm caliber version comes with a gun bore cleaner specifically designed for these calibers, lubricating oil, absorbent patches and slotted and knob ends.
No matter which version you pick, you'll always find an aluminum rod for the respective calibers inside. All versions come packaged in a compact clamshell. The bore cleaner will help you get rid of powder, lead & metal fouling, and rust on your gun. Moreover, the lubricating oil included doesn't harden, gum, or expire, which is a great benefit. So, if you are looking for a compact affordable gun cleaning kit for basic gun cleaning and corrosion prevention, select your caliber and get your Hoppe's Cleaning Kit with Aluminum rod now on Amazon.
PROS
Very cheap
Includes everything for basic gun cleaning, even oil
CONS
Doesn't contain many gun cleaning tools
Not as universal as other kits
CAN'T PICK THE CLEAN WINNER? - GET OUR FAVORITE

If you clean your gun with any of the kits above, it'll be much better than if you don't do it at all. However, if you need some advice, then I suggest you buy Allen Company Ultimate Universal Weapon Gun Cleaning Kit, 65 Pieces by Allen Handgun, Rifle, Shotgun Cleaning Kit. This kit by Allen's might be a bit bigger and less portable, but you'll be buying 65 different cleaning tools for a reasonable price. You'll also get a lot of storage room for other stuff such as chemicals. It's true oils and solvents aren't part of the package, but if you read on, I'll also show you some other handy gun cleaning tools you need. But before that, go ahead, get your gun cleaning kit and, most importantly, keep your hands and gun clean!
BONUS READING - SOME MORE HANDY GUN CLEANING PRODUCTS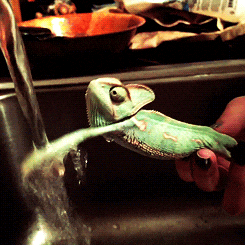 If you are not a fan of gun cleaning kits, but you still want to keep it clean, I've got good news for you! Gun cleaning tools obviously don't come only as a part of entire kits. You can get cleaning tools such as bore snakes or various cleaning chemicals even now on Amazon even individually. I strongly advise you to get at least some cleaning chemicals and solvents, as they are not included in some of the kits on our list. So, let's run through a couple of handy gun cleaning tools you should get.
KEEP YOUR HOLSTER CLEAN TOO!
Now that you know what to get to keep your gun shiny, let's talk a bit about one other important thing - a shiny holster. You might think that running it under water will do the trick. However, if you want to show love to your leather holster, it takes a bit more than that. Luckily, you don't have to search for any guides or products, Craft Holsters has got you covered. You can get your very own Premium Holsters Care Kit here in our store. Not only will it help you keep the leather smooth and stylish, break-in will be a piece of cake too!