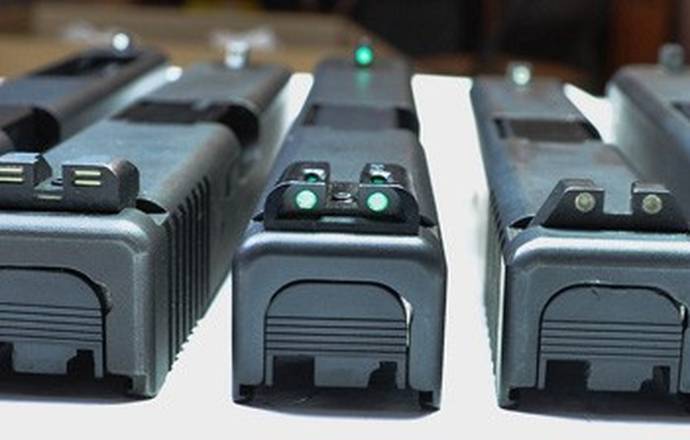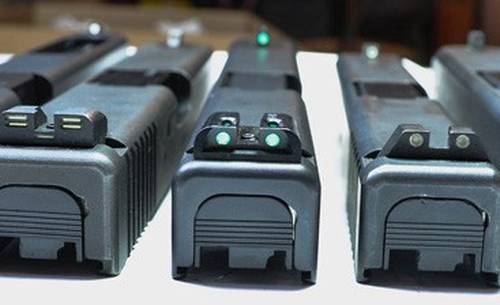 Source: www.thegunzone.com
INTRODUCTION
"I will love the light for it shows me the way, yet I will endure the darkness for it shows me the stars."  - Og Mandino
Are you afraid of the dark? Well, I know I am, and that I'm not the only one. Many people say they'd want to have a cat's life, because they could sleep all day. If I was ever to become a cat, it would be for its ability to see in the dark. Night vision is an important feature for many gun owners, especially those who often find themselves in tactical situations.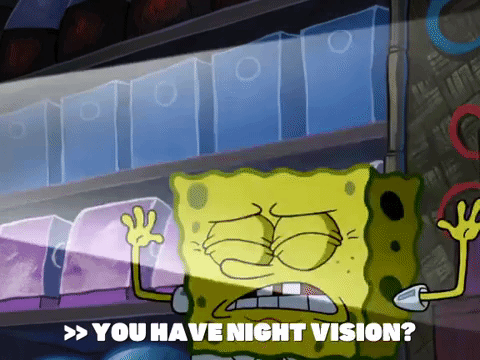 One of the solutions to getting rid of your fear of the dark are night sights. These handy little things probably won't scare away the sandman lurking under your bed, but they'll definitely increase your orientation in any low-light situation. To help you get the right night sight for you, I'll show you 5 best pistol night sights options currently available on the market. As you've come mainly for the product, I'll start with that, but I'll also tell you why you should get a night sight, how to mount it, and what it takes to get better at utilizing them.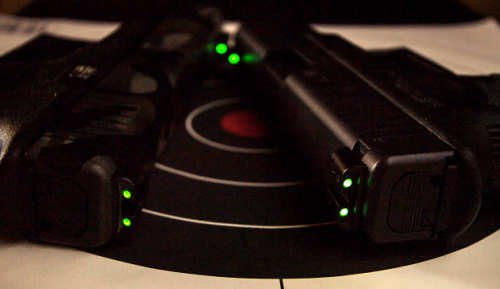 5 BEST GLOCK NIGHT SIGHTS AND BRANDS
#1 - Meprolight Night Sights
Meprolight F.T. Bullseye Sight Kahr Rear Sight
The first night sight on the list was designed by Meprolight, a company known for their self-illuminated night sights that enable you to hit stationary or moving targets under low-light conditions with dramatic increase in hit probability. Just like the name suggests, their F.T. Bullseye aims to deliver exactly this. It's a rear sight that doesn't need any partner on the front of your glock.
Guys, if you are looking for the most compact optics solution for your glock, then with this night sight from Meprolight, you'll hit the bullseye. At $130 it's a bit more expensive than others on this list, but it's well worth it. To get this one or any other Meprolight night sight, click the button below and get yours on Amazon now.
Features & Benefits
A combination of tritium and fiber optic
Self-illuminated
Superior visibility
Smallest optical sight in the world
Fits almost any holster
Pros
Self-illumination
Extremely compact
Cons
Your wallet will feel it
Looks quite fragile
Prices accurate at time of writing
#2 - Trijicon Night Sights
Trijicon Night Sight Sets for Glock Pistols
Trijicon is a gun sights company known for their cooperation with law enforcement and military, but you will find great optics solutions for your glock even if you are just a regular shooter. The set consists of a standard front blade sight and a U-shaped rear sight. Compared to other brands, though, the front sight is much thinner and it gives you a better field of vision.
Price-wise, Trijicon night sights come at approximately $110, but you can be sure that with this brand you also get the quality you pay for. On Amazon, you can grab this neat night sight set or any other for virtually any glock. But act quickly before they are sold out!
Features & Benefits
Professional level performance
Thin front sight
Unique U-shaped rear sight
Rugged aluminum casing
Top quality tritium
Pros
Tested by professionals
Front part very thin
Cons
Not the most original design
Also quite costly
Prices accurate at time of writing
#3 - XS Sights Night Sights
XS Sights New DXT2 Big Dot Night Sight for Glock Pistols, Front and Rear Glow
XS Sight Systems is another well-known pistol night sights manufacturer. In their selection, you can find night sights for almost any glock. This night sight slightly differs from the other brands as the front bit is pretty much a colored dot with a large ring and the rear is a colored like. However, you'll get used to it quickly and if you place the front dot on top of the line on the rear, you'll never miss.
This glock night sight as well as other night sights by XS Sights come at approximately $110 and you can get them virtually for any glock out there. You can also decide if you want an orange version or a yellow one, all you need to do is to go over to Amazon and throw one right into your basket.
Features & Benefits
Extreme precision
Unique design
Clear sight picture in daylight and darkness
High durability delivered by CNC machined steel
XS Sights special 10 year warranty
Pros
Unique front + rear alignment
Highly durable
Cons
Not the most famous brand
Takes a while to get used to
Prices accurate at time of writing
#4 - AmeriGlo Night SIghts
Ameriglo Pro-IDOT For Glock 17/19 Orange
Another behemoth on the pistol night sights market is AmeriGlo. They focus mainly on pistol sights and they'll definitely deliver what you are looking for especially if you are a Glock, Sig, S&W, Beretta or Springfield shooter. This night sight, just like many other products on their list, is a great 2 in 1 combination of a front and rear sight.
If you are looking for an improvement of your Glock optics, then have a look at AmeriGlo's night sights currently available on Amazon in the price range of $40 - $120. I promise you won't regret it!
Features & Benefits
High quality tritium
Unique design
Also fits some other Glocks, not just 17 and 19
Rear illumination
Fast front sight target acquisition
Pros
Night sights for almost any Glock
Front + rear sight combination
Cons
The info about model suitability a bit misleading
The combination of front + rear sights takes time to get used to
Prices accurate at time of writing
TRUGLO Tritium Handgun Glow-in-the-Dark Night Sights for Glock Pistols
Let's wrap it up with one of the most trusted brands - TruGlo. TruGlo combines the usual fiber optics with Tritium, which eliminates the need for a light source to shine through the sight in order to illuminate it. Thus, if you have tritium, you don't have a problem. And that's exactly what this "Glow-in-the-Dark" night sight and the rest of their products aim to deliver.
To sum it up, TruGlo is one of the best brands to get the best glow in the dark and you can get their pistol night sights in the range of $40 to $190, so get your hands on one of them now on Amazon.
Features & Benefits
Unmatched visibility
Green in the dark, white in daylight
High durability delivered by tough CNC-machined steel
Fortress finish coating for maximum protection
Pros
High durability and visibility
Tritium source
Cons
I'd invest in a bit more expensive one
Doesn't fit as many Glocks as the other ones
Prices accurate at time of writing
OUR FAVORITE NIGHT SIGHT
Any of the night sights on our list is a great option for you. All of these brands are trusted and you'll get the quality you've paid for. If you can't decide, though, I recommend you to get #1 on our list - Meprolight F.T. Bullseye Rear Sight. It will make your night sight look different than most. And you won't have to bother with installation of two pieces. This night sight will make you see just like a cat in the dark.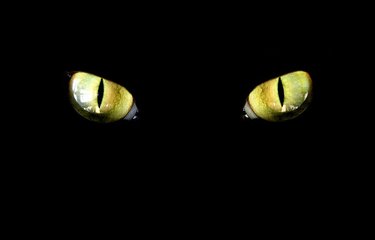 If you are looking for better visibility at night or simply in darker environments, night sights are a great option for you. They won't weigh your gun down by much and you'll be better at target acquisition. You'll also trust yourself more in low-light situations. You'll be able to defend yourself and your family at night. They'll cost you something, but isn't your safety worth it? If you get any of the night sights I showed you, you won't regret it.
PS - If you'd like to upgrade your Glock some more, check out what the best Glock grips, and, most importantly, don't forget to get yourself a well made Glock holster.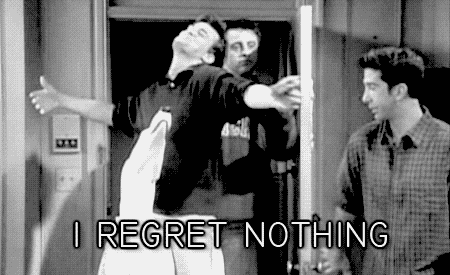 WHY DO YOU NEED A NIGHT SIGHT? - BENEFITS OF NIGHT SIGHTS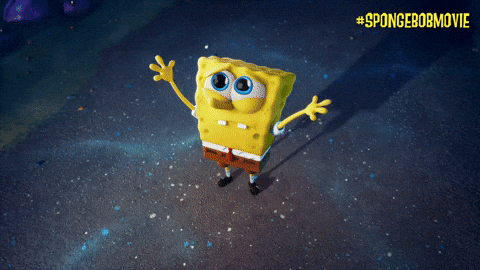 Even if you aren't lurking out in the streets at night often, a set of night sights could be a good solution for you, as there are definitely moments when you want to see a bit clearer. You'll also feel comfortably carrying a night sight on your glock all around the clock. These tactical and everyday night sights have some downsides, but there are many more pros. If you buy your night sight you'll get the following:
Accurate shooting in low or even no light situations
They are compact in size and ideal for everyday carry
Can work as an upgrade over factory sights
Longevity of tritium sights
Come in different colors – green, red, yellow
Work in daylight - they are not only meant for night
Help you find your gun quicker in a low-light environment
They are fairly easy to instal
BONUS READING - HOW TO MOUNT A NIGHT SIGHT SET?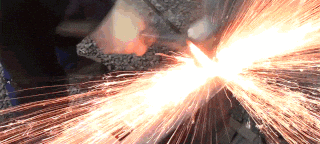 Night sights installation is fairly simple. Although most people choose the easier way and go to their local gunsmith to have their night sights installed. However, if you are comfortable with tools and simple machinery, the job is not difficult and fairly straightforward. Let's have a quick look at what you'll go through if you have a go at mounting a night sight set on your glock.
Think like you can't do it? Don't worry. Get this gunsmithing guide now and you shouldn't have any problem. One of America's foremost experts on gunsmithing, Bryce Towsley will show you how to build or maintaining guns. He gives detailed explanations and color illustrations for just about every aspect of gun repair. Towsley builds on the knowledge he provides until ending with directions on rifle building from scratch. If you are interested in fixing and building guns, get your guide now on Amazon.
You'll first need to get a glock night sight (obviously). Any of the above should do. Once you have your night sight, there are a couple of other tools you need. You'll definitely need a table vise. Don't be afraid if you've never worked the tool, a session or two will show you how it works. You need to disassemble your glock first, safely! It's best if you get one of Glock's aftermarket slides ready for applications, which have been growing in popularity lately. So if you get one of these too (brownells - https://bit.ly/3bE7T87), even better.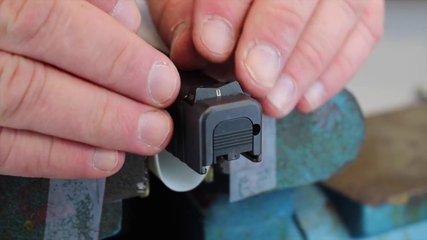 You will need a punch, hammer and table vise, perhaps some sanding the material down too. Before you start, make sure the slide and the sights are cleaned well. The rear part of the set should slide in from some part easily and then you will need to apply some force with a hammer to get it in. If you have a problem pushing this part into the slide, you might need to file it down with sanding material. Although you will need quite a lot of force to slide the sight in, try to be gentle.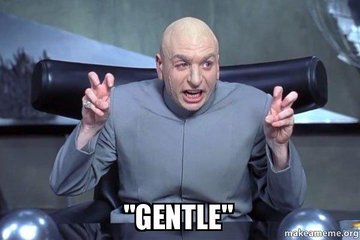 The other part of the set, the suppressor sight, is attached to the front of the slide. Its application is easier than the one we already have. You need to glue it in, for example with Locktite, and then hand tight the screw inside of the sight with a fitting driver. Make sure you apply appropriate force, you don't want to overdo it and perhaps even damage the pieces.  After some time the parts should properly settle in and you'll be good to put your gun back together.
Congratulations! You've just mounted your new night sight set!