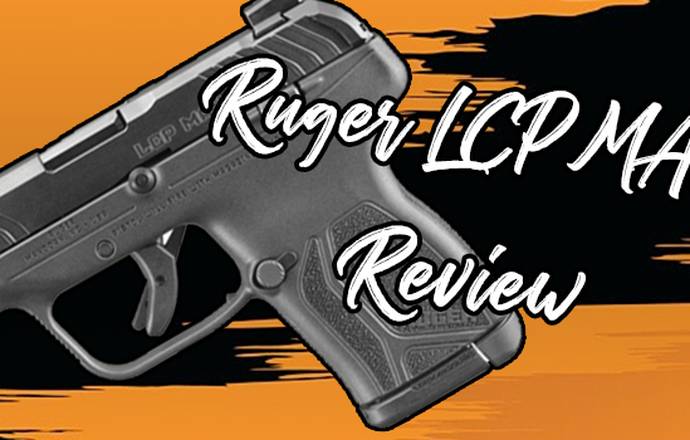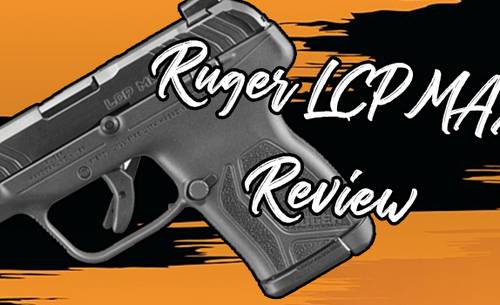 No firearms blog would be complete without a Ruger LCP Max review. After all, it's one of the most popular micro-compact pistols in the world.
In this article, we'll dive into the details of this remarkable micro-compact firearm that bridges the gap between .380 and nine-millimeter. From its innovative design to impressive performance, Ruger certainly sets a high bar in the concealed carry market.
Why buy a Ruger LCP MAX?
For those of you who have been keeping up with the firearms industry, you are likely aware of a surge in popularity for what could be called a sub-category of concealed carry handguns—the micro-compact.
Though it sounds repetitive, "micro-compact" can make a big difference when we're discussing firearms that are roughly an inch thick while still accommodating around 10 rounds or more of the nine-millimeter caliber or the .380s.
Manufacturers have managed to achieve double-stack capacities within the dimensions of single-stack size guns by cleverly reengineering the magazine geometries.
Currently, several options are available, including the Sig P365, Springfield Hellcat, Shield Plus from Smith & Wesson, Taurus GX4, and the Ruger Max 9. Plus, there are strong indications that more offerings are on the horizon from prominent manufacturers.
I had the opportunity to try out the Ruger LCP Max a few months ago, and I must admit, I was genuinely impressed. After repeated testing, I knew I needed to create a new Ruger LCP Max review.
Let me explain what I mean and why I think the Ruger LCP Max is a worthwhile CCW choice or an addition to anyone's gun collection.
Ruger LCP Max review—design and ergonomics
Ruger took a close look at their single-stack Ruger LC9 and recognized that with a few adjustments here and there, they could transform it into a double-stack nine-millimeter that's roughly the same size.
Ruger's proficiency in addressing the demands of the concealed carry market is evident, incorporating features such as factory night sights and standard optic readiness, all at a competitive price point.
While we've had lightweight single-stack .380 pistols for over two decades—for example, the P380's introduction in 2003—the manufacturers began to realize that there's no reason they couldn't replicate the same trend they saw in nine-millimeter firearms.
This is exactly what Ruger achieved with the LCP Max—a few adjustments to magazine geometry, a few sleepless nights, probably a lot of coffee, and voilà: a double-stack .380 within a frame nearly as compact as a single-stack.
Ruger LCP Max specs (model number 13716—380 Auto)
Before we break this gun down in a bit more detailed way, let's take a look at the main Ruger LCP Max specs:
Capacity: 10+1
Slide Material: Alloy Steel
Slide Finish: Black Oxide
Slide Width: 0.81"
Grip Frame: Black, High-Performance, Glass-Filled Nylon
Barrel Material: Alloy Steel
Barrel Finish: Black Oxide
Barrel Length: 2.80"
Overall Length: 5.17"
Front Sight: Tritium with White Outline
Rear Sight: Drift Adjustable
Weight: 10.6 oz.
Height: 4.12"
Grooves: 6
Twist: 1:16" RH
MSRP: $479.00
And here's the list of the key features of Ruger LCP MAX:
Ships with a standard 10-round magazine with a flush floorplate. Option to upgrade to a 12-round extended magazine.
Comfortable grip with textured grip frame.
Slide features raised cocking ears and functional serrations for easy manipulation.
Tritium front sight with a white outline for enhanced target acquisition.
Rear sight with Hackathorn-style design and compatibility with aftermarket Bodyguard-pattern sights.
Improved magazine feed lips, feed ramp, extractor, and barrel cam geometries.
Patented barrel cam geometry delays unlocking, slows the slide, and reduces felt recoil compared to other .380 Auto pistols.
Ruger's reliable and proven Secure Action™ fire-control system with a short, smooth pull and positive reset.
Reversible magazine release.
Ruger LCP Max overview
The Ruger LCP Max is essentially an upgraded version of the Ruger LCP2, slightly beefier in the frame to accommodate more rounds. The LCP Max can hold 10+1 rounds in a flush-fit magazine or 12+1 rounds with an extended magazine. But, you may ask, why opt for the LCP Max over a micro-compact nine-millimeter with similar capacity?
The answer lies in Ruger's remarkable achievement of making the LCP Max incredibly compact, rendering it highly appealing. A direct comparison to the Sig P365 will easily show you the significant size difference—the LCP Max is substantially smaller.
Size and weight benefits of the Ruger LCP Max
Initially, I was skeptical when I learned of the Ruger concept for this gun, anticipating a final product with roughly the same dimensions and weight as the P365. However, I was proven wrong.
The LCP Max weighs a mere 10.6 ounces when unloaded, roughly half the weight of the Shield Plus and even lighter than the already featherweight Sig P365. It even outshines the weight of the Smith & Wesson 340PD revolver made from scandium and titanium.
After repeated use, I was surprised to find the LCP Max makes micro-compact nine-millimeter weapons seem comparatively bulky.
Ruger LCP Max vs Sig P365 size
Compared to the Sig P365 and Shield Plus, the LCP Max's slide is only 0.8 inches thick, measuring 5.2 inches in overall length and four inches in height – a practical dimension to maintain a decent grip.
The LCP Max's size is optimal, striking a balance between capacity and handling. The pistol's ergonomic grip texture adds to its appeal, along with the raised cocking ears that provides improved purchase when racking the slide.
Ruger LCP Max sights
Additionally, the LCP Max features a tritium front sight with a white outline, enhancing target acquisition. The rear sight adopts a Hackathorn-style design, with a U-notch and a rounded rear face to prevent snagging. Notably, the LCP Max also accommodates S&W Bodyguard sights, offering users more customization options and versatility.
Ruger LCP Max trigger
The trigger of the Ruger LCP Max offers a unique experience characterized by its partially pre-cocked hammer system. While not as refined as some single-action triggers, it maintains predictability.
This design balances double and single action, resulting in a consistent trigger pull. The take-up is noticeable, and the trigger wall is solid, though slightly longer than ideal. Despite this, it's surprisingly manageable and it didn't affect accuracy when I was trying it out. So, while it's not a competition-grade trigger, it serves its concealed carry role commendably.
The bottom line: The LCP Max's trigger might not be exceptional, but it aligns with its intended use—personal defense in a compact package.
No accessory rail—a downside?
Regrettably, the Ruger LCP Max lacks an accessory rail, limiting its capacity for attachments such as lights or lasers. While this omission may disappoint some users seeking enhanced situational awareness, it doesn't detract from the pistol's core function as a lightweight, compact concealed carry option.
Besides, I'm not sure many people would want any rail accessories for this compact gun, as it would detract from its main purpose—a very concealable, reliable, lightweight weapon.
Ruger LCP Max review—performance and firepower
The LCP Max stands out not only for its design but also for its performance. With a manageable recoil and well-designed grip, the recoil is surprisingly light, making it easier to control than standard LCP models.
Most experienced gun owners know the .380 caliber is somewhat akin to the Demetrious Johnson of calibers. Yeah, they're small; but don't think for a second that means they're not capable.
Furthermore, there are loadings that meet the FBI handgun effectiveness standards—capable of penetrating 12 inches of ballistic gel. One such example is the Federal HST 99-grain .380, which can penetrate just over 12 inches of ballistic gel after passing through layers of cloth, expanding to approximately 0.6 inches, about the size of a US dime. This shows that, while the .380 caliber might not match the effectiveness of the nine-millimeter, the right loading can still get the job done.
Although I encountered a few minor malfunctions during the initial few hundred rounds, these issues are likely attributable to the break-in period and were resolved through further use.
FAQ about Ruger LCP Max Review
Yes, the Ruger LCP Max has demonstrated high reliability through many different reviews across many platforms. Through multiple firing cycles and assessments, it showcases dependable performance, making it a suitable choice for concealed carry and personal protection scenarios.
Absolutely—the Ruger LCP Max is a viable option for women. Its lightweight, compact design and manageable recoil make it user-friendly for individuals seeking a concealed carry firearm that offers both effectiveness and ease of use.
No, Ruger LCP and LCP II magazines are not the same. The LCP II has a different magazine design with a single-sided magazine release, unlike the original LCP's double-sided release. They are not interchangeable.
Yes, the Ruger LCP Max is considered a good gun. Its compact size, ease of concealment, and suitable capacity make it a popular choice for concealed carry and personal defense purposes. However, individual preferences may vary.
The Ruger LCP Max boasts several key features, including its compact dimensions, lightweight construction, improved grip, generous magazine capacity, effective sights, manageable recoil, and user-friendly trigger. These elements contribute to its suitability for concealed carry and self-defense scenarios.
The Ruger LCP Max can hold either 10+1 rounds in a flush-fit magazine or 12+1 rounds in an extended magazine, providing users with a respectable capacity for a concealed carry handgun of its size.
Absolutely—the Ruger LCP Max is well-suited for concealed carry. Its compact dimensions, lightweight design, and sufficient capacity make it an ideal choice for discreet personal protection, allowing users to comfortably carry and access it throughout their daily routines.
The Ruger LCP Max is chambered in the .380 Auto (ACP) caliber. This cartridge offers a balance between manageable recoil and self-defense effectiveness, making it a popular choice for concealed-carry handguns.
Conclusion - Ruger LCP Max review
In conclusion, the Ruger LCP Max presents a promising option for those seeking a pocketable yet capable firearm. While micro-compact nine-millimeters still have their merits, the LCP Max carves its own niche by offering an even smaller and lighter package.
The Ruger LCP Max is a gun that effectively bridges the gap between a .380 and nine-millimeter. And with its innovative design and engineering, Ruger has set a high bar for the micro-compact concealed carry market.
In my opinion, the Ruger LCP Max redefines compact firepower and concealed carry. Ruger's ingenuity shines in its design and performance.
Ready to equip your LCP Max? Enhance your concealed carry experience with the best holster – check out the ideal options for your Ruger LCP Max holster and elevate your carry setup today!
DO YOU FANCY SOME MORE LIGHT READING? THEblogN CARRY ON WITH THESE ARTICLES