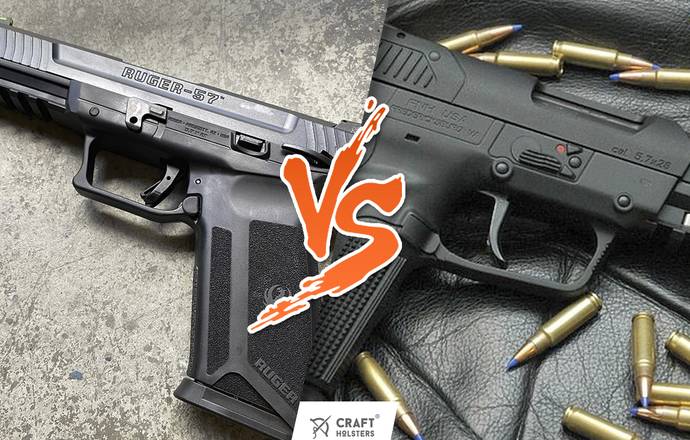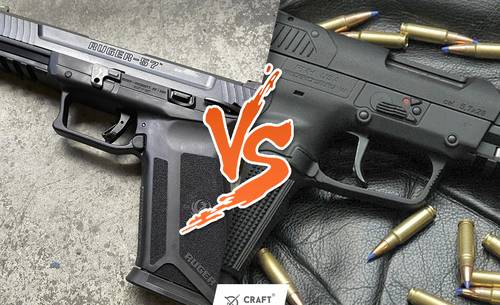 The Ruger 57 is a full-sized semi-auto pistol made by Sturm, Ruger & Co., Inc.. This pistol is a delayed blowback pistol with an internal hammer-fired single-action (SA) trigger. The history of this handgun is narrowly slept with the 5.7x28mm cartridge in conjunction with its select-fire P90 PDW, (similar to what John Browning did with the .45 ACP), developed by FN in 1990. Once the P90 was introduced, the engineers ultimately realized the cartridge would still fit into the grip of a traditional handgun and then the FN Five seveN pistol was born. It took more than 20 years when another major gun company introduced a pistol chambered in this cartridge, and that's our Ruger 57 pistol.
The Ruger 57 was originally developed as a high-capacity, flat-shooting, light-recoiling replacement for 9x19mm pistols for military type use. These days, the Ruger 57 is mainly used for self-defense and shooting in the range. Since the market is full of well made full-sized handguns, there's no surprise that the Ruger 57 has its own competitors. One of the biggest Ruger 57 competitors is definitely the FN Five seveN pistol.
Let's take a deeper look at the main differences and similarities between these two pistols and decide on your own which one is better for you.
Have you met Ruger-57?




Source: www.thefirearmsblog.com
The Ruger 57 is a full-sized pistol with an overall length of 8.65 inches and weight of 24.5-oz when unloaded. This pistol is 5.6" high and 1.2" wide and it comes with a 4.94'' long barrel. Although it is a full-sized pistol, it can be hidden when paired with a well-fitting Ruger 57 holster. When talking about the overall magazine capacity of this pistol, it can assume 20 rounds of 5.7x28 FN ammo, which is definitely enough for both everyday self-defense purposes and shooting at the range.
Have you met FN Five-seveN?




Source: www.militarytimes.com
Since the FN Five Seven pistol was used as a weapon template when developing the Ruger 57, there is no surprise that these two pistols are similar or even identical in many specs and features. The FN Five Seven also belongs to the category of full-sized pistols with its overall length of 8.2 inches. It is 5.5" high and 1.4" wide and comes with a 4.8'' long barrel. The FN Five Seven relies on the use of the 5.7x28 FN cartridge and can hold up to 20 rounds within its double stack magazine. This pistol was developed and is still used mainly in service with military and police forces. But you can also enjoy this pistol when shooting at the range or for your self-defense purposes, especially when you pair it up with a custom made FN Five-seveN holster.
A 5.7 stand-off - comparison of main specs and features
Both the Ruger 57 and the FN Five Seven pistols represent a good choice for your everyday self-defense and you can have a lot of fun with them at the range too. Although they were not developed for concealed carry purposes, you can still hide them well within the right type of holster. Let's take a deeper look at the main differences and similarities between these two pistols to find out which one of them would be a better EDC choice for you.  and decide on your own which one you prefer better.
SIZE COMPARISON  - DOES SIZE really MATTER?
Source: www.handgunhero.com
For newbies, both of these guns fit one's hands really well. It's not surprising. The longer cartridge creates a grip that has ample room for support hand placement on both of these pistols. So size is a factor that really counts. The bigger the gun is, the more comfortable shooting it brings. The opposite is when thinking about concealment. In that case the smaller the gun is, the more compact it is, the better result you get when concealed carrying it. As both of these pistols are meant to be self-defense guns and not designed for a CCW, their sizes are just fine.
The Ruger 57 with its 8.65 inches is a little bit longer than the FN Five Seven with its overall length of 8.2 inches. The Ruger 57 is overall bigger than the FN Five Seven, only the wideness of FN is a little more than Ruger's. The FN Five Seven is also more lightweight with the weight of 21.8-oz when unloaded, while the Ruger 57 weighs 24.5-oz.
Although the difference between the dimensions of these two pistols are not so significant, still they are not the same size. So with regards to the size and keeping the concealment in mind, the FN Five Seven is a little bit more compact and more suitable for concealed carry though.
This means that the first battle point goes to … the FN Five-seveN.
Hold on ... Don't forget to get the right 57 holster



Before you decide which 5.7 handgun is better, you should already start thinking about getting yourself a well-made Ruger-57 or FN Five-seveN holster.
If you hit the button below, you'll be able to explore an entire world of the best Ruger 57 holsters.

And here's another button for you to hit if you're ready to find out what the best FN Five-seveN holsters are. Enjoy! :)

THE MAGAZINE AND CAPACITY
The magazines that come with the Ruger 57 are steel and fit 20 rounds in an efficient double-stack. It's always surprising to find a pistol that loads twenty rounds, especially one that's so smooth and easy to fire. Loading a magazine is easy, and Ruger also included a textured cutout at the bottom of the grip, which helps with gripping the magazine. Although the magazine release is a little awkward to hit from a standard grip, men with larger hands might not find this an issue.
When it comes to the FN Five Seven pistol, its magazines and capacity are practically the same. This pistol can store 20 rounds of the same 5.7x28 FN ammo as the Ruger 57. Both pistols come initially with 20 rounds magazine, but in countries with restrictions, they are available in 10 rounds too.
Of course, the mag capacity of both these pistols can be even higher with the aftermarket mag extensions. The Ruger 57 extended magazine can hold up to a maximum of 25+1 rounds, which is more than enough for a great range experience. While the FN Five Seven can go even further with its extended magazine capacity of 30 rounds. The extended magazines for both these pistols cost from approx $40 to $80.
Based on the same initial mag capacity, the second battle ends in…a TIE.
ACCURACY AND RANGE PERFORMANCE
The Ruger 57 features a bright green front sight with black, adjustable rear iron sights. While shooting, it's absurdly easy to keep track of the sights because of how easy the gun is to handle. In addition, this full-size pistol comes pre-threaded to mount optics, with red dot sights available to purchase separately. This is another point in favor of the Ruger 57 over the FN Five Seven. The fiber-optic sights, as well as the length of the barrel, combined with the amazing 5.7 x 28-millimeter ammunition, make it a breeze to hit targets accurately even twenty yards away.
The accuracy comparison shows the Ruger 57 is producing a better group than the FN Five Seven. And for more, sometimes it's better to replace the FN's adjustable sights with fixed sights because they wouldn't hold zero, while the Ruger's sights stay where you set them. Big difference, and certainly disappointing to hear about an apparently poor design on FN's part.  Although the accuracy of the FN 57 is very acceptable at distances from 5 yards to 25 yards.
Sometimes it helps to adjust the rear sights for only elevation, as it can shoot out of the box about 4 inches low. After fine tuning it, it hits very well. The trigger press of this single action gun and its crisp, soft trigger with a short reset helps the accuracy. However, some folks noticed much improvement in the trigger and accuracy of their gun after about 1,000 rounds fired, getting closer to a 4.5 pound press.
Now, a slight advantage in this battle is goes to … the more accurate Ruger 57.
CALIBER AND FIRING MECHANISM
The caliber and the firing mechanism within the Ruger 57 and the FN Five Seven are the same, so there is not much to compare. In a nutshell, both the Ruger 57 and the FN Five SeveN are big little handguns with a whole lot of attitude. Why? Mainly because of the unique 5.7x28mm cartridge that they're designed to fire. While both these pistols are full-sized, their 5.7×28 bullets are small in caliber, but still very fast as far as pistol projectiles go.
When talking about the firing mechanism, both pistols are hammer-fired. But what does it exactly mean? A hammer-fired pistol has a trigger that releases or both cocks and releases a hammer to strike a firing pin. That firing pin impacts the primer of the chambered round, causing the pistol to fire. Basically, the firing pin inside the slide of the pistol does not move until the hammer, under spring pressure, impacts it and causes it to, in turn, impact a cartridge's primer.
The Ruger 57 as well as the FN Five Seven are single-action, which means that the trigger merely releases a cocked hammer. To effectively use this type of pistol for self-defense, that means it ideally should be carried with the hammer cocked and the manual safety engaged. The advantage of a hammer-fired pistol is that they tend to be conducive to accurate shooting and can have very clean and crisp trigger pulls.
Based on the caliber and firepower, the last battle ends in … a TIE.
Comparison of main specs
So this was a quick look at the main features of these two amazing 5.7x28mm pistols. And it looks like our 5.7 stand-off might as well end in a tie. Let's see if a quick comparison of the main specs of these two pistols can break the tie.
| | | |
| --- | --- | --- |
|     | Ruger-57 | FM Five-seveN |
| Caliber | FN 5.7x28mm | FN 5.7x28mm |
| Width | 1.2 inch | 1.4 inch |
| Overal length | 8.65 inch | 8.2 inch |
| Height | 5.6 inch | 5.5 inch |
| Weight (loaded) | 24.5 oz. | 21.8 oz. |
| Barrel Length | 4.94 inch | 4.8 inch |
| Magazine | Double stack | Double stack |
| Capacity | 20+1 (flush) | 20+1 (flush) |
| Firing Mechanism | Internally hammer-fired | Internally hammer-fired |
| Frame | Polymer | Polymer |
| Grip Material | Integrated polymer | Integrated polymer |
| MSRP | ca. $799 | ca. $1200 |
While the pistols are more or less identical, the last category on the list - price - makes the 5.7 by Ruger a clear favorite.
So, the last point in our 5.7 stand-off goes to ... the Ruger-57.
Best lights for Ruger-57 and FN Five-seveN




Source: www.pewpewtactical.com
The Ruger 57 as well as the FN Five-Seven are both equipped with rail making them ideal for easy upgrade attachments. For example, the accuracy of the Ruger 57 can be upgraded by adding a tactical light or laser to it.
A good example of the Ruger 57 tactical light is the Viridian C5L-R Universal Red Laser Sight and Tactical Light. This compact red tactical laser sight utilizes a precise advanced 635 nm wavelength for the brightest, sharpest and visible red targeting dot. This tactical combo also features a 100 Lumens of bright light with horizontal light dispersion to better view threats across a wider area. The cost of this tactical light is $139.99 (price accurate at the time of writing).
The FN Five SeveN can be easily upgraded with the Streamlight 69266 TLR-1-HL High Lumen Rail-Mounted Tactical Light. This tactical light with its 1000 lumens runs 1.75 hours and its Led technology impervious to shock with a 50, 000 hour lifetime. This engineered optic produces a concentrated beam with optimum peripheral illumination. It can be attached to the FN 5.7 with Picatinny style rail 1913 key. This tactical light costs approx $142.99 (price accurate at the time of writing).
How to carry Ruger-57 & FN Five-seveN?
None of these pistols were designed for concealed carry, although when keeping the dimensions in mind, the FN Five Seven is a bit easier to hide. It is a little bit smaller than the Ruger 57 making it more compact. It is also a little bit less heavy than the Ruger. However, your best choice is to carry either of these guns in an open carry holster.
The important thing when considering to wear either the more compact FN Five-Seven or the bigger Ruger 57 as everyday carry guns is to pair them with a well-fitting holster. There is a big offer of Ruger 57 holsters and FN Five-seveN holsters. If you end up selecting the 5.7 by Ruger, feel free to check out our recent list of the best Ruger-57 holsters.
CONCLUSION - WHO WINS the 5.7 stand-off?
Now, when it comes to the conclusion of this ultimate pistol battle, it seems that we have no winner. Both the Ruger 57 and the FN Five-seveN are very similar in design and both were made with the same purpose. They are both a strong pick for home defense or even small games. At the end of the day though, you'll love bringing one of these pistols to the range.
Depending on your needs, either one of these guns would be great to take home. The FN 5.7 has the history and the "battle-proven" tag to back it up if you are looking for a defensive handgun. On the other hand, the Ruger 57 is optics ready and comes with better sights for the standard plinker or handgun hunter, which makes it a handgun worth getting despite some minor Ruger 5-7 problems.
For us, it's the 5.7 by Ruger that has a slight edge. But no matter which one you end up getting, one thing is for certain. You'll be really satisfied with it only once you get a proper, custom made holster to pair it up with.
DON'T LEAVE YET - YOU MAY FIND THESE ARTICLES READWORTHY
GLOCK 43 VS GLOCK 43X - WHICH VERSION IS BETTER?
M&P SHIELD 9MM VS TAURUS G2C - WHICH ONE IS BETTER FOR CCW?