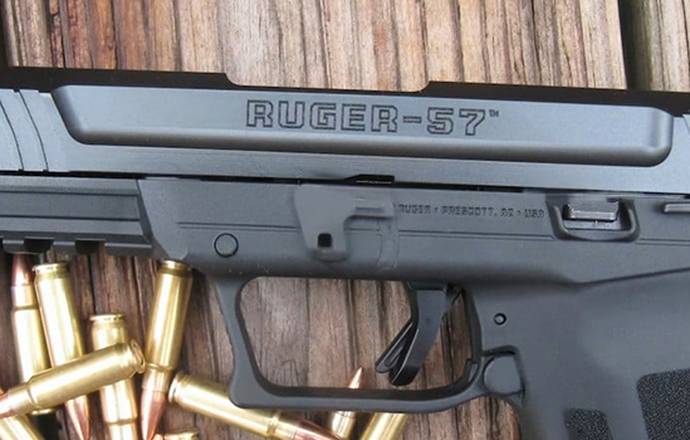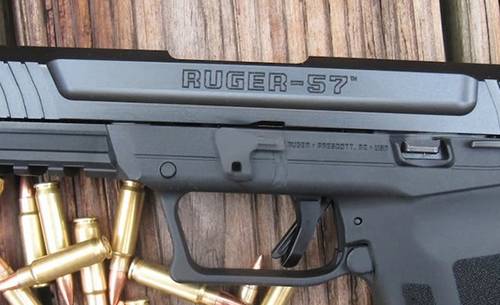 Source: www.usacarry.com
The Ruger 57 is a delayed blowback semi-auto pistol with an internal hammer-fired single-action (SA) trigger made by Sturm, Ruger & Co., Inc.. Just like its name suggests, the Ruger 57 is based on one of the most popular full-sized handguns ever made, the FN Five-seveN. This full-sized handgun that comes with a 4.9 inch long barrel and a double stack magazine that can hold up to 20 rounds which is more than enough. And that's one of the reasons why this pistol became a favourite choice mainly for self-defense and range or competition shooting. The Ruger 57, due to its dimensions is more suitable for outside the waistband carry. Although it is not a concealed carry style weapon, it can still be well hidden in a well-fitting Ruger 57 holster.
Although the Ruger 57 has a lot to offer, it's still a machine. And each machine has its own issues, as nothing is perfect. So it's no surprise that some problems can occur when using the Ruger 57. Fortunately, it doesn't mean that you'll experience one, so don't worry. But it's good to know what may eventually go wrong with your gun. Keep reading and find out more.
#1 - Ruger 57 feeding issues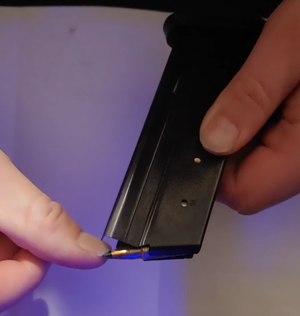 Source: YouTube.com/Dustin Siemers
Failures to feed are almost always caused by magazines, feed ramps, and bad recoil springs. With the Ruger 57 the same situation can happen. Too much tension and it returns too fast; too little tension causes excessive dwell time during the recoil cycle, and the slide doesn't return fast enough to fully chamber the round. Another potential feeding issue can be caused by the extractor. If the extractor is bent, even slightly, it can produce too much or too little tension which can impede feeding. In hammer-fired pistols, as our Ruger 57 is, the hammer block can cause misfeeds if insufficiently lubricated or if it has any burrs or otherwise needs polishing. This can also indicate that the pistol needs more break-in.
#2 - finding the best ruger 57 holster

So, what to add? Obviously some problems can be found within using the Ruger 57 pistol, but I'm sure you won't experience all of them. And I'm still convinced that the overall value of this pistol outweighs its minor and not so common issues.
However I have one more issue that needs to be overcome when considering buying the Ruger 57. And that's putting your Ruger 57 into a well-fitting holster.
Fortunately we got your back with our offer of custom made Ruger 57 holsters, no matter what your preferred carry style, material or design is. And what's more, all of our Ruger 57 holsters are molded on the exact replica of this pistol to assure a perfect fit.
BTW, just in case you find it difficult to choose from so many different designs, check out our list of the best Ruger 5-7 holsters you can come across.
#3 - Ruger 57 trigger problems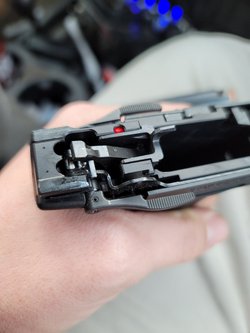 Source: www.rugerforum.net
Some folks also experienced some Ruger 57 trigger issues. Although the first rounds can be flawless, the situation may change with the next magazine. When putting the next magazine in, the trigger can lock up. As a result it doesn't fire at all. In that case you can even take the mag off, clean it and it won't help. The reason why this happens is that the issue is not the mag, but the trigger. To be exact, the trigger does not pull to the rear unless you push on the trigger from the side with your other hand.
#4 - Ruger 57 magazine issues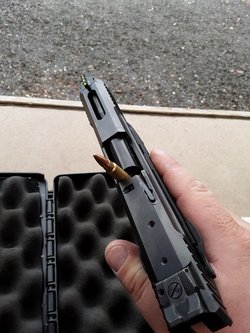 Source: www.rugerforum.net
The magazine belongs to another part that causes most pistol malfunctions. Usually, it's down to bent feed lips, a burr or other problem with the follower, or a bad magazine spring. When there are only a few rounds it cycles fine. As the magazine fills up the feed angle changes and the rounds get hung up on the barrel below the chamber or fail to fully go into the chamber.
Or sometimes it can happen that the follower can hung up. When you start to remove the rounds it can hung up more times before you get them all out. In this case the best recommendation is to try to remove the mag plate, spring and inspect the follower and eventually put a little gun oil on the parts. If this doesn't help and you won't inspect any issues within the parts, you should contact Ruger's customer service for more help. If you're experiencing this particular Ruger 57 issue as well, feel free to find out more about it in this Ruger Forum thread.
CONCLUSION - IS RUGER 57 WORTH IT?
All handguns have some problems, there is no doubt about it. But sometimes it is really hard to say if the problem is caused by the gun, the ammunition or the person shooting it. So don't trust everything you find on the internet, as it's ain't a rule that you'll have the same issue with your Ruger 57.
And overall the Ruger 57 seems to be a very reliable pistol and many shooters just love it. Especially for competition shooting or for their own self-defense. In my opinion this pistol has a lot of pros and a lot to offer, so even if some issues may occur, it is still well worth it.
So should you buy the Ruger 57 or not? I would say YES, but you are the only one who needs to make a decision. To read more reviews on this gun can help you to decide whether to buy it or not. I'm sure you'll find many reviews made by specialists who definitely know what they're talking about across the internet. And if you've already decided to buy one, don't forget to get a well-fitting Ruger 57 holster.
DON'T LEAVE YET - YOU MAY FIND THESE ARTICLES READWORTHY
4 WORST S&W M&P SHIELD 9MM PROBLEMS
6 BEST TAURUS G2C LIGHTS AND LASERS [TO GET IN 2021]
THE LIST OF 6 BEST OWB HOLSTERS