Home - Revolvers by Frame Holsters
Revolvers by Frame Holsters
Find holsters custom made for your gun.
Fan Revolvers by Frame Favorite Holsters
The Story of Revolvers by Frame Holsters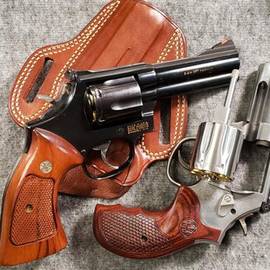 L Frame, K Frame, N Frame, J Frame, X Frame or Small Frame revolvers can have different cylinder sizes and round counts. Most of modern revovlers have 5 - 7 rounds and vary in different calibers such as the .357 or .44 magnum. There are many more options for wheel guns and there are several revolvers for six-shooters.
Select your Revolvers by Frame model