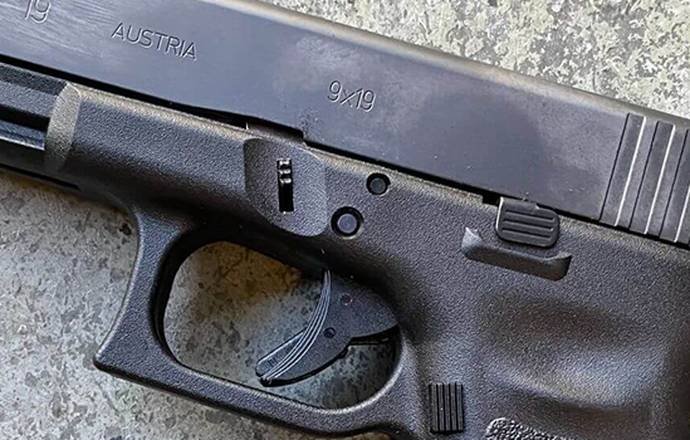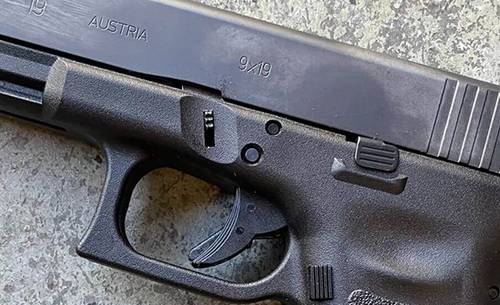 Source: www.boresightsolutions.com
The Glock 19 became one of the most favourite guns among civilians mainly due to its compact size and high magazine capacity. Although it was originally designed for military purposes, it turns out that the features of this pistol are preferred also for recreational and competition shooting the same as for home- and self-defense. If you wanna know more about the main features this pistol brings, read the full Glock 19 review here. The Glock 19 with its reduced size represents a great choice for concealed carry as it can be easily hidden especially in a well-fitting Glock 19 holster.
As mentioned, this pistol became very popular a belloved by some folks, but as you know, nothing is perfect and it is the same with the G19. And some issues can occur when using it. To inform you more about the possible Glock 19 issues we created this short article.
Problem No.1 - Glock 19 feeding issue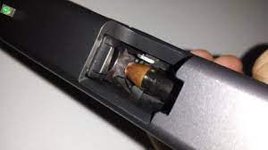 Source: www.gundandgame.com
The first G19 issue that can be found is the feeding issue. It can happen that it feeds great until it hits the last round or two in the 10 round magazine. Then the bullet is not lifted high enough to guide onto the ramp and it just hits the bottom of the ramp with half of the round below said ramp. This problem can easily result in jamming of your Glock 19.
Problem No.2 - Glock 19 recoil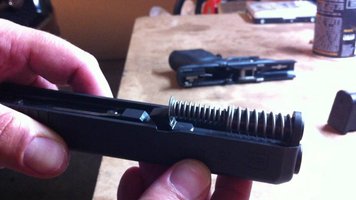 Source: www.tannersgun.com
Sometimes, it can happen that the recoil spring in your Glock 19 is slipping out of the spot where you push it into when assembling the pistol after break down. There is a circular groove on the barrel that you depress the spring into. And when you seat the spring all the way into this groove and then try to rack the slide back and take it apart again, the spring can slipp all the way out of the groove and be just barely hanging in there.
Problem No.3 - Glock 19 failure to extract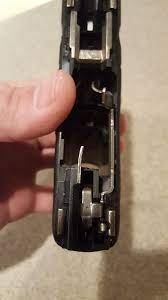 Source: www.glocktalk.com
Another very common one of the Glock 19 issues is the extractor issue. It can cause a few failures to extract per magazine. You can try to clean it many times and still the failures can keep occurring. This tricky situation can happen because Glock 19 doesn't have the spring loaded bearing in the end of the extractor depressor plunger spring that goes in the extractor depressor plunger. This particular issue can be really problematic especially for not so experienced shooters.
Problem No.4 - Glock 19 slide issue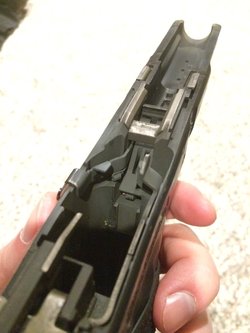 Source: www.northeastshooters.com
The last issue we would like to mention is the Glock 19 slide stop lever issue. Some shooters experienced the slide come back and stayed like it is supposed to do when the last bullet is fired when firing just a round. Meaning the slide on your Glock 19 locks back after firing a round and still having rounds in the magazine. That can be caused by the slide stop lever going up and catching the slide. In some cases when this slide stop lever issue occurs, removing it, cleaning it, inspecting it and then reinstalling it might help.
Bonus problem - finding the best Glock 19 holster
As you can see, some problems can be found within using the Glock 19 pistol, but I'm sure you won't experience all of them. However I got one more issue that needs to be overcome when considering to buy or have already purchased the Glock 19. And that's putting your G19 into a perfect fitting holster. It can be hard sometimes to find the right one with regards to your preferred carry style, material or design. But there's no need to worry about it, because here in Craft Holsters we offer you a whole line of custom Glock 19 holsters. You can easily choose your preferred holster carry style the same as the colour or material used, no matter if it's leather, nylon or kydex. And if it's difficult for you to pick from so many options, then have a look at our list of 6 best Glock 19 holsters for 2021, available here.
CONCLUSIOn - is Glock 19 worth buying despite its problems?
Obviously all handguns have some problems. But the problems that you read about on the internet should be taken with a grain of salt. As sometimes it is really hard to say if the problem was with the gun, the ammunition or the person shooting it.   When talking about Glock 19 issues, I think the features of this particular pistol overcome the issues. And overall the Glock 19 seems to be a very reliable pistol and design wise an ideal choice for everyday concealed carry, which is proven by how famous this pistol is and how many shooters really love their G19.
So is it worth it to buy the Glock 19? I would say YES, but that is my opinion and you need to make your own. Maybe you need to read more reviews and opinions on this particular gun model to make a decision. So feel free to look at our article of the best reviews on the Glock 19  put together by experts who definitely know what they're talking about. And remember, if you decide to buy one, don't forget to get a well-fitting Glock 19 holster.
DON'T LEAVE YET - YOU MAY FIND THESE ARTICLES READWORTHY
TOP 5 LIGHTS AND LASERS FOR GLOCK 19