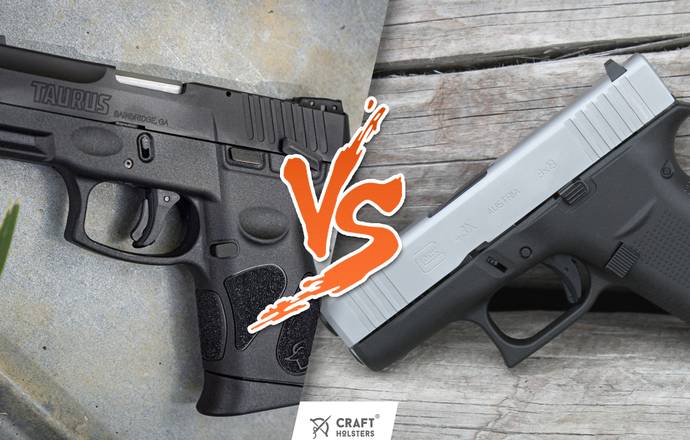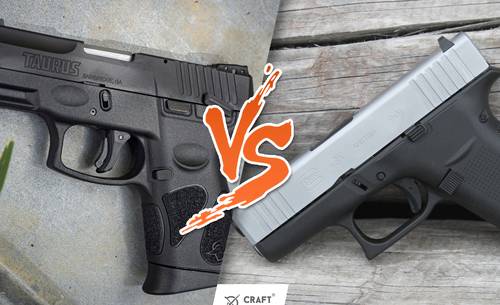 In May 2018, Taurus USA released a new version of the PT111 Millennium G2 pistol, upgraded for concealed carry purposes. And as this new version is much more compact than its predecessor, it's only logical it was names Taurus G2c. Shortly after its introduction, the Taurus G2C became extremely popular among many shooters who'd been long looking for a compact, but also very budget-friendly guns.
However, there are some other CCW pistols that are trying to steal Taurus' spotlight, and there's one in particular that does so quite well - the Glock 43X. Thanks to the number of upgrades over the basic version (of which the most notable one is the increased flush magazine capacity), the Glock 43X model can now compete for the title of the best concealed carry pistols with the likes of Taurus G2c, SIG P365 and Springfield Armory Hellcat. But let's only focus on how well the pistol performs when juxtaposed next to the Taurus G2c. And let's find out which of these two CCW behemoths is better for everyday concealed carry.
To answer this question, one should have a quick look at the differences and similarities between the two pistols. And that's exactly what we're going to do right now. And once we're done, I'm sure you'll be able to decide which of these pistols is going to be your new carry gun.
Taurus G2c - a money saving wonder




Source: AmmoForSale.com
The Taurus G2C belongs to very affordable everyday concealed carry guns (it doesn't cost even $300!). A huge advantage of this gun are its compact dimensions the same as its high 12+1 magazine capacity and so far great reliability. Some shooters are still aware of this brand and don't trust the brand, but overall it is a good choice for those who want to have an acceptable quality for a reasonable price. If you are interested in finding out more about Taurus G2C and all of its features, read our Taurus G2C review. Also, don't forget to check out our blog on the most frequent G2c problems.
Glock 43X - eXtra carry gun
Source: The National Interest
The Glock 43X is another striker-fired and polymer-framed CCW pistol from the most famous Austrian firearms manufacture - Glock Ges.m.b.H. The Glock 43X  belongs to the Glock 43 family of pistols, all of which are designed for everyday concealed carry. Compared to the previous models, the Glock 43X offers higher magazine capacity, offering generous 10+1 rounds of ammo. The pistol comes with a single-stack magazine and it relies on the use of the most popular everyday and service cartridge - the 9x19mm Parabellum. Even though the increased capacity results in a bigger magazine, the Glock 43X is still quite compact so that it can meet the requirements of an ideal everyday carry gun. But there's much more to this extra special carry gun by Glock, and if you want to find out about all of the pistol's features, just read our latest Glock 43X review. And to get a clear picture of what you'll be getting if you give preference to this tiny wonder by Glock, check out our blog on the most problematic Glock 43x issues.
TAURUS G2C VS GLOCK 43X - IMPORTANT SPECS AND FEATURES
Now, when the basic introduction of both pistols is done, the main features making these pistols the two of the best options for concealed carry is known. However for some it can still be hard to decide which one of these guns is better. If you have troubles with taking the right decision which of these you should make a part of your EDC, let's have a deeper look at the similarities and differences of the Taurus G2C and Glock 43X.
Hold on ... Don't forget to choose your new G2c or G43x holster



Before you decide which of these excellent carry guns you pick, you should already start thinking about getting yourself a well-made G43x or Taurus G2c holster.
If you hit the button below, you'll be able to explore an entire world of the best Glock 43x holsters.

And here's another button for you to hit if you're ready to find out what the best Taurus G2c holsters are. Enjoy! :)

SIZE COMPARISON  - THE BIGGER, THE BETTER?




Source: HandgunHero.com
The Taurus G2C is 6.25" long and 1.25" wide, featuring a 3.25" long barrel. Although its compact size results in super easy concealment, the firepower is lower when compared to the full-sized handguns.
The Glock 43X is also designed to be used as a concealed carry gun. The overall length of this pistol is 6.5" and it's equipped with a 3.41" long barrel. So to compare it with the Taurus G2C, the Glock 43X is a little bit longer in both overall length and barrel length. When talking about the wideness, Glock 43X is a little bit thinner than Taurus G2C as it is only 1.1" thick. In regard to the size both of these pistols are quite similar and the difference is not that significant.
Although the Taurus G2C is a little bit heavier (with its 21.15oz weight) than the Glock 43X with its 18.7oz. But this is not a markant difference.
This means that the first round of the battle ends in … TIE.
THE MAGAZINE AND CAPACITY
When it comes to magazines and capacity, the Taurus G2C was designed with the high capacity of magazines in mind. Inicialy this pistol comes with 10+1 magazine capacity which is the same as the Glock 43X. But Taurus also offers an extended 12+1 rounds magazine with a pinky extension and that's not even all. They later came with another extension, concretely  15+1, or even 17+1 rounds magazine designed especially for G3 model, but they work within the G2C too.
In comparison with the Taurus, the Glock 43X only comes with a 10+1 single-stack magazine which gives a big advantage to our Taurus G2C.
Thus, the tie is broken and the first point goes to … Taurus G2c.
ACCURACY AND RANGE PERFORMANCE
Since Taurus G2C is designed to be a CCW, it shows in its compact size which can cause a little difficulties while being used by a shooter with larger hands. Taurus G2C comes with standard three-dot style plastic sights. The 3-dot sights are common and easy to use by basically everyone and good enough to be a minute of man at 7-yards. But there is one additional thing you wouldn't expect to see on a budget pistol like this and it is an adjustable rear sight! That helps to increase the accuracy and target acquisition of this pistol. So you can put shots on a torso target with no sweat. In addition there are many aftermarket accessories that get this pistol on a higher performance level. If you'd like to improve your Taurus G2c game, just get one of the popular G2c tactical lights or lasers.
The previous Glock 43 model only held 6+1 rounds of 9mm which was not enough and put Glock in a disadvantaged position in comparison to other similar guns available on the market. That was the reason why the 43X model was designed. Glock 43X holds 10+1 rounds of 9mm, which are in a slightly larger package. The aim of designing the 43X was to increase capacity and still maintain the conceal-ability. If you are a Glock person already, then this is the perfect bridge to a smaller carry gun. If you are new to Glock, you will enjoy the trigger that runs like a full-size gun. The short slide really helps you on close fast follow-up shots. If you're shooting the gun for speed and not for accuracy, you'll find the short slide actually helps quite a bit in keeping a more accurate pattern on target. One big con of this pistol is the fact that the 43X does not have an attachment rail. So, you cannot attach a torch/light and therefore, but if you get an aftermarket accessory rail, then all you have to do to improve your target aqcuisition is to get one of the Glock 43X lights & lasers, which the Glock aftermarket is flooded with.
Overall, when you take Taurus G2C and Glock 43X to the range, you'll find their performance similar. However, there are quite many shooters who complain about the Taurus's trigger. On the other hand, there are many aftermarket accessories that can help to improve it. Also the big pro of Taurus when compared to Glock are its sights, especially an adjustable rear sight. In regards to accuracy of these two pistols, the Glock seems to be more accurate then Taurus.
But I still believe that a slight advantage in this battle is held by … the Taurus G2c
CALIBER AND FIRING MECHANISM
As previously suggested, the Taurus G2C comes with 2 caliber options while Glock 43X comes just with one. But let's now focus only on the 9mm. The 9x19mm Luger, cartridge used by both pistols, definitely ranks among the most popular (and affordable) calibers when it comes to everyday carry guns, although it doesn't deliver as much firepower as let's say the .45 ACP.
When talking about the firing mechanism, the G2C and 43X are identical, as both pistols are striker-fired. It simply means that a striker-fired pistol engages a round via a striker hitting the firing pin. The firing mechanism is built into the pistol and fully covered by the pistol's slide. This kind of firing mechanism has a lower firepower than for example hammer-fired pistols. Although it doesn't require the gun to be composed from that many parts and that results in a lower risk of any hardware malfunctions.
This round results in yet another ... TIE.
Specs summary
Now that we've been through the main features of both pistols, let's have a look at a brief summary of the most important parameters of either of these excellent concealed carry pistols:
| | | |
| --- | --- | --- |
| Category | Glock 43X | Taurus G2c |
| Caliber | 9x19mm Luger | 9x19mm Luger |
| Width | 1.1 inch | 1.25 inch |
| Overall Length | 6.5 inch | 6.25 inch |
| Height | 5.04 inch | 5 inch |
| Weight | 20.6 oz (fully loaded) | 22 oz (fully loaded) |
| Barrel Length | 3.41 inch | 3.25 inch |
| Magazine | Double stack | Single stack |
| Capacity | 10+1 (flush) | 10+1 (flush) to 17+1 (ext.) |
| MSRP | ca. $529 | ca. $300 |
As you can see, both Taurus G2c and Glock 43X are fairly similar in most of their main specs. However, if you're on a lean budget, then the winner is clear ... Taurus G2c.
LET'S TALK CONCEALED

As both Taurus and Glock are very lightweight and compact, they are ideal for concealed carry. However, their sizes allow you to conceal them no matter what your preferred carry style is. The important thing when considering to wear them as everyday carry guns is to pair them with a well-fitting Glock 43X holster or Taurus G2c holster.
Due to their concealed carry potential, both pistols work best when carried in an IWB (inside the waistband) or an appendix holster. However, as the two pistols are super tiny, it's concealment inside an OWB or shoulder holster also isn't any real problem.
The compactness and slightly lower firepower (when compared to full size handguns such as 1911) these two pistols could work as excellent backup guns, for which ankle holsters are a great carry option.
Frequently asked questions about Taurus G2c and Glock 43X
So, this has been our comparison of the Taurus G2c and Glock 43X. In case you don't have time to read the entire article, let's take a look at the frequently asked questions about the Glock 43X and Taurus G2c, answers to which may help you decide which of these utlimate carry pistols you'll buy next.
The reliability of the Taurus G2C is generally perceived as satisfactory. While individual experiences may vary, the G2C has gained popularity for its affordability and decent performance. It has been praised for its ergonomic design and ease of use, making it an attractive option for concealed carry and personal defense. However, as with any firearm, regular maintenance and proper care are essential to ensure optimal reliability. Prospective buyers are encouraged to conduct further research, read reviews, and possibly test the firearm at a shooting range to determine if the Taurus G2C aligns with their specific reliability requirements and preferences.
The Glock 43X is widely considered to be a reliable handgun. Glock is renowned for its reputation in producing reliable firearms, and the Glock 43X is no exception. It is a popular choice for concealed carry and self-defense due to its slim profile, comfortable grip, and capacity for 10+1 rounds of 9mm ammunition. Many users have praised its consistent performance and durability. As with any firearm, proper maintenance and regular cleaning are crucial to ensure continued reliability. Overall, the Glock 43X is a dependable option for those seeking a reliable and easy-to-conceal handgun for personal protection.
Both Glock 43 as well as Glock 43X are built on the same frame and they are pretty much the same firearm. However, there's one key feature that sets them apart. The Glock 43X magazine is significantly longer, providing a larger grip area, which makes it a far better choice for bigger-handed people than the Glock 43. If you want to learn more about the main differences between the two models, check out our Glock 43X VS Glock 43 review.
The Glock 43X and the Taurus G2C have noticeable differences in size, which can impact their usability and suitability for various purposes, particularly for concealed carry.
Glock 43X:
Length: 6.5 inches
Barrel length: 3.41 inches
Height: 5.04 inches
Width: 1.10 inches
Weight: 18.7 ounces (with an empty magazine)
Capacity: 10+1 rounds of 9mm ammunition
Taurus G2C:
Length: 6.25 inches
Barrel length: 3.25 inches
Height: 5 inches
Width: 1.25 inches
Weight: 22 ounces (with an empty magazine)
Capacity: 12+1 rounds of 9mm ammunition
As you can see, the Glock 43X is slightly longer and slimmer than the Taurus G2C, making it more suitable for concealed carry due to its compact dimensions. The Taurus G2C, on the other hand, has a slightly larger width and capacity, accommodating two more rounds in the magazine. Depending on individual preferences and intended use, these size differences may influence the choice between the two handguns.
CONCLUSION - Taurus G2c or Glock 43X?
Now the only thing left to do is to announce the winner of our Taurus G2C vs Glock 43X concealed carry battle. And based on the rounds these two pistols has just competed in, the winner seems obvious - the Taurus G2c. While both pistols offer almost identical compactness and mag capacity, the G2c is much cheaper, so if you're looking for a great budget solution, this is the pistol to get.
However, our judgement might as well be a bit too subjective. So, if you really want to find out which of these two handguns to select as your new CCW pistol, I'd suggest trying out both of them. And once you pick your favorite, don't forget to add a custom made Taurus G2c holster or a well-fitting Glock 43X holster to your EDC.
Do you fancy some more light reading? Then carry on with these articles